After dog-related fall, Derek Holland had microfracture surgery
Rangers starting pitcher Derek Holland underwent microfracture surgery on his left knee last Friday, the club has announced. He'll be on crutches for six weeks before beginning rehab. He injured himself while running with his dog.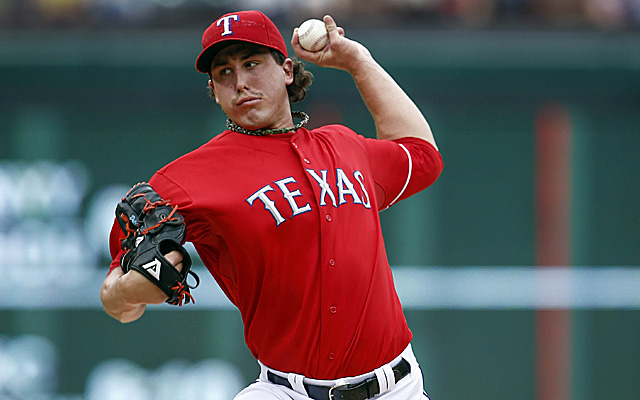 MORE: FA tracker: position players | FA tracker: pitchers
Rangers starting pitcher Derek Holland had microfracture surgery last Friday to repair torn cartilage behind the kneecap of his left knee. Reports indicated as much at the time, but more information is known now.
The Rangers have placed a timetable for Holland to be on crutches, which is six weeks. From the surgery, six weeks puts him at Feb. 21 before he can even begin rehabbing his knee. He needs to knee to get better before his arm can be worked into shape, which is why the expectation is that Holland will be out until around the All-Star break.
Also, there's this: Holland injured himself while running with his dog.
From dallasnews.com, Holland himself on the injury:
"I was messing around with my dog, just clowning around, and from that, I was deciding to take off from him and run up the stairs. He decided to go just as quick as I did and came from behind me, clipped me from the back of my legs up the stairs, so as I was going up the stairs, he clipped me, and I fell down the steps. My knee buckled, and when I went down, I could have fallen all the way down and probably cracked my head open, but I caught myself from doing that, and I started yelling at the dog—and I'm not going to lie; any other person would do the exact same thing--and then my roommate heard me, came out, and I tried to get up, figuring everything was cool. I didn't think it was that big a deal, and I noticed it. My leg was killing me, so we called one of my trainers, and then we called my strength coach, and then from there, we got a hold of Dr. Meister, and we got everything set up. I had told him what had happened."
Don't fret, Derek. Last offseason, Francisco Liriano broke his arm while trying to playfully scare his kids and then went on to a career year.
Holland, 27, was 10-9 with a 3.42 ERA, 1.29 WHIP and 189 strikeouts in 213 innings last season.
Without Holland, the Rangers rotation appears to be Yu Darvish, Alexi Ogando, Martin Perez and -- if they return healthy -- Matt Harrison and Colby Lewis. Nick Tepesch is another option, too. This is, of course, unless the Rangers add someone else and there are several worthwhile free agents still on the market.