After emotional reunion, Cespedes returns to A's with 'clear mind'
The Yoenis Cespedes story is a fascinating one, and it got even better and even nicer this week. The A's Cuban outfielder was reunited with his mother for the first time in 1 1/2 years, after she and 11 other relatives made the difficult (and complicated) journey from Cuba.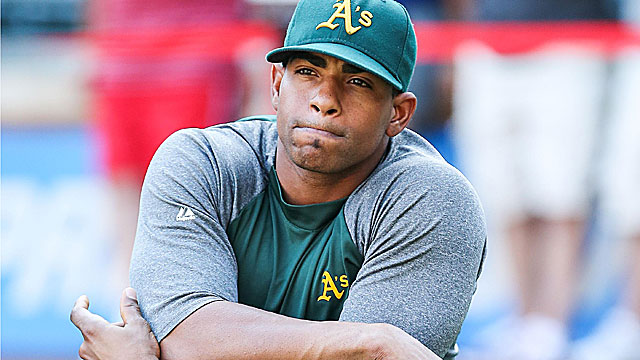 PHOENIX -- You try to put yourself in Yoenis Cespedes' place, but you just can't.
You try to imagine what he has been through, what the last couple of years have been like, but you can't.
With most players, you can. You don't have their talent, but you can picture having their life.
With Cespedes, you just can't.
Cespedes returned to the A's spring training camp Tuesday, after a two-day trip that none of us could imagine. He left Phoenix and flew to Miami, where he saw his mother and 11 other relatives for the first time in a year and a half.
Their journey from Cuba was much more complicated than his own, so complicated that Cespedes will only relate a few details. But those few details are enough.
"If I start talking about all that happened, the game would be over and I'd still be talking," Cespedes said, through interpreter Ariel Prieto.
The short version of the story is this: Cespedes made his way out of Cuba in 2011, signed a four-year, $36 million contract with the A's last February, and went on to become the most important player on a team that surprised everyone by winning the American League West.
"I enjoy watching him play more than I do anyone else in the game," said one rival scout who was watching the A's on Tuesday.
As a baseball story, it's a great one. As a human story, it's even more.
And when you think about what Cespedes accomplished last year and you put it together with what he and his family were going through, well, it's incredible.
His mother, Estela Milanes, was a star softball pitcher in Cuba. She helped teach her son the game. He still refers to her, semi-jokingly, as his second hitting coach.
"She watched some of my games last year," Cespedes said. "I'd talk to her on Skype, and she'd tell me what I was doing wrong."
Making the connection wasn't easy. Cespedes said in the first half of last season, he spoke to his mother only about a dozen times.
Things got even more complicated later on. Milanes and the other relatives left Cuba and traveled through the Dominican Republic. Arrangements had been made to bring them to the U.S., but they ended up in detention in the Turks and Caicos last October.
According to a story in the Turks and Caicos Sun, the group was thought to be the subject of a human trafficking ring.
Last Saturday, while the A's were playing a spring training game in Surprise, Cespedes received a text message telling him that the group was finally free, and on a boat headed to Miami.
He made arrangements to go see them, taking a red-eye flight to Florida.
"I got there at 6 a.m.," he said. "It was a big surprise to them. They didn't know I was coming. I opened the door, but everybody was sleeping. I turned on the radio and the TV, trying to wake them up. I pounded on the doors."
The reunion was as emotional as you can imagine.
"The party wasn't over until 6 the next morning, when I had to leave for the airport," Cespedes said.
He had to get back. He has to get ready for the season.
"All my family knows this is my job," he said.
His spring was off to a slow start, with just three hits (all singles) in his first 19 at-bats.
Nobody with the A's is concerned. Everyone with the A's can understand that his mind has been occupied elsewhere.
There were times during the ordeal that three or four days would go by with no word on where his relatives even were, let alone whether they were safe.
It's better now, even though the family will remain in Miami for now. They're coming to Oakland for opening day, and at least Cespedes knows they're safe. Now he can even hold out hope that his 3-year-old son, and maybe more family members, will be able to leave Cuba, too.
"This year, my mind is clear," he said.
Now there are more normal concerns, like whether he can get enough spring at-bats to get his swing right, or whether the A's can find someone to protect him in the lineup.
Normal concerns, the kind we might even be able to relate to. Not that many of us can relate to having Cespedes' talent.
"He has all five tools," one scout said. "Except now they're not just tools, they're skills, because he's shown he can use them."
He has more than that, because Cespedes showed the A's last year how quickly he could adjust. He adjusted to American baseball, he adjusted to pitchers and he adjusted to left field.
"That might have been the most impressive adjustment," A's manager Bob Melvin said. "We had a series in Kansas City where he looked lost there. By later in the year, he had become a defensive weapon for us."
He was an offensive weapon, too, with an .861 OPS, 23 home runs and 82 RBI. He was so important that the A's went 82-46 with him in the lineup, and 12-22 in the games he missed.
He did it all while wondering when he'd ever be able to see his mother again.
No, we can't relate.
Colon wants to break a Dennis Martinez record

The Twins have been rumored to be interested in Darvish all winter

Rolen is one of the best third basemen of all time, but you wouldn't know it based on this...
Neither Josh Donaldson nor Brian Dozier have talked about a new contract extension

Francisco leads the Dominican Winter League with seven home runs

Thome deserves enshrinement and here's why the case against him does not hold up