After exam, Harvey expected to try to rehab before resorting to surgery
After seeing noted doctor James Andrews, word is Mets star Matt Harvey is still hoping to avoid surgery and will begin a throwing program in one-to-two months.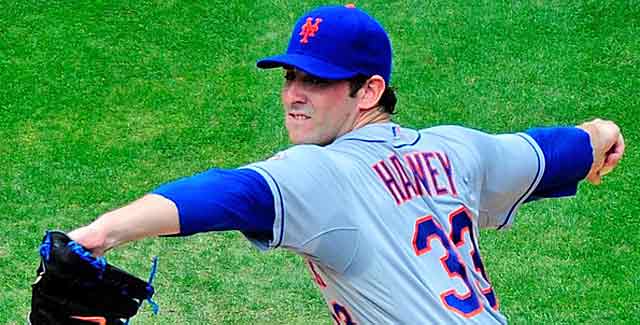 Mets star right-hander Matt Harvey is expected to try to avoid Tommy John elbow surgery after seeing noted sports doctor James Andrews on Monday.
The diagnosis apparently was positive enough that Harvey is expected to try rehab for now, then begin a throwing program in 1-2 months. Surgery remains a possibility, depending on how the rehab and throwing go.
Harvey was diagnosed by Mets doctors as having a partial tear of his right ulnar collateral ligament a few weeks ago. That does not appear to be in dispute, but while such a tear usually requires surgery, some pitchers have been able to pitch through such an injury.
No details of Andrews' examination are known.
The Mets announced Monday that they were planning to make an announcement Tuesday regarding Harvey's prognosis and protocol.
Mets co-owner Jeff Wilpon and Harvey's agent, Scott Boras, declined comment.
The very common Tommy John surgery is believed to be up to 90 percent effective with ligament tears in the elbow, but since the procedure isn't quite 100 percent and would surely cost him the 2014 season, Harvey has been said to be hoping to avoid surgery. He has also heard from Phillies star Roy Halladay shortly after his diagnosis, who was a rare pitcher to avoid the surgery after a similar diagnosis.
Even if Harvey eventually needs surgery, he still would have time to try rehabbing the injury and be ready for the 2015 season, which is another consideration.
Harvey had a 2.27 ERA in 178 1/3 innings for the Mets in 2013 and was a Cy Young candidate before he was sidelined.
If the MLBPA wants to fix MLB's economic system, it should push for more money for young p...

Fans aren't happy Gerrit Cole and Andrew McCutchen have been traded away

Acuna is arguably the best prospect in baseball
Kent had a good career, particularly with the bat

This would undoubtedly be the worst trade in Miami Marlins history

The Pirates recently shipped Gerrit Cole and Andrew McCutchen to Houston and San Francisco,...