After huge game, Miguel Cabrera a legitimate Triple Crown threat
Tigers third baseman Miguel Cabrera in a pretty good position to lead the AL in batting average, home runs and RBI -- a.k.a. the AL Triple Crown. If he did win it, Cabrera would become the first player to win his league's Triple Crown since Hall of Famer Carl Yastrezemski did so in 19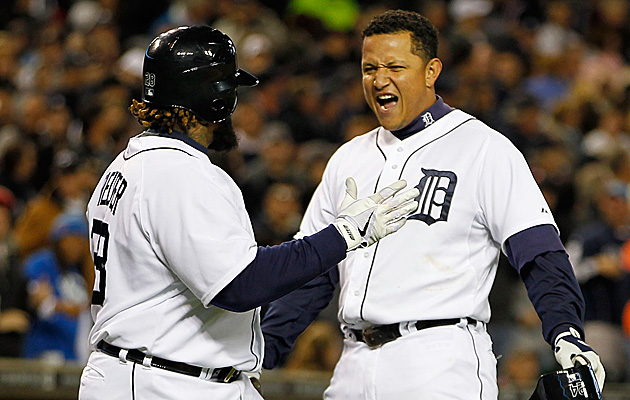 The AL MVP plot thickens. (Getty Images)
Tigers third baseman Miguel Cabrera went 3-for-4 with two homers, a double, six RBI and three runs in a big Tigers win over the A's, 12-2. The big blow as far as Cabrera's individual stat line is concerned was a grand slam in the eighth. That blast put him in a pretty good position to lead the AL in batting average, home runs and RBI -- a.k.a. the AL Triple Crown. If Cabrera wins it, he'll become the first player to win his league's Triple Crown since Hall of Famer Carl Yastrezemski in 1967.
Cabrera is now hitting .333, leading the AL. In second place is Angels center fielder Mike Trout, who is batting .327 batting average.
After the six RBI Tuesday, Cabrera now has 129 RBI. Rangers outfielder Josh Hamilton has 123.
Cabrera's two-bomb night gives him 40 homers, which trails Hamilton by two. Also of note for Cabrera on an individual level, his 39th homer marked a career high and he's now (obviously) reached 40 homers for the first time in his already-stellar career.
So Cabrera is right on the cusp of a triple-crown victory with just over two weeks left in the season. The side storyline here is the AL MVP race. Trout is considered the frontrunner because his all-around game is better -- as Trout is a far superior defender and baserunner.
But wouldn't the first triple crown since the LBJ administration sway some voters? It would be a glorious old-school stat vs. new-school stat debate.
For more baseball news, rumors and analysis, follow @EyeOnBaseball on Twitter, subscribe to the RSS feed and "like" us on Facebook.
Marcell Ozuna figures to be the next Marlins star on the move

Several relievers have signed in the last two days

Several teams are interested in the switch-hitting first baseman
Neshek and the Phillies are closing on a two-year contract

And the team that first drafted Cole is interested

This scout was SUPER into Jeter