After losing Granderson, Yankees need to make a play for Soriano
Word is that Soriano told the Cubs he'd be open to East Coast teams. However, he suggested he might like to start the year with the Cubs before weighing possible new teams.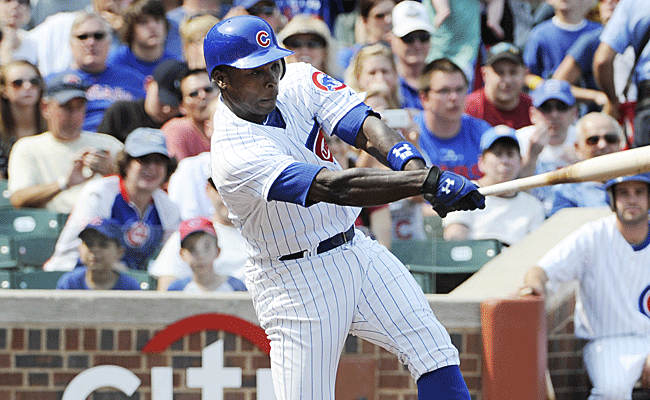 Alfonso Soriano tallies 32 HRs and 108 RBI for the Cubs in 2012 and made big improvements in the outfield.
(Getty Images)
MESA, Ariz. – The Yankees should try to make a play for Alfonso Soriano. They should have tried for him long before now, anyway, since they don't have a set right-handed DH, or really even any dependable DH, unless you count the lefty-swinging Travis Hafner, who's an injury waiting to happen.
Now the Yankees are down an outfielder with Curtis Granderson not due back for 10 weeks after he broke his arm when he was hit by a pitch today. Soriano could fill that need, too. The Yankees have a few needs, but their lack of power, especially until Granderson returns, presumably around May 1, is maybe the most glaring.
These are unusual times for the Bronx Bombers indeed.
The ex-Yankee Soriano had 32 home runs and 108 RBI for the Cubs last year after having hit no homers through May 14, and he made almost unprecedented improvement in the outfield last year, at age 36. Yankees GM Brian Cashman's next call needs to be to the Cubs. It's almost too obvious.
The only question should be whether Soriano would come back, and the belief is that he probably would, though maybe not immediately. Soriano has veto power over trades, and according to sources he's told the Cubs that he prefers not to go to the West Coast but would consider contenders on the East Coast.
"I'd like to think about it,'' Soriano answered when asked if he'd consider the Yankees. "I'm not young anymore. I want to do what's best for me and my family.''
What's best for him for now is to stay with the Cubs, at least to start the season, at least in his mind.
"I want to give it one more shot with this team,'' Soriano said. "Let's see how this team does. I want to be a champion with the Cubs. That's my plan. If we don't get off to a good start, I'll have to think about a new plan.''
The Yankees need to get started on a new plan themselves. They need to commence convincing him they want him. They haven't acted like they do, and maybe he knows that.
At least until know, the Yankees have indicated they won't give up a good prospect for him despite their obvious need for right-handed power. That has to change.
They aren't the only ones who won't give up big prospects for Soriano, it seems, and that doesn't make it right, or even make sense. Soriano may be among the more overpaid players. But now, it seems, he is simultaneously among the more under-rated, a rare combination.
Soriano, fresh off a year where he drastically improved his defense (his UZR was the best in the National League, not kidding), is here in camp hitting liners, being his upbeat self and guiding the young prodigy Jorge Soler, who has impressed Cubs people with his attitude and overall game in addition to his obvious power.
Soriano, meanwhile, is hitting like it's July already, lining hits in his two at-bats today, with the first one ricocheting off Giants pitching star Matt Cain's lower leg. He also remains an upbeat, positive presence around HoHoKam Park, too.
Soriano somehow got an unwarranted rep. We all know he's susceptible to the slider in the dirt. He isn't the greatest outfielder (though he's much better than before). Sure, sometimes he appears to be stylin'. And yes, it's true he didn't want to go to the Giants last summer, which was contractually allowed.
But it's something else, really. Has to be, because this is one terrific player and person.
"It's the contract,'' one GM said, flat out.
OK, so he's overpaid. But it isn't his fault he was given a $136-million, eight-year deal. He simply signed. Who wouldn't have?
Soriano is a productive hitter and a delightful man. He could help a lot of teams -- the Yankees and Phillies among them.
 "If we can get him to a winner and get a good package back we'd consider it. We haven't even been tempted yet,'' Cubs president Theo Epstein said. "He's a valuable guy here. He's more valuable to us than anything we've been offered … by far.''
Indeed, Soriano gives the Cubs a nice middle-order lineup presence and provides guidance to Soler, a budding star and much more complete player than folks realized. The same could be said about Soriano, who would have won a Gold Glove on numbers alone.
But there is that rep. "DH is still his best position,'' one rival GM said, echoing the sentiments of some.
Maybe so, but that's only if you already possess three excellent defenders. Soriano worked hard to improve his defense, and he is to the point where he is more than serviceable, which isn't bad when you consider it's his third position after shortstop and second base, and he's 37.
The Cubs could use him. But of course they are trying to build a winner with a young core (and seemingly doing superbly at that, quickly expanding their roster of future stars). They'd trade him, if only they could get true value.
The Cubs have told teams that they'd pay about $26 million of the $36 million to go on his deal through next season but that they would need a good prospect or prospects back in return. The Phillies seemed to be the best hope for awhile, and there was talk of a possible swap for Phillies outfield prospect Domonic Brown.
The Yankees are very protective of their prospects, the ones they have. And the way things have gone with those prospects lately, they may be even more protective.
Though, the other issue is whether the Yankees could even do a Soriano deal for just one good prospect, considering their top upper-level prospects like Manuel Banuelos and Dellin Betances are all coming off years with injury or underperformance. Catcher Gary Sanchez and outfielder Mason Williams are among their better guys down below.
The Yankees' bigger concern is that they need help now, or it should be anyway. Which brings us to Soriano, who can be tough to read when it comes to his no-trade power.
Last summer, the Giants and Cubs were talking about a trade for Soriano when Cubs bosses checked to see whether he'd waive the no-trade. He told them no, ending the trade talks that had just begun.
"I didn't want to go over there. The weather in San Francisco is not the best weather for me,'' Soriano said. "It's not about the organization, it's about me.''
The Giants wound up winning the World Series, so he took some heat for wanting to stay out of the cold. The Giants got Hunter Pence instead, and Pence wound up making an inspirational speech and contributing the famous triple-hit in their fabulous October run.
The Giants can have no regrets, although after seeing Soriano slam a liner off Cain's shin, one Giants person remarked he'd wished the Cubs had traded Soriano already.
The Cubs aren't just giving him away, and you can't blame them. Soriano is a delightful personality who explained how he retains his cut physique despite his massive daily intake of ice cream with one word: "genetica.'' (genetics)
He's a nice man who has also taken to the new Cubs regime, from the president and GM to the manager and coaches. He's done everything they've asked, and that includes overhauling his outfield play. "Thank God for Dave McKay,'' he said. "Before, I had an outfield coach, but it wasn't the same.''
He's been agreeable to everything. But predicting how he responds to a trade request may be a bit trickier.
Soriano recently suggested to Cubs writers that there are six or seven teams to which he'd accept a deal. But word is there is no official list, that he's told them he's open to the East Coast teams.
"I signed here to win here,'' Soriano said. "If we don't get off to a very good start, and somebody wants me and they have a chance for the playoffs, why not? I want a chance to win. I have two or three years left.''
He's a great guy, and he'd be better for the Yankees. But there's no guarantee he'd accept them, either, even though he loved playing there and was long thought to be enamored of the idea of a return. The guess here is, he probably would accept if the Cubs fell out of the race. It's worth it for the Yankees to find out now.
The Nats will host the All-Star Game in 2018

The Orioles are looking to trade Machado heading into his walk year

The Cardinals have been linked for a while to the Baltimore star
Gallardo spent the first eight years of his career in Milwaukee

MLB revenues are at a record high right now, but teams aren't spending it on players

Chicago added Tyler Chatwood earlier this offseason but might not be done adding to the ro...