After months of waiting, Kendrys Morales' stock should be rising
With Prince Fielder being out for the season and the Mariners having a need for a power bat in the middle of the lineup, free agent Kendrys Morales should have seen his stock rise.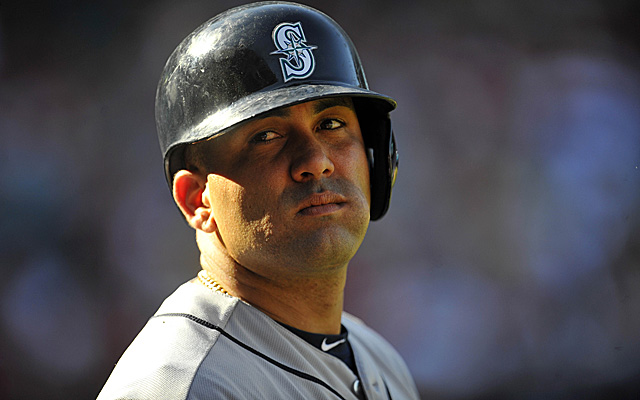 Related: Prince Fielder may miss rest of season after neck surgery
The big MLB news Thursday was Rangers first baseman Prince Fielder appears to be done for the season, as he's all but certain to have neck surgery next Tuesday. That means Mitch Moreland again becomes the everyday first baseman in Texas, but it also leaves a vacancy in the middle of their order that could be filled with a designated hitter.
And that resonates pretty well for free agent Kendrys Morales, in my view.
When asked by MLBTradeRumors.com whether or not he'd make an outside-organization move to shore up the loss of Fielder, Rangers general manager Jon Daniels said, "not today, not right now."
That's a pretty good way to leave one's self an out, no? "Today" and "right now" are much different than doing something next week, so I wouldn't exactly say that's a denial of interest and if the Rangers did sign Morales soon, it wouldn't make Daniels a liar. This doesn't mean the Rangers are interested, either, but let's just keep in mind moving forward that in no way did Daniels say the Rangers had zero interest in Morales.
Look, the Rangers have a major void in the middle of their order. It's pretty obvious to anyone paying attention. Though the batting average and on-percentage aren't bad, the club ranks toward the bottom in the AL in slugging percentage and home runs. They need more power. That's not coming from inside the organization at this point, either.
Morales is 30 years old and is coming off a season which he hit .277/.336/.449 with 23 homers. He'd look rather nice in that lineup between Adrian Beltre and Alex Rios, especially as a switch-hitter between the two righties.
Morales has also played his entire career for teams with pitchers' parks as homes while Globe Life Park in Arlington is one of baseball's best hitter's yards. In Morales' career, in fact, he's hit 10 homers in just 139 at-bats in Globe Life Park.
Basically, he'd be a great fit on a one-year deal to fill in for Fielder in the lineup while not having to play defense at all on his surgically-repaired ankle from several years back.
Then again, will the Scarlet Letter that is draft pick compensation make the Rangers think twice before signing him in panic after the Prince injury? It's possible. The draft doesn't happen until June 5-7. Morales has been reportedly willing to wait until after the draft, so someone would need to give him a reason to sign earlier, much like Stephen Drew signing back with the Red Sox.
Enter the Seattle Mariners.
Since Morales was with the Mariners last season, they wouldn't have to cough up a draft pick to bring him back. They entered Thursday ranked 13th in the AL in slugging percentage and 10th in homers, so they could certainly use the power help as well -- especially with Corey Hart on the disabled list and hitting only .209.
We know Morales won't be bothered by Safeco Field, because he actually found a way to hit better at home than on the road last season.
Basically, Morales would be a great fit on a one-year deal with the Mariners, too. He already was a great fit, but might the Fielder injury be the impetus that pushes Seattle to jump on Morales? Remember, though neither team is pushing the A's in the AL West, there are two wild cards. Even though it's far too early to start standings-watching, both teams are within two games of the second wild card spot right now. They are playoff hopefuls who are also division rivals competing against each other. If he signs with one team, it hurts the other.
Speaking of which, anyone else with some interest in Morales (Orioles?) might see the Mariners having a need to be met and the Rangers now having the opening due to a Fielder injury and all of a sudden decide to swoop in and make Morales a better offer than had been previously extended.
Essentially, Morales feels like a "winner" here in the wake of the Prince Fielder injury. Even if the Rangers don't really have interest in him -- and, again, I don't understand why they wouldn't -- the simple fact that the Rangers now appear to have a need Morales could fill should only increase his stock with fellow AL playoff hopefuls, such as the Mariners and Orioles.
They still would much rather grab the AL East, however

Sale becomes the first AL pitcher to reach 300 strikeouts since 1999

Steve Balboni's long-standing record of 36 has finally fallen
Several players called for the netting to be extended down the base lines following Wednesday's...

Maria made landfall as a Category 4 on Wednesday

The players are trying to do their job and don't want to see anyone hurt