After playing in 3 WBCs, Team DR's Tejada would like to manage in one
Miguel Tejada has been part of Team Dominican Republic for each of the first three World Baseball Classics. Tejada will be 42 the next time the tournament is held, but he has already told Team DR general manager Moises Alou that he'd like to manage the team in 2017.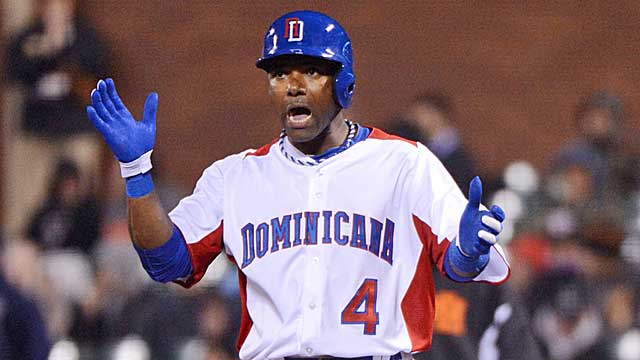 SAN FRANCISCO -- Miguel Tejada has played in each of the first three World Baseball Classics.
He's playing in this one at age 38, starting at third base for a Dominican Republic team that has advanced to Tuesday night's championship game against Puerto Rico. With the next tournament four years away, Tejada knows this is probably it -- at least as a player.
Team DR general manager Moises Alou said Monday night that Tejada has already asked him about managing the Dominican team the next time around, in 2017.
"We'll see," Alou said.
The job might not be open, especially if Team Dominican Republic finishes off a perfect WBC by defeating Puerto Rico on Tuesday night. In that case, Alou said, Tony Pena would no doubt be given a chance to return as manager and try to defend the title.
Then again, by 2017, Pena (the Yankees' bench coach) might be managing in the big leagues. Because the WBC is held during spring training, current big-league managers aren't able to participate.
There's plenty of time to figure it out. The next WBC is four years away.
But Miguel Tejada already knows he wants in.
The Pirates recently shipped Gerrit Cole and Andrew McCutchen to Houston and San Francisco,...

Surely, Martinez and his agent are holding out for more

The reliever had a very good 2017 season with the NL Central champs
We don't need to discuss Chipper's Hall of Fame case, so let's have fun instead

Dioner Navarro still hopes to return someday

Christian Yelich's agent says his client's relationship with Marlins is 'irretrievably bro...