Aggressive Arizona may be just a little bit more cautious than usual
While superstar Paul Goldschmidt is the one known untouchable D-Back, the teams doesn't seem anxious to trade a few others, either.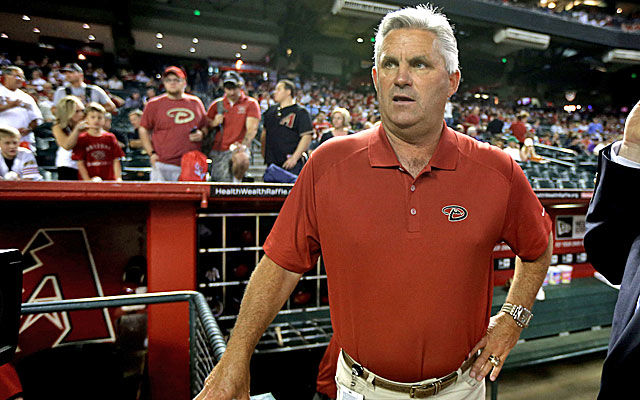 More MLB: Power Rankings | Expert Picks | Latest news & notes | Fantasy news
Diamondbacks GM Kevin Towers, long considered one of the more courageous trade-deadline dealers in baseball, already has made two deals this trading season and maintains one of the most open minds when it comes to dealing stars, saying the only player he'd really put in the untouchable category is superstar first baseman Paul Goldschmidt.
"Anyone else, you'd have to at least look at," said Towers, who admits he occasionally even talked about trading Trevor Hoffman during the closer's Hall of Fame career when the two were in San Diego together (though he obviously never did).
However, Diamondbacks people generally like their talent more than their 43-56 record, and the chances for a deal involving any of young shortstop Chris Owings, speedy outfielder A.J. Pollock, veteran catcher Miguel Montero or young pitcher Wade Miley still seem unlikely at this point. As for Miley, who's drawing substantial outside interest, Towers said trading him "doesn't make a whole lot of sense since we're trying to acquire starting pitchers."
Towers pulled off two deals before undergoing vocal cord surgery July 7 in New York. He was limited to 300 words a day by his doctor for 10 days afterward (150 during the day, and 150 at night) but sounds much better and is armed for action.
Opponents aren't predicting anything close to a full fire sale for the Diamondbacks, however. Of course, Arizona has traded a lot of young talent in recent seasons, and rival executives say the D-Backs seem just a little bit more cautious than usual now. And really, it shouldn't be such a shock that the D-Backs cherish their players despite the team's overall performance this year. "We don't want to overreact," another D-Backs official said.
Arizona quickly became a surprise also-ran after devastating back-to-back elbow injuries to ace Patrick Corbin and set-up man David Hernandez undermined what seemed like a decent team before the season ever really got started. By the time they returned from Australia two games in, they were already hurting. Arizona still has more good young players than most and understandably fancies itself a likely contender next year.
That means their sale might not be as extensive as first believed following the quick deals for starter Brandon McCarthy and reliever Joe Thatcher. Beyond even the beloved Goldy, the quartet of cornerstone players (Owings, Pollock, Montero and Miley) and key 2015 returnees Corbin and Hernandez, officials with other teams suggest they also don't seem eager to trade versatile outfielder-infield Martin Prado and consistently productive reliever Brad Ziegler, either.
One interested GM concluded he believes Prado, who is beloved for his leadership qualities and work ethic, won't go anywhere based on Arizona's admiration for him. More likely, they work hard to find a home for Aaron Hill, a versatile guy who could fill a second-base need for several contenders if any of them believe he can return to old form following this rough year for him. (The Yankees, for one, don't appear to, but the A's, Giants and Blue Jays all have second-base questions.)
Additionally, if the D-Backs did sell Mark Trumbo or Gerardo Parra, they wouldn't necessarily be selling high. Trumbo had an injury-affected year, and Parra, a favorite of fans and defensive stat lovers, isn't having his best season, either.
Left-handed reliever Oliver Perez, a late spring signing, has pitched superbly lately, raising his value, but since he's signed for next year as the only viable lefty reliever following the trade of Thatcher, they may not deal him, either. They'd listen on young closer Addison Reed, who's had only an average first year in Arizona, but with the closer market not exactly barren, it may be hard to get what they'd want for him. They'd prefer to trade some others, such as Trevor Cahill and Cody Ross, but they can't be drawing any interest due to yearlong slides.
The Diamondbacks have depth in the pen, at third base and shortstop -- though defensively strong shortstop Didi Gregorius may be a more likely trade candidate in the winter, especially with Owings still out for now with a shoulder bruise (though he could also help a couple contenders at second base).
The D-Backs came into the year seemingly deep in starters, but in their star-crossed season where even pitching import Bronson Arroyo, who never gets hurt, needed Tommy John surgery, that's a need once again. But to get a serious starter or two, Towers may have to stick to his usual rule of listening on almost anyone.
CBS Sports HQ Daily Newsletter
Get the best highlights and stories - yeah, just the good stuff handpicked by our team to start your day.
Please check the opt-in box to acknowledge that you would like to subscribe.
Thanks for signing up!
Keep an eye on your inbox for the latest sports news.
Sorry!
There was an error processing your subscription.
Torres, to say the least, is off to a torrid start in 2018

Keep it right here for all of Friday's MLB action

The Yankees have a big roster decision to make on Saturday
The Mariners remain all in on making the playoffs this season

Neither Ramirez nor Sandoval lived up to the hype and neither did the 2014 winter moves by...

Ramirez should be able to find another gig and here are the best fits