Aiken, Astros No. 1 pick, remains in limbo nine days after deal was close
There's been a lot of speculation about what could be wrong. GM Jeff Luhnow says they still aim to finalize an agreement.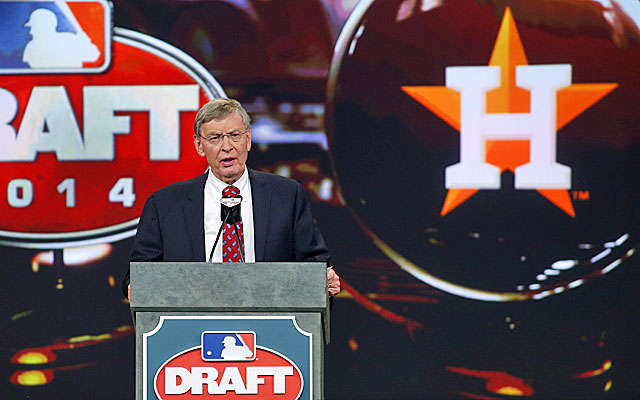 More MLB: Power Rankings | Expert Picks | Latest news & notes | Fantasy news
Brady Aiken's parents and sister were said to be in Houston early last week, readying to celebrate the expected announcement of the signing of the Astros' No. 1 pick that still hasn't come, nine days later.
The sides were said to have had a tentative deal for the No. 1 overall pick for $6.5 million, and Aiken, a lefthanded pitcher out of the San Diego area well-known as a terrific young man with off-the-charts makeup, was said by all involved to be very excited to get his professional career started.
But as of today, more than a week after the announcement that never happened, there's no official word as to what happened, and while the sides hope to work it out before the July 18 deadline for a deal, at this point there's no absolute certainty they will.
The Astros were the victims of a rare mass leaking of trade notes from last year in a capper to a rough week, but they remain characteristically mum on what happened with Aiken. Speculation has centered on a physical taken just before the press conference that never came, with one source suggesting there'd been some talk around the Astros of a physical issue thought to be relatively minor, or at least something that can be worked around, though that is unconfirmed.
Astros general manager Jeff Luhnow declined to say whether there's a physical issue that came up with Aiken, saying in a phone interview, "I can't comment on that. Our hope is to reach an agreement. Our plan is to get the player signed. That's what we've said from Day One. There's really no rush."
Word was that there had been an agreement for $6.5 million, as was first reported by Jim Callis of MLB.com, with the parameters said to have been arranged before the draft, as the Astros prefer for their top pick. Even that figure is $1.4 million below the $7.9-million slot for the No. 1 overall pick, but it's possible the Astros could try to get a further discount if something was found in the physical.
Aiken could only become a free agent if the Astros failed to offer 40 percent of the slot value, which would be close to $3.2 million, something that won't happen. Aiken's adviser Casey Close didn't return messages.
If anything did come up in the physical, it would have been a surprise to the Astros, as there was no indication anything was amiss as Aiken earned the No. 1 pick with consistent performance and conservative usage. Things looked like they were about to be done, though as Luhnow pointed out, they never got to the point of scheduling a press conference.
It's been quite a rocky stretch overall for the Astros' three No. 1 overall picks, as shortstop Carlos Correa suffered a broken fibula in a game for Class-A Lancaster, just before he was to be promoted to Double-A Corpus Christi, and righthanded pitcher Mark Appel still carries an ERA over 9; he's struggled since  a late start due to the removal of his appendix, to the point where he called his season "comical" at one point, though Luhnow noted that he's been encouraged by two recent good starts.
 Appel had a wrist issue that necessitated a cortisone shot, though Luhnow said the wrist injury occurred a couple weeks back and isn't a concern now. Astros people say he's simply had trouble adjusting to the Astros' unusual minor-league tandem rotation and a difficult Cal League for pitching, with winds often blowing balls out in Lancaster. Another person said, humorously, that he believed Appel's biggest physical issue may be a "bruised ego."
Luhnow said doctors have assured them that Correa will recover 100 percent and expressed complete faith he will remain a shortstop, and not have to move to third base, but the GM said they'll plan for him not play in fall or winter, and just get ready for spring training.
"We just want to be cautious," Luhnow said.   
The Astros, having a painful week, meanwhile suffered the indignity of having someone hack their computer system and post their trade notes from 10 months of last year, with Luhnow undertaking the job of calling GMs around the league whose private messages were exposed. While Houston people suggest the notes had mistakes, someone familiar with a few of those talks called them "eerily accurate."
However, when it comes to Aiken, a lefty blessed with terrific poise and a tremendous repertoire for a 17-year-old who was said to be No. 1 on the Astros' board for several weeks leading up to the draft, the Astros are quite tight-lipped.
 Except, they will admit one thing. If they don't sign Aiken, that won't help matters.
As Luhnow conceded, "That would not be a great outcome."
Keep tabs on the top 50 free agents right here

Your one-stop shop for all things MLB Winter Meetings-related

The Angels knew about the first-degree sprain and still wanted to sign the potential ace, of...
The run on relievers continues with two more signings

The Yankees added Giancarlo Stanton in a blockbuster trade, though they now have openings at...

Smyly is currently on the mend from Tommy John surgery