Airman surprises his family at Braves game
Air Force Master Sgt. David Sims surprised his family at Turner Field, meeting them there after a six-month deployment to Afghanistan.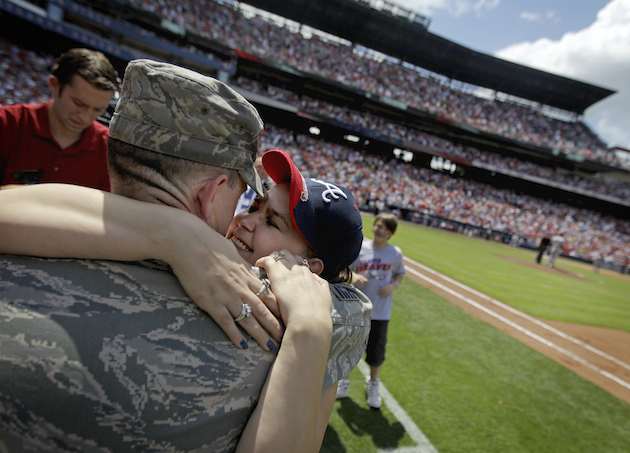 A great sight in Atlanta on Monday, as the Braves hosted a reunion for Air Force Master Sgt. David Sims and his family during the Braves' game at Turner Field.
Here's the video:
The Braves showed a video Sims shot in Afghanistan recently on the Turner Field scoreboard between innings, honoring him, his wife and three kids during the team's "hometown heroes" celebration. Sims didn't tell his family he'd be there Monday, saying on the video: "I love you, I miss you, I hope you're having fun watching the Atlanta Braves. I can't wait to see you again. In fact, wait one minute…"
He then came out of the Braves' dugout, as his family ran to him.
Sims' wife, Robin, said she expected something, but was still surprised.
"I had a suspicion, but he still surprised me in the end," Robin Sims
told the Atlanta Journal-Constitution
. "I thought he would be here. I watch one too many television shows and one of my favorite ones is
Coming Home
. And last time he deployed, he came home in a Christmas box, so it's not past him to surprise me."
Sims is stationed at Robins Air Force base south of Atlanta. He took a 24-hour flight from Kabul through Germany, Ireland and Baltimore to get to Atlanta on Monday after finishing his six-month deployment in Afghanistan.
I loved seeing the Braves players on the top step cheering for Sims and his family. Remembering what it was like for my dad to come home from a deployment, I can't help but be so happy for the Sims family.

The report also says that Jeter had outgoing president David Samson do the firing

This wasn't a traditional hidden ball trick, but the Blue Jays pulled it off

The Tigers essentially fired Brad Ausmus on Friday, but things are going to be ugly for a...
The club made the announcement on Friday

Plus the Tigers will make a change in the dugout and all of Friday's action

The Rockies are clinging to the second NL wild card spot at the moment