A.J. Pollock injury dooms D-Backs and here's what they should do about it
The Diamondbacks lost a superstar when A.J. Pollock fractured his elbow just before Opening Day, and it may behoove the organization to cash in some 2016 value with an eye toward the future.
The Royals losing Lorenzo Cain. The Orioles losing Manny Machado. The Pirates losing Andrew McCutchen. That's the kind of player the Diamondbacks lost when A.J. Pollock fractured his right elbow Friday, knocking him out for several months and possibly the whole season.
For a team that went all-in for 2016, this is devastating news. Considering the D-Backs looked like a third-place team even before Pollock's injury, there's a bigger issue in play: Should Arizona consider switching course and look toward the future?
To ponder this question, we should start by reflecting on the splashy moves the Diamondbacks made over the winter.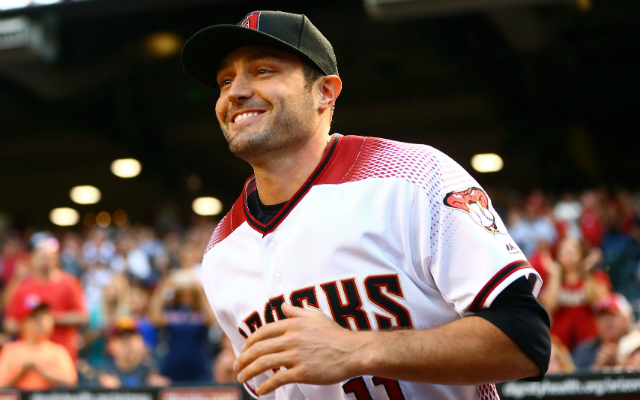 In a span of 24 hours at the winter meetings, the Snakes shocked the baseball world by landing two big-name pitchers. First, they signed All-Star right-hander Zack Greinke to a $206.5 million contract. The Diamondbacks can close their eyes and imagine Greinke mowing down hitters in years four, five, and six of that deal. But history tells us that big free-agent contracts for pitchers in their 30s almost always fail, sometimes spectacularly so. Even though pitchers don't always follow the same age curves as hitters, and even though much of Greinke's success relies on command and guile more than raw velocity, injuries and/or diminished skills are a near certainty for any pitcher over 30, given that long a time frame.
If the Greinke contract was puzzling, the trade for Shelby Miller the very next day was downright vexing. Given his defensive excellence, you could argue that five years of control of Ender Inciarte compare favorably with the three years the D-Backs got of Miller. Unfortunately for the D-Backs, Inciarte wasn't anywhere close to the biggest prize they had to give up in the trade. They also gave up Aaron Blair, one of the most highly touted pitching prospects in the minors. Most damning of all, they surrendered Dansby Swanson, the No. 1 overall pick in the 2015 draft, a do-it-all shortstop projected by scouts to be a future star.
The early returns on Greinke and Miller? Terrible. Acknowledging that pitchers sometimes need a few regular-season starts to reach top form, Miller showed flaccid velocity in his first start Tuesday, resulting in Rockies hitters rarely getting fooled. Combine Miller's ugly first start with Greinke getting roughed up on Opening Day and the Diamondbacks set an unfortunate franchise record.
Zack Greinke & Shelby Miller (ARI): 13 ER in first 2 combined starts. That's the most allowed in 1st 2 starts of season in D-Backs history

— ESPN Stats & Info (@ESPNStatsInfo) April 6, 2016
As always, we have to be hyper-careful about drawing conclusions based on small sample sizes. Greinke and Miller will surely fare better as the season goes along. But the broader point is that the D-Backs have built a top-heavy roster, one that features impact talent like Greinke and sublime slugger Paul Goldschmidt, but also major question marks, including no-hit shortstop Nick Ahmed; Yasmany Tomas, who broke into the big leagues last year with a replacement-level performance; a bullpen that's mostly untested beyond its top two arms; and a rotation that's a big mystery beyond the top two. Simply put, when the big boys don't come through, the Diamondbacks are going to struggle ... especially against deeper, more balanced rosters like, say, those of the Giants and Dodgers. If you're handicapping the D-Backs' chances this year, a .500 season (or worse) looks like a more likely bet than a division title.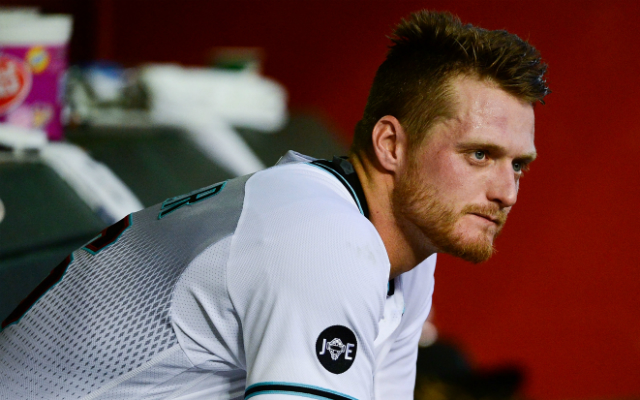 The Diamondbacks should use the Padres' pivot as a template for what to do next. San Diego went hog wild at the 2014 winter meetings (and beyond), just as the Diamondbacks did a year later. By nabbing Justin Upton, Matt Kemp, Wil Myers, Derek Norris and Will Middlebrooks, GM A.J. Preller hoped to corner the market on the seemingly rare commodity of right-handed power, while also making the perennially dull Friars a fun team to watch. When Preller landed right-hander James Shields and closer Craig Kimbrel later that offseason, San Diego became a trendy pick for a big turnaround season, and maybe a playoff berth.
None of that ever happened. Injuries, disappointing performances and Preller failing to addresses the multiple post-spree roster weaknesses that remained doomed the Pads to a sub-.500 season. At first, Preller was a little slow in recognizing this. Upton looked like a prime trade candidate at last year's deadline, especially given the number of teams needing a power bat in July. But Preller tilted at windmills instead, saying he saw the sub-.500 Padres as playoff contenders. So Upton went nowhere at the deadline. And while the Padres collected draft pick compensation at year's end when Upton signed with Detroit, it's likely they would have scored a better return had they dealt Upton instead.
The good news is that Preller did learn to change course. Preller made a few medium-impact moves, such as trading veterans Yonder Alonso and Marc Rzepczynski for a package of young talent that included lefty Drew Pomeranz and young power hitter Jabari Blash. But the coup de grace came in November, when he flipped Kimbrel to the Red Sox for a package of four exciting prospects, a deal that has the potential to pay off for years to come. With right-hander Andrew Cashner a free agent at the end of this season, Tyson Ross eligible to bolt after next year and Shields signed for three more years at $21 million a pop, Preller could continue to trade present for future value, while making sure not to part with his core young players.
The D-Backs should consider following suit. That course of action should start with exploring the market for Miller. Just 25 years old, armed with a strong reputation among scouts and coming off a season in which he fired 205 1/3 innings, Miller would be an attractive target for teams looking for rotation help, which is to say, just about any team that's not the Mets. But a closer look at Miller's numbers suggests he might not be a truly elite pitcher: Though he flashed a 3.02 ERA last year, a high walk rate and abnormally low home-run-per-flyball rate point to a pitcher with fielding-independent numbers a full run worse.
That possible disconnect between actual value and perceived value isn't the only reason to consider shopping Miller. By flipping Swanson, Blair, dynamic teenage infield prospect Isan Diaz and others, the D-Backs suddenly sport one of the most barren farm systems in baseball, one that still features a couple of promising pitching prospects, but little in the way of position player talent. Miller, along with free agents-to-be Brad Ziegler and Daniel Hudson, and post-2017 free agents Tyler Clippard and Welington Castillo, would all be good pickups for other clubs and could all fetch younger talent that could help the D-Backs for years to come.
Of course, there's a big difference between what should happen and what's likely to happen. A major teardown wouldn't make sense, given Greinke's current skill level and Goldschmidt being a franchise player on a laughably team-friendly contract. But even trading away next-tier players might be too much for the Diamondbacks to process. Though Preller and D-Backs GM Dave Stewart were hired within a few weeks of each other, their circumstances are drastically different. Stewart reports to Tony La Russa in Arizona's front office and didn't come with anywhere near the reputation that Preller (a scouting and player development whiz in Texas before coming to San Diego) had, and has. If the Diamondbacks start trading a bunch of veterans (especially Miller) come June and July, that could be perceived as Stewart admitting defeat.
And that's assuming Stewart's bosses would even go along with that plan. Given how involved La Russa and company were in this go-for-it gambit in the first place, they very well might want to stand pat, accept a 79-win season and declare optimism for 2017, when Pollock will be back. It's an ugly state of limbo for Diamondbacks fans, who get to root for one of the planet's best hitters, one of its best pitchers ... and a bunch of guys who probably aren't good enough to get the team to October anytime soon.
CBS Sports HQ Daily Newsletter
Get the best highlights and stories - yeah, just the good stuff handpicked by our team to start your day.
Please check the opt-in box to acknowledge that you would like to subscribe.
Thanks for signing up!
Keep an eye on your inbox for the latest sports news.
Sorry!
There was an error processing your subscription.
Plus the Angels are looking to add players they can control beyond this season

SportsLine's Mike McClure, a DFS pro with nearly $2M in winnings, gives optimal lineup adv...
Let's take a look at who's been buzzing in the world of baseball this week

What is each team in the AL Central looking to do before the trade deadline? Here's our buy...

The trade deadline will fall on July 31 and the hitter's market isn't so lively this year