AL caliber lineup helps Reds get into NL postseason
The Reds figure to be a dangerous team in the playoffs thanks to a strong pitching staff and a deep lineup that is on par with AL powerhouses.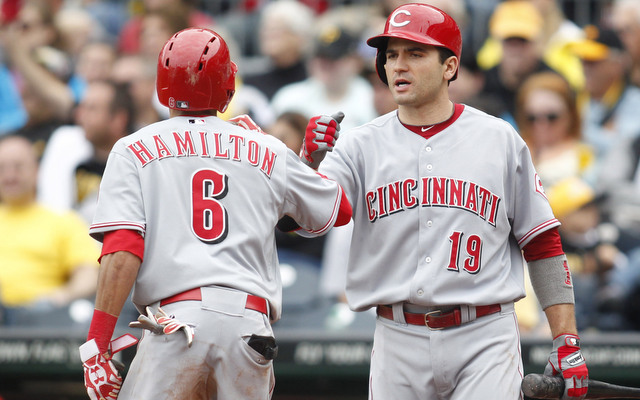 More MLB: Scoreboard | Standings | Probable Pitchers | Sortable Stats | Odds
For the second straight season and third time in the past four years, the Cincinnati Reds are going to the postseason. They've clinched at least a wild-card spot but still have a chance to unseat the Cardinals for the top spot in the NL Central these next few days.
How have the Reds done it? With a lot of pitching, first and foremost. They've got five quality starters -- six if you count the currently injured Tony Cingrani -- and an underappreciated bullpen behind closer Aroldis Chapman. Seriously, guys like Sam LeCure and J.J. Hoover have gotten very little attention for the job they've done in the middle innings.
Cincinnati also has a deep and patient lineup that is fit for an AL team. They came into Monday with the highest walk rate (9.2-percent) and second highest on-base percentage (.328) in the league, meaning they excel at driving up pitch counts and getting into the bullpen early. Much of that is thanks to two players: Shin-Soo Choo and Joey Votto. Among 141 qualified hitters, they both rank in the top four in OBP and top nine in pitches per plate appearance.
The Reds attack goes beyond Choo and Votto, however. Jay Bruce has already hit 30+ home runs for the third straight season while both Brandon Phillips and Todd Frazier (18 HR each) are each threatening 20 home runs. Frazier also ranks among the league top 35 in pitches seen per plate appearance, so he's another guy who will run up pitch counts and give pitchers a fit in general. Cincy's non-pitchers have a .337 OBP, the fourthest highest in baseball.
It doesn't stop there though. Thanks in large part to the lefty bats of Choo, Votto and Bruce, the Reds have the second highest OBP (.342) and fourthest highest SLG (.410) in the league against right-handed pitchers. Outside of Clayton Kershaw, who is so insanely good platoon splits don't matter, the best left-hander in a playoff rotation will be Francisco Liriano, and the Reds might not even face him if the cards break right. After that there's good but not great southpaws like Mike Minor, Jeff Locke, Paul Maholm and Hyun-Jin Ryu. Those lefty bats are poised to be a huge factor in October.
Of course, the Reds had an excellent lineup last season and were unable to escape the NLDS. They also didn't have an elite leadoff man like Choo, which changes the entire dynamic of the team. Weird stuff happens in short series, we see it every year, but Cincinnati is in good offensive hands thanks to a lineup that features high on-base players, premier sluggers, and right-left balance. Most teams would be happen with two of those things. Manager Dusty Baker's team has all three.
Boston wants to add two big bats to their lineup, not just one

Even more relievers signed on the final day of the Winter Meetings

Keep tabs on the top 50 free agents right here
The league is not happy Ohtani's medical information leaked

Kansas City and Baltimore were quite busy at the Rule 5 Draft

Piscotty's mother was diagnosed with ALS earlier this year