AL clinches home field in 2014 World Series with 5-3 win in All-Star Game
The American League has secured home field advantage in the 2014 World Series with Tuesday's All-Star Game win.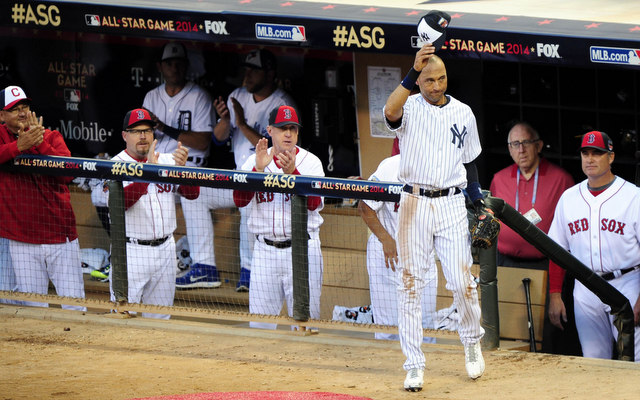 More All-Star Game: Full AL and NL Rosters | Fullll All-Star Game Coverage
In what was one of the more entertaining and crisply played All-Star Games in years, the American League beat the National League by the score of 5-3 on Tuesday night (box score). The AL has secured home field advantage in the World Series this fall.
The story of the game was Yankees captain Derek Jeter, who was playing in his final All-Star Game. He received a huge ovation during the pregame introductions and again before each at-bat. Jeter was pulled after taking the field in the fourth inning, again to a big ovation. He went 2-for-2 with a double and a run scored on the night.
The AL jumped all over Cardinals right-hander Adam Wainwright (who later stirred some controversy) in the first inning, scoring three runs on a double (Jeter), a triple (Angels' Mike Trout) and a two-run home run (Tigers' Miguel Cabrera). The NL rallied to tie by scoring two runs off Jon Lester of the Red Sox in the second and another off Chris Sale of the White Sox in the fourth.
The American League retook the lead for good in the fifth inning against the combination of Cardinals righty Pat Neshek and Nationals righty Tyler Clippard. Derek Norris of the Athletics and Alexei Ramirez of the ChiSox both singled with one out against Neshek, then Trout doubled in the go-ahead run on a ball that just stayed fair inside third base. The Astros' Jose Altuve plated an insurance run with a sac fly. All five AL runs were charged to Cardinals pitchers.
Seven AL pitchers held the NL to three hits and a walk in the final five innings to preserve the win. Twins closer and Minnesota native Glen Perkins retired the side in order in the ninth for the save. Trout, not Jeter, was named Most Valuable Player after the game.
Below is our live blog of the evening, which includes GIFs, quotes, video, photos ... pretty much anything that was worth sharing. The newest updated are at the top.
---

Yu Darvish broke out his eephus pitch in the third inning, missing just inside to Troy Tulowitzki:
Yu Darvish almost got his man looking with this 56 MPH pitch. #ASG #Rangers http://t.co/00dSXNBKJn

— Texas Rangers (@Rangers) July 16, 2014

No controversy about Jeter's second hit -- Alfredo Simon said he did not groove the Yankees captain any pitches:
Alfredo Simon: "I tried to get him out, but if he got a base hit, it's no big deal. It's the All-Star Game. I'm happy for him."

— Bryan Hoch (@BryanHoch) July 16, 2014

AL manager John Farrell used his closer, Red Sox righty Koji Uehara, to get out of a runner on third, two outs jam in the sixth inning. He struck out Devin Mesoraco, and afterwards Koji said he'd rather be playing golf:
Uehara said he was really nervous, that four pitches were enough, and that he's still disappointed he won't play golf this week.

— Tim Britton (@TimBritton) July 16, 2014
Priorities.

The best defensive play of the night goes to the NL tandem of second baseman Dee Gordon and first baseman Freddie Freeman. Michael Brantley hit a ground ball to the left of Gordon, who slid, turned and fired to first in one move. Freeman finished it off with the stretch:
And the stretch! #ASG pic.twitter.com/xds8EuRObw

— MLB Fan Cave (@MLBFanCave) July 16, 2014

Here is Jeter's pregame speech to the AL team:

Adam Wainwright admitted to grooving a fastball to Jeter during his first inning at-bat, the double:
Adam Wainwright admitted he grooved a fastball to Derek Jeter in the first: "I was gonna give him a couple pipe shots. He deserved it."

— Jeff Passan (@JeffPassan) July 16, 2014
This time it counts! It should be noted the first pitch Wainwright threw Jeter was in the dirt.
Anyway, Jeter dunked a single into right off Alfredo Simon in the third inning. He was pulled in the middle of the fourth inning to a huge standing ovation.
Derek Jeter's final career #ASG batting average is now .481 (13/27), 5th all-time (min. 10 ABs).

— MLB Public Relations (@MLB_PR) July 16, 2014

Someone managed to hang a sign that says "Love water, not oil" over the video scoreboard in right field:
Security guard said sign has been noticed. "We're on it." #ASG pic.twitter.com/FFxWLQ8rwE

— Chris Cotillo (@ChrisCotillo) July 16, 2014

Here's a GIF of Trout's fun fun fun triple ...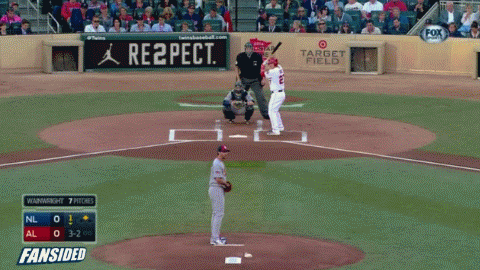 ... and Miggy's all-business homer ...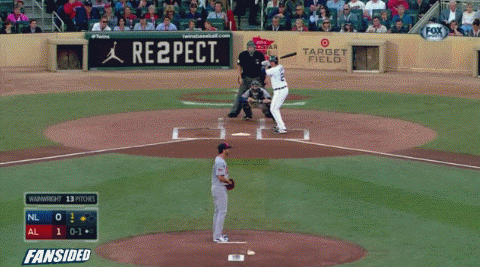 ... for the quick 3-0 lead. The NL did strike back for two runs against Jon Lester in the top of the second. Both GIFS via @FansidedGIFs.
Jeter started the game with a great diving stop at short, but McCutchen juuust beat it out for an infield single. In the bottom half of the first, the Yankees captain led off with a double into the right field corner as some idiot chanted "over-rated:"
OVERRATED? https://t.co/4ZstsXGSmP

— SB Nation GIF (@SBNationGIF) July 16, 2014
The AL scored three runs off Wainwright in the first inning, two on a Miguel Cabrera homer. They were a single short of the cycle as a team.

The requisite flyover:
The flyover during the National Anthem pic.twitter.com/UBoiYLXe0u

— Rhett Bollinger (@RhettBollinger) July 16, 2014

Here's the scene during baseline introductions. As you can imagine, Kurt Suzuki, Glen Perkins and Ron Gardenhire all got huge ovations from the hometown crowd. So did Pat Neshek, who pitched for the Twins and grew up in the area, and former Twinkie Carlos Gomez. Oh, yeah, and that Jeter guy too. They love him in Minnesota.
Glen Perkins tips his cap after getting a loud ovation from Twins fans at Target Field. #ASG pic.twitter.com/Hl2XYxsmns

— Rhett Bollinger (@RhettBollinger) July 15, 2014

First things first, here are the starting lineups for the American League (home) and National League (road) teams. Remember, these players were voted the starters by the fans.
2014 All-Star Game: Starting Lineups
American League
National League
1. SS Derek Jeter, Yankees
1. CF Andrew McCutchen, Pirates
2. LF Mike Trout, Angels
2. RF Yasiel Puig, Dodgers
3. 2B Robinson Cano, Mariners
3. SS Troy Tulowitzki, Rockies
4. 1B Miguel Cabrera, Tigers
4. 1B Paul Goldschmidt, Diamondbacks
5. RF Jose Bautista, Blue Jays
5. DH Giancarlo Stanton, Marlins
6. DH Nelson Cruz, Orioles
6. 3B Aramis Ramirez, Brewers
7. CF Adam Jones, Orioles
7. 2B Chase Utley, Phillies
8. 3B Josh Donaldson, Athletics
8. C Jonathan Lucroy, Brewers
9. C Salvador Perez, Royals
9. LF Carlos Gomez, Brewers
Felix Hernandez of the Mariners and Adam Wainwright of the Cardinals will be the starting pitchers. Perez is replacing Orioles backstop Matt Wieters, who was voted as the AL starting catcher but can not play due to injury (Tommy John surgery).
Unlike Monday night, the weather in Minneapolis is fine, cool and cloudy with no rain in the forecast. It should be a pleasant night for baseball in Target Field.
No, you're not imagining things. This MLB offseason has been very slow compared to the last...

Francesa will retire from radio next month, so he'll have plenty of free time next summer

Get your sports fans something that they'll wear all year
Get 15 percent off any order of more than $75 at CBS Sports Shop

The Twins need help in the rotation, and they may look to the trade market to find arms

Here are the bullet-points of what went down Tuesday regarding MLB and the Braves' punishm...