AL Cy Young race a bit more open following Hernandez's recent hiccup
Felix Hernandez continued his string of subpar starts on Friday night by giving up four homers to the Nationals. The AL Cy Young race is a little more open than it appeared a few weeks ago.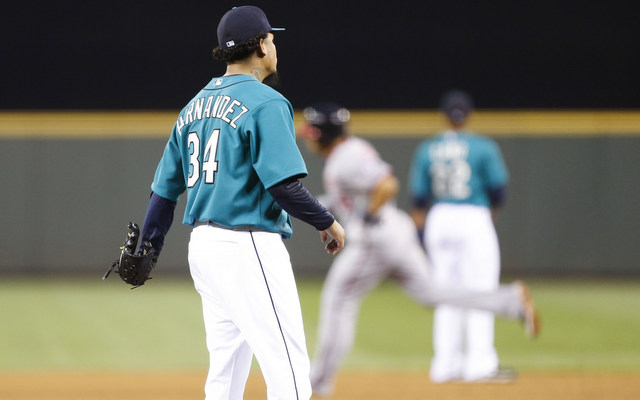 Mariners right-hander Felix Hernandez has been in the league for 10 seasons now, but during Friday's game against the Nationals (WAS 8, SEA 3), he did something he had never done before in his career. He allowed four home runs in a single start.
Washington roughed Hernandez up for five runs on 10 hits -- including those four homers -- in seven innings on Friday, no doubt a poor start by Felix's lofty standards. He lasted only five innings in each of his previous two starts as well, so Hernandez has now allowed ten runs in his last 17 innings.
Prior to this little hiccup, Felix was the clear AL Cy Young favorite and was also likely to receive some MVP consideration. He set a Major League record with 16 straight starts of at least seven innings and no more than two runs allowed earlier this summer, allowing him to come into mid August with a 1.95 ERA.
Following these last three starts though -- and, just to be clear, Hernandez has not been awful lately, just not as good as he was earlier this year -- Hernandez now owns a 2.23 ERA and 5.5 WAR, both the second best marks in the AL. Chris Sale leads the league with a 2.03 ERA and Corey Kluber leads with 5.8 WAR. Felix's 13 wins are also tied for the sixth most in the league.
Hernandez was the clear, no doubt AL Cy Young favorite a few weeks ago, when he was in the middle of his historic 16-start stretch. These last three starts have been a bit of a bump in the road and, given the quality of the pitching around the league, they're enough to let guys like Sale, Kluber, Jon Lester and maybe Max Scherzer back into the Cy Young conversation.
Now, obviously, we still have a full month of games left to be played, and a lot can and will change during that time. I'm confident these last three starts are nothing more than a little hiccup for Hernandez and he'll right the ship soon enough, which will probably still be good enough to earn him the Cy Young. He's already built his case, now he's just topping it off.
Sale and Kluber in particular deserve a lot of Cy Young consideration for the seasons they've had, but for much of the summer Felix was so far ahead of the pack that it seemed like nothing more than a race for second. The door is open a bit now thanks to Hernandez's last three starts. That's all it takes to turn an award with a heavy favorite into more of a race at this point of the season.
We heard about it being awful for years, but was it?

Then again, three trades in four days might be behind Jerry Dipoto's usual pace

Ohtani is arguably the best hitter and pitcher in Japan
The O's need rotation help, and Cobb is available for hire

The Red Sox and Cardinals are expected to make trade offers next

The free agent first baseman may be a fit in St. Louis