AL Cy Young Watch: Max Scherzer still cruising to easy win
It's time to again check out the state of the AL Cy Young 'race.' Yes, 'race' needs to be in quotes. It's over.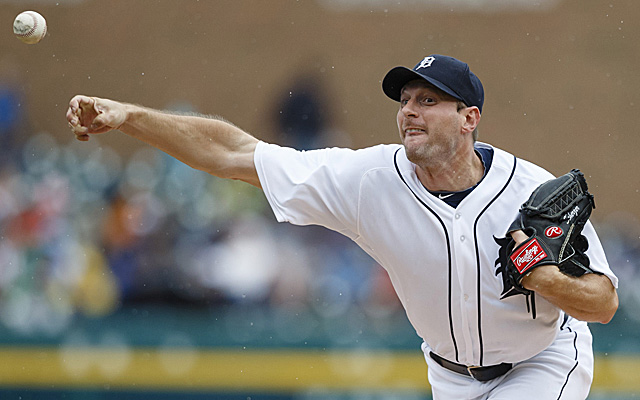 Awards Watch: NL MVP | AL MVP | NL Cy Young
In our final bi-weekly look at the race for every major individual award, we stumble upon a snoozefest. Again (much like NL Cy Young). I don't know what the leader here would have to do to lose the award, but it's pretty unrealistic.
As a reminder, these aren't our picks but instead an attempt to gauge how the voting body would make a selection as things currently stand -- based upon voting history, trends and observations of the current voting body.
Max Scherzer, Tigers: As I've mentioned before, Scherzer has a great case without even including record. He leads the AL in WHIP and ranks fifth in ERA. He's second in strikeouts and strikeout rate while having worked over 200 innings. He's fourth in K/BB ratio and leads all AL pitchers in Fangraphs.com's version of WAR. With the 19-3 record for a playoff team, however, I don't feel like the rest really matters. This thing is over.
Bartolo Colon, Athletics: The big man is 16-6 with a 2.73 ERA (second in the AL) and 1.19 WHIP. He's second in the AL in walk rate, giving away only 1.36 free passes per nine innings. He's tied for the big-league lead with three shutouts. Don't forget that Colon is the ace of the AL West champs -- barring a colossal collapse -- so that helps his case with many voters.
Yu Darvish, Rangers: Had the Rangers not saddled Darvish with four 1-0 losses -- one off the major-league record for a single season -- he may well have made this thing interesting. As things stand, though, I believe Scherzer's 19-3 record compared to Darvish's 12-9 mark means the majority of the voters won't even think of voting for Darvish at the top.
Anibal Sanchez, Tigers: He's buried behind Scherzer on his own team, but Sanchez leads the AL with a 2.51 ERA (an astounding 167 ERA+). He's also 14-7 with a very good strikeout rate (9.8 per nine innings, good enough for third in the AL behind Darvish and Scherzer) and is the stingiest pitcher in the AL in terms of giving up home runs (0.47 per nine innings). A few more very good starts and the Tigers will have a great argument to place starters 1-2 in Cy Young voting -- with neither being Justin Verlander. Hard to figure how they're in first place, huh?
Felix Hernandez, Mariners: The King was once pushing Scherzer, but he's been hampered by injury and has a 6.42 ERA in his last six starts. Plus, he hasn't made a start since Sept. 2. He'll gather some votes, but not nearly enough to be considered a serious candidate at this point.
Greg Holland, Royals: The diminutive closer has 43 saves and a ridiculous 94 strikeouts in just 61 innings.
Hisashi Iwakuma, Mariners: The majority of the voting body uses record and ERA as the primary criteria in deciding how to vote. On that front, Iwakuma (12-6, 2.87) is ahead of King Felix. He also sports good peripherals, for example, only trailing Scherzer in WHIP.
Mariano Rivera, Yankees: There may be some sentimental voters out there.
Chris Sale, White Sox: He has a 3.08 ERA, 1.07 WHIP and 214 strikeouts in 201 1/3 innings. He also leads the AL with four complete games. Of course, thanks to only getting 3.18 runs in support (only Kevin Correia has had it worse) per start this season, Sale's record is 11-13. That's a disqualifier for many voters.
James Shields, Royals: He leads the AL in innings pitched and it's no coincidence how much he's helped the Royals' pitching staff turn things around by his mere presence atop the rotation -- by knocking everyone else down a slot. I don't believe the 12-9 record and 3.33 ERA are good enough to garner serious consideration, but I do believe that some voters will take into account the dramatic turnaround by the Kansas City rotation and attribute lots of it to Shields. He'll get a few votes.
Chris Tillman, Orioles: None of his other numbers are worthy, but he's 16-6. That'll probably get him at least one fifth-place vote (voters only vote 1-5 per league).
C.J. Wilson, Angels: By the same token, Wilson is 17-6 and has better numbers in most other spots than Tillman.
Clay Buchholz, Red Sox: Pitching for the best team in the AL -- probably the majors, actually -- Buchholz is 11-0 with a 1.51 ERA and 1.01 WHIP. Simply sparkling numbers. Due to injury woes, however, he's only made 14 starts, working 95 1/3 innings. That's not nearly enough to get him serious consideration.
The Rangers' lefty and wife Heidi have done a very good deed

Will J.D. Martinez be Boston's next target?

Could catcher J.T. Realmuto be the next Miami player to be traded?
If the slow-play for Martinez, Hosmer and Arrieta sounds familiar, it should

The Nats will host the All-Star Game in 2018

The Orioles are looking to trade Machado heading into his walk year