AL Cy Young Watch: Scherzer in the lead with less than four weeks to go
We continue our series looking at major award with the AL Cy Young, which is likely to go a Tiger for the second time in three years.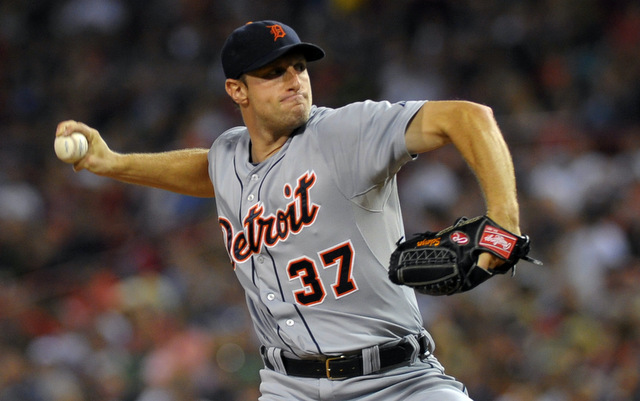 More Awards Watch: NL Cy Young
Believe it or not, a lot has changed since we last checked in on the AL Cy Young Award race two weeks ago. That's because nearly every realistic candidate has gotten shelled since then. These last two weeks have been very rough on baseball's best pitchers.
As a reminder, this series isn't intended to tell you who we think should win each award. Instead, it's a look at who is likely to win each award based on voter tendencies and all that stuff. We could be and likely will be wrong when it's all said in done. Baseball's weird like that.
Max Scherzer, Tigers: Despite being saddled with his second loss of the season on Tuesday, Scherzer remains the front-runner for the award because of his almost historically great 19-2 record (and MLB best run support). His Cy Young case goes much deeper than win-loss record, however. Scherzer leads the league in WHIP (0.94), ranks second in strikeouts (209) and WAR (6.0), third in ERA (2.88), fourth in innings (190 1/3) and fifth in K/BB ratio (4.54). With another four or five starts left to go, Scherzer could finish at something like 23-2 or 22-3. He'd be a lock for the Cy Young at that point.
Yu Darvish, Rangers: Darvish is the only Cy candidate to not get his brains beat in at some point in the last two weeks. The second year MLBer caming into Wednesday start leading baseball in strikeouts (236) and strikeout rate (12.2 K/9) while posting a strong record (12-6), ERA (2.73), WHIP (1.03) and innings total (174 2/3). The general lack of wins might hurt Darvish's case, but he's been about as good as any pitcher in the league on an inning-by-inning basis.
Felix Hernandez, Mariners: Felix allowed nine runs in three innings two starts ago and left his last outing with a back problem as a precaution, so his late-season Cy Young charge is off to a rocky start. He still ranks among the league top ten in ERA (3.01), WHIP (1.13), strikeout rate (9.3 K/9), innings pitched (194 1/3) and WAR (5.2), so his case for the award remains rock solid. Shaking off the back problem and dominating this month would probably make him runner-up to Scherzer.
Chris Sale, White Sox: It's a shame that such a great season is being wasted on such a bad team. Sale leads the league with 6.2 WAR and is in the top six with both a 2.97 ERA and 1.06 WHIP, but the ChiSox stink and he's sitting on a 10-12 record. Voters showed with Hernandez a few years ago that they will ignore win-loss record in the case of overwhelming dominance, but Sale has been on par with the other Cy Young candidates rather than head and shoulders above everyone else.
Anibal Sanchez, Tigers: Scherzer's teammate actually leads the league with a 2.68 ERA and fares well in the various other categories, but Sanchez missed more than a month with a shoulder issue earlier this season. He's only thrown 151 1/3 innings across 24 starts, which hurts his case. On a rate basis, he's been as good as almost anyone in the AL. The Cy Young is about quality and quantity though, and Sanchez lacks the bulk innings to make a serious run at the award.
Bartolo Colon, Athletics: Colon's case was always built around a strong win-loss record (14-6) and ERA (2.90), but he didn't pitch all that well in August before landing on the DL with a groin strain. Add in last year's performance-enhancing drug suspension (which spilled over into this year for a tiny bit) and it's hard to see Colon getting any serious consideration.
Hiroki Kuroda, Yankees: For about a month, Kuroda and Hernandez were going back and forth for the league's ERA crown. The New York right-hander hit a wall last month and has allowed 40 base-runners and 23 runs in his last four starts and 23 innings, effectively taking him out of the race. With a pedestrian 11-10 record, Kuroda could wind up getting zero votes after leading the league in ERA as late as mid August.
Hisashi Iwakuma, Mariners: Felix hogs the spotlight in Seattle and deservedly so, but Iwakuma has had an excellent season as well. He actually bests his teammate and ranks third in the league with 5.5 WAR, plus he ranks second with a 1.02 WHIP, third with 191 innings, fourth with a 4.69 K/BB ratio and fifth with a 2.92 ERA. That's a pretty excellent Cy Young case, and yet Iwakuma is not talked about as a serious candidate.
Neshek and the Phillies are closing on a two-year contract

And the team that first drafted Cole is interested

This scout was SUPER into Jeter
Stanton warned Marlins fans about the lean years that are forthcoming

The World Series champions aren't complacent

Stanton swiped at his old team on his way out