Al Kaline calls Mike Trout 'an outstanding player,' compares him to Mickey Mantle
Mike Trout's combination of strength, speed and power reminds Hall of Famer Al Kaline of Yankees legend Mickey Mantle.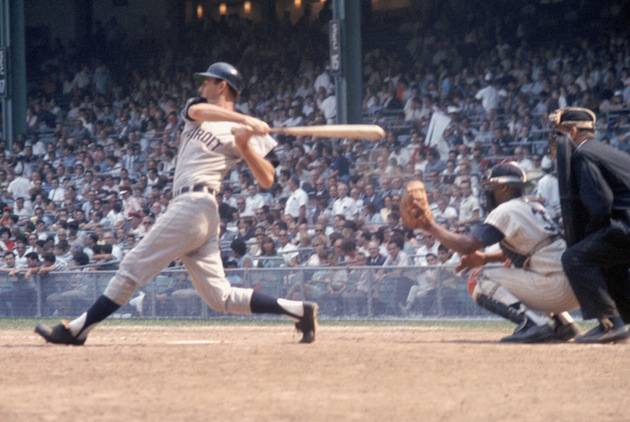 Tigers from 1953-74. (Getty Images)
Young players are often compared to all-time greats when they're brought up, although most of the time it's from fans and media. So this isn't the first time Mike Trout has been compared to Mickey Mantle, but recently someone with a little better perspective -- and resume -- than the usual folks throwing the comparisons around said Trout reminded him of the Mick.

"He's a strong guy, runs really well, power -- he reminds me a little bit of a Mantle," said Hall of Famer Al Kaline told John Lowe of the Detroit Free Press.

Kaline played against Mantle for many years and knows a little bit about being a young phenom. As a 20-year-old rookie in 1955, Kaline won the American League batting title with a .340 average. Trout, 20, currently leads the AL with a .349 average.

Kaline noted it would be difficult for Trout to keep up his average -- at this point in 1955, Kaline was hitting .373 -- but thinks Trout is "an outstanding player."

"It will be a little bit more difficult in the last couple of months because the pressure will be there," Kaline said in Lowe's article. "There will be a little more commotion around him, and everyone will want a little bit more of his time."

It was interesting to hear so many people at the All-Star Game who are saying the same things about Trout and Bryce Harper as the media have -- comparing their potential rivalry to that of Mantle, Willie Mays and Duke Snider in the '50s. But it should also tell you something when the likes of Kaline are praising Trout and George Brett touted Harper. It's not just hype, as many claim, these two are legitimate players who are playing the game right and should be a joy to watch for many, many years to come.
For more baseball news, rumors and analysis, follow @EyeOnBaseball on Twitter, subscribe to the RSS feed and "like" us on Facebook.
J.D. Martinez is reportedly headed to Boston on a free-agent contract

Keep tabs on the top 50 free agents on the market right here

Arizona didn't waste much time turning to its fallback option following Martinez's deal with...
The former AL MVP has been one of baseball's best players in recent years

The free-agent slugger will join the Red Sox after all

Harper would prefer if reporters respect his wishes