AL Manager of the Year Watch: Buck Showalter overshadows Bob Melvin
Baltimore's Buck Showalter will likely win the American League Manager of the Year, despite the compelling case you can make for Oakland's Bob Melvin.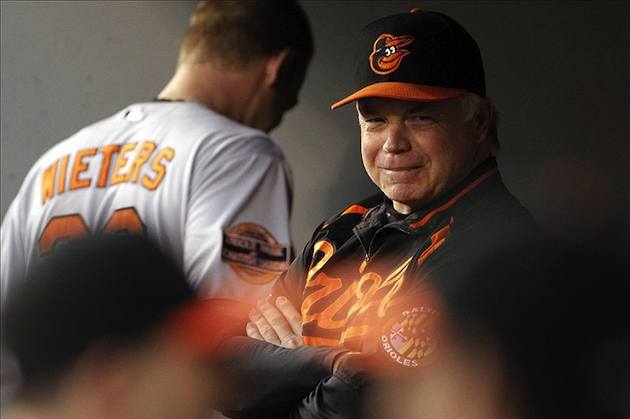 Buck Showalter has reason to smile. (US Presswire)
This is our final look at the American League Manager of the Year race before the regular season concludes -- and it'll be over one week from right now.
As always, these aren't necessarily our picks nor can they be accurately researched, as no members of the BBWAA voting body are permitted to reveal how they are leaning. What we do know is this award is traditionally given to the manager who most exceeds expectations and/or overcomes adversity during the season in terms of injuries, player turnover, etc.
Each ballot has three spots, and the guess is the first one is already filled out by most voters.
Frontrunner
Buck Showalter, Orioles: Showalter has it all -- he's exceeded expectations, he's (likely) headed to the playoffs and his team has excelled in two types of games that managers get the most credit for -- one-run games (27-9) and extra-inning games (16-2). The award is his, and it's going to be tough to find anyone to disagree.
Also in contention
Bob Melvin, Athletics: Like Showalter, there were few people expecting Melvin to be managing meaningful games this late in the year, and he'll also (likely) lead his team to the playoffs -- and done it with the lowest payroll in the league. You could argue he's been every bit as good as Showalter, but a couple of things will work against him. 1. East Coast bias. 2. And more importantly, AL East bias. 3. Billy Beane. While worshiping Billy Beane had become passé in the wake of the Moneyball movie, he once again wheeled and dealed his way to another winning season. Beane's presence could take votes from Melvin. 4. Name factor. Despite the fact both Melvin and Showalter are veteran managers, Showalter is the bigger name.
Robin Ventura: The first-year manager has stood toe-to-toe with the Tigers, the preseason's heavy favorite. Ventura's laid-back demeanor has seemed to be just what the team needed following the Ozzie Guillen era.
Others who may receive votes: Joe Maddon, Rays; Joe Girardi, Yankees.
For more baseball news, rumors and analysis, follow @EyeOnBaseball on Twitter, subscribe to the RSS feed and "like" us on Facebook.