AL Manager of the Year Watch
As we enter the last month of the season, the American League Manager of the Year Award is Baltimore's Buck Showalter's to lose.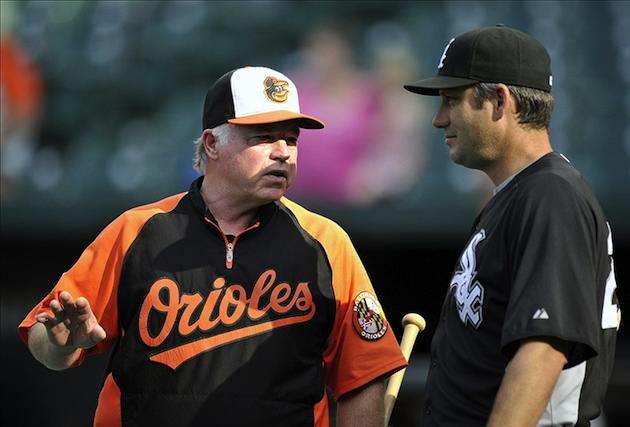 Buck Showalter may or may not be bragging about this list to Robin Ventura. (US Presswire)
So, our tour of the BBWAA award races ends here, with the big daddy of them all -- the American League Manager of the Year. This is the one I know you have spent hours debating at the bar, so let's just get to it…
Frontrunner
Buck Showalter, Orioles: The Orioles have allowed 46 more runs than they've scored, that's worse than the Blue Jays, Mets and only six runs better than the Royals. Of those teams, only the Orioles are within 3 1/2 games of the lead in their division. While their Pythagorean record is 60-69, their real record is 71-58. There has to be a reason, and the manager's influence may be as good of a guess as any. Showalter's done a masterful job, and there's no question about that.
Stock rising
More from Eye on Baseball
Bob Melvin, Athletics: The Angels are fading, but the A's aren't -- and that's something nobody would have expected a month ago. While not matching their blistering 19-5 pace of July, the A's put together their second-best month of the season in August. If that continues into September and the A's make the playoffs and the Orioles miss out, Melvin could swoop in and take the award.
Eric Wedge, Mariners: Don't laugh. Even though the Mariners are 63-68, the Mariners are 27-17 in the second half of the season and 21-13 since Ichiro Suzuki was traded. Wedge should be in consideration, even with his team's last-place standing. By going under the radar the second half of this year and Houston joining the AL West next season, he's a good sleeper pick for the 2013 Manager of the Year Award.
Status quo
Robin Ventura, White Sox: The White Sox are still leading the AL Central, even though the perception still may that they're only there because Detroit has sputtered.
Joe Maddon, Rays: He's arguably the best manager in the game, but there's no overwhelming narrative that boosts his case -- and while bloggers love to blast voters over narratives for other awards, this is the one where that actually does account for votes. The Rays are at their sneaky best, pitching well, scoring enough runs and within striking distance entering the final month of the season.
For more baseball news, rumors and analysis, follow @EyeOnBaseball on Twitter, subscribe to the RSS feed and "like" us on Facebook.
The Red Sox and Cardinals are expected to make trade offers next

The free agent first baseman may be a fit in St. Louis

The front office changes in Atlanta continue
The Marlins are more likely than you think on our list

Judge finished a distant second in the balloting and he paid respect to the winner

Stanton just won the 2017 NL MVP award but could wind up being dealt this offseason