AL MVP Watch: It's Miggy's to lose
Miguel Cabrera is distancing himself from a loaded AL MVP field.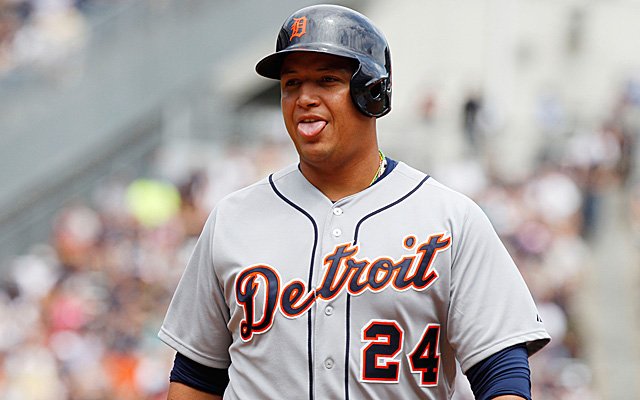 NL MVP Watch: Andrew McCutchen takes charge
It's time yet again to take our bi-weekly snapshot of where the major awards currently stand. An obligatory note before we dive in: These aren't my picks. These aren't predictions. This is an assessment of where we stand right now along with educated estimates of how the voting would shake out.
Miguel Cabrera, Tigers: Chris Davis is having an MVP-caliber season and Mike Trout has a decent chunk of the new-age market cornered, but if a vote were held right now, I believe Cabrera wins in blowout fashion. Miggy leads the majors in hits, RBI, total bases and every major rate stat (batting average, on-base percentage, slugging percentage, OPS and OPS+). He leads the AL in runs. He's one of the most clutch hitters in the game, his team is going to cruise to the postseason and he has been playing hurt. Everything merges for one tidy narrative. There's no chance he doesn't win the award if things continue on this path.
Chris Davis, Orioles: If not for the existence of the ridiculous hitter that is Miggy, Davis would be cruising to an unlikely MVP. He's hitting .306/.383/.688 with 35 doubles, an MLB-best 45 homers and 115 RBI. He's tied with Cabrera in runs and total bases atop the AL, too. Though not currently in playoff position, the Orioles are good enough that it won't disqualify Davis in the minds of the voters who only support players on good teams.
Mike Trout, Angels: Trout is the best all-around baseball player on the planet. He does absolutely everything well, which is why he leads the majors in WAR (again). Now, time for the kicking and screaming about him playing for a bad team! I'm OK with arguments against Trout, but they need to be something other than him not "leading his team to the playoffs." Otherwise the suggestion is that had he been playing for the Tigers all season with Cabrera on the Angels that the Angels would be awesome and the Tigers would suck (without even mentioning that the Angels had a better record than the Tigers last season). This is ridiculous. Completely and utterly ridiculous. Trout only gets four or five plate appearances per game and can't control how bad the Angels pitching staff is. This is an individual award, so why penalize players for having terrible teammates? I do believe, however, that the BBWAA voting body is more old school than new school and Trout appears headed for a third-place finish. Whether we agree with it or not, the standings play a large part in MVP voting.
Adrian Beltre, Rangers: Through many offensive issues, the Rangers have endured and sit atop the AL West. Beltre is a huge reason, especially now with Nelson Cruz being suspended. He's also an excellent defender. He finished third in AL MVP voting last season and seems poised for another top-five finish.
Manny Machado, Orioles: Such an amazing talent. He still leads the majors in doubles, too, but he's behind Davis on his own team.
Max Scherzer, Tigers: I hate judging pitchers solely on win-loss record, but many people still do it. Scherzer is 18-1 right now. What if he goes something like 24-1? He may well steal the award from Cabrera if he does.
Robinson Cano, Yankees: If the Yankees somehow make the playoffs after so many injury issues on the offensive end this season, serious credit would have to be given to Cano as a steadying presence in the middle of the order. As usual, he has the numbers, too.
Josh Donaldson, Athletics: I would put his chances at winning the award at around nil, but he's having a great season for a playoff-caliber team. He deserves to be mentioned.
Jacoby Ellsbury, David Ortiz and Dustin Pedroia, Red Sox: Boston appears poised to go from worst-to-first in baseball's toughest division and the Red Sox have a trio of players worthy of consideration. I would probably rank them Ellsbury, Pedroia, Ortiz at this point, but things could change down the stretch.
Felix Hernandez, Mariners: Because he's The King.
Jason Kipnis, Indians: He's emerging as a legitimate star, a true power-speed combo along with good glove work. An Indians playoff push would help boost his candidacy.
Evan Longoria, Rays: As usual, he's one of the most important players on a playoff-caliber team. I feel like the average (.271) would be too low for serious consideration by many voters.
Alex Rodriguez, Yankees: Kidding!
Gallardo spent the first eight years of his career in Milwaukee

MLB revenues are at a record high right now, but teams aren't spending it on players

Chicago added Tyler Chatwood earlier this offseason but might not be done adding to the ro...
The Dodgers and Braves pulled off a whopper on Saturday

Sabathia will reportedly spend a 10th season in the Bronx

Fowler suffered a knee injury at Chicago's Guaranteed Rate Field