AL MVP Watch: Miggy's got company
Miguel Cabrera's having a tough September. Does that mean Chris Davis and/or Mike Trout are closing in for AL MVP? Or will Miggy hold on?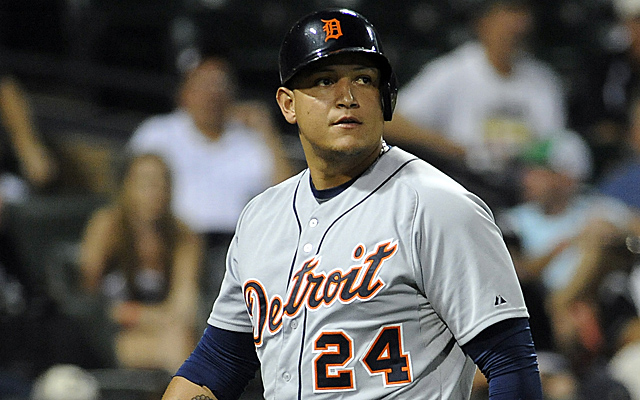 NL MVP Watch: Cutch still the leader, race far from over
With less than two weeks left in the Major League Baseball season, we'll take our final bi-weekly look at the race for each major individual award.
As a reminder, these aren't our picks but instead an attempt to gauge how the voting body would make a selection as things currently stand -- based upon voting history, trends and observations of the current voting body.
Miguel Cabrera , Detroit Tigers : Yes, he's still the clear-cut leader. That being said, Cabrera is suffering through a rough September, due in part to injuries. In this month, he's hitting .229/.372/.257 with one extra-base hit (a double) and three RBI in 43 plate appearances. On the year, he's still the MLB leader in RBI and every major rate stat, but if part of the narrative in giving him the MVP last year was his strong finish for a contender, doesn't a bad finish for a contender hurt him this year? Just trying to keep the arguments consistent. If Cabrera's struggles continue, this suddenly becomes a three-man race. For now, though, I still think he's safely in first.
Chris Davis , Baltimore Orioles : The 27-year-old slugger leads the majors in homers and total bases with a solid .294/.377/.649 triple slash line. I do not believe he has a shot to win this award, though. Those who believe in the old school stat categories and that an MVP has to come from a contender will prefer Cabrera. Those who prefer more new-school stats and don't mind if the player comes from a contending team or not will prefer Trout. Thus, my guess is Davis is headed for third place here.
Mike Trout , Los Angeles Angels : If he were playing for a contender, I think he'd be the leader. Trout is hitting .331/.436/.564 with 39 doubles, nine triples, 24 homers, 89 RBI, 106 runs and 33 steals. He's increased his walk rate, improved upon his strikeout rate and produces defensive gems. He leads the majors in WAR in both popular versions by a rather healthy amount. Basically, he's awesome at everything.
Considering the specific MVP criteria used by the BBWAA states a player doesn't need to play for a playoff team and that both offense and defense should be considered, a strong argument can be made for Trout to take home the honors. While Cabrera is the best hitter in baseball, Trout is the best all-around player. So the argument boils down to how one defines "value." Some people think you aren't valuable unless you play for a playoff team. They'll go Cabrera. Some believe -- as I do -- that most valuable simply means the best, because this is an individual award and having better teammates doesn't make someone more valuable. These are the Trout people.
Also, the argument that somehow it's "easier" for Trout to perform since his team isn't in playoff contention is laughable. The suggestion that somehow a guy who is doing things only a handful of guys at his age have ever done -- and some things that no one has ever done -- would somehow wilt under any sort of pressure is flat out stupid.
Not only that, but the Angels aren't 100 percent mathematically eliminated from postseason contention and they are 18-6 since Aug. 21. In those 24 games, Trout is hitting .321/.467/.512.
So go ahead and divide, argue, accuse and scream about this in the comments section with impunity. Remember, everyone who disagrees with you is a moron and doesn't know the game like you do.
Adrian Beltre , Texas Rangers : His chances diminish as long as the Rangers' tailspin continues. Still, Beltre enters Tuesday hitting .318/.375/.512 with 28 homers, 86 RBI and excellent glovework. He's been a steadying force on the offense that lost Josh Hamilton before the season and Nelson Cruz to suspension midseason.
Josh Donaldson , Athletics: The underdog here deserves serious consideration. He's the best position player on a team with a decent-sized lead in its division, so the group defining value as playing for a winner should be impressed. You like traditional stats? OK. Donaldson is hitting .301/.382/.506 with 23 homers and 88 RBI. Want to dig into some of the more widespread advanced metrics? OK. Donaldson is second in the AL (to Trout, obviously) in both versions of WAR, thanks to being a good offensive player and great defender. Donaldson is also fifth in OPS+ (149) behind Cabrera, Trout, Davis and David Ortiz . Can Donaldson finish fourth? It's entirely possible.
Evan Longoria , Rays: The on-field and in-clubhouse leader of another playoff-caliber Rays team, Longoria is hitting .268/.346/.499 with 29 homers, 77 RBI and 82 runs. As usual, his defense at third has been outstanding. The batting average is a bit low for Longoria to make a run at winning the award, but his best finish ever (previous best was sixth in 2010) is within reach.
Dustin Pedroia , Boston Red Sox : Given that they appear ready to cruise to the best record in the AL, the Red Sox are going to have a player garner serious MVP interest. That's the nature of how the vote goes. Given the Jacoby Ellsbury injury and David Ortiz missing several weeks -- not to mention not playing defense -- I'm left choosing between Pedroia and Shane Victorino . I believe Pedroia would get more votes, so he's the pick. He's hitting .297/.372/.409 with 39 doubles, eight homers, 80 RBI, 85 runs and 17 steals along with quality defense and leadership (which counts for many voters). Plus, he's played in an AL best 150 games. Having your club count on you on a daily basis matters, too.
Max Scherzer , Tigers: He's not a serious contender anymore because his 19-1 record at one point was the only real reason I think voters would have considered him a top candidate. Now that he's 19-3 and hasn't won a game since Aug. 24, I believe his chances at a top five finish are fading. He still has a shot, though, to get serious consideration if he runs that record to 22-3.
Other candidates to finish in the top 10: Robinson Cano , Yankees; Edwin Encarnacion , Blue Jays; Jason Kipnis , Indians; Manny Machado , Orioles; Shane Victorino, Red Sox.
The Astros are still in control of the series, but have been unable to solve Yankees pitch...

The Astros and Yankees will play Game 4 in the Bronx early Tuesday evening

Yankee Stadium helped, but there's more to it than that
Aaron Judge and CC Sabathia had big games

Judge had an impact on both sides of the ball in Game 3

Ausmus most recently managed the Tigers, but won't be headed to Queens