AL MVP Watch: Mike Trout's to lose
Let's begin a tour of where the individual awards races stand as we enter the stretch drive of the 2014 season. Now -- American League MVP.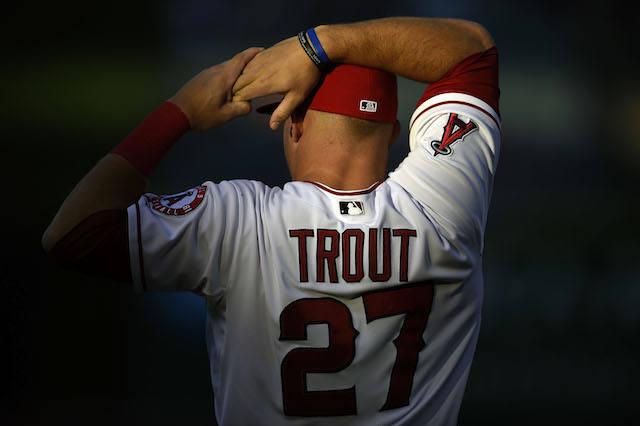 NL MVP Watch: Kershaw, McCutchen or elsewhere?
Let us embark upon our Awards Watch series and check in on the current status of the American League Most Valuable Player race.
Before we run down the leading candidates, please keep in mind that these are predictions based on the season to date and not statements of who we believe deserves to win. In other words, the driver here is how we think the BBWAA will vote for award in question when the time comes. Of course, there's plenty of season left for things to change ...
[Players listed alphabetically within categories]
Mike Trout , Los Angeles Angels
Yes, Trout is alone at the top of the pile, and that's with good reason. There's surely some carryover support from the past two years, but the larger reality is that Trout has inarguably been the best player in baseball this season. That the Angels have finally surrounded him with playoff-worthy talent gives him an even stronger case. He's a slick-fielding center fielder who runs the bases well and is batting .299/.388/.580 for a contender. He also has a puncher's chance at 100 extra-base hits. Absent steep decline or injury, the award is his. 
Jose Abreu , Chicago White Sox
The rookie Cuban phenom has already established himself as one of the top power hitters in all of baseball, and since returning from injury he has shown a broader base of offensive skills. That his team isn't particularly relevant will of course hurt him in the BBWAA's eyes, but the numbers are MVP-caliber. 
Jose Bautista , Toronto Blue Jays
If the Jays can lay claim to their first postseason berth since 1993, then much of the credit will accrue to Joey Bats. He has kept hitting in Edwin Encarnacion  absence, and Bautista finds himself on pace for a .930 OPS, 31 homers and 107 walks.
Robinson Cano , Seattle Mariners
Remember Cano's slow start to the season? That's a wispy memory these days. He's batting a nifty .333/.402/.476, playing smooth defense and answering the bell every day for a team that matters. Thanks to his surprise signing this past winter, Cano is in many ways the face of the Mariners' resurgence. 
Felix Hernandez , Mariners
Unless things change drastically, King Felix will be the runaway choice for the AL Cy Young. He also has the dossier to be a "crossover" candidate for MVP. His workload, run prevention skills, relentless capacity for going deep into games and evolution from velo guy to full-repertoire veteran all make him an attractive hopeful. If trends hold, then Hernandez will end the season with the following numbers: 18-4, 1.95 ERA, 247 1/3 IP, 266 K, 44 BB, 10 HR. That's MVP stuff.
Miguel Cabrera , Detroit Tigers
His numbers are strong, but they're a far cry from his 2012-13 bestowals. Once Cabrera's other limitations are taken into account, he's not truly in the discussion. So consider this a "body of work" nod with the potential for Cabrera to earn a bit of traction with a vintage finish to the season.
Nelson Cruz , Baltimore Orioles
Cruz is the AL home run leader and he plays for a first-place team. That alone makes him a candidate. However, working against him is the one-dimensional nature of his game and the fact that he has mostly struggled since early June.
Josh Donaldson , Oakland Athletics
In reality, Donaldson has been one of the best players in baseball this season, but much of his value is tied up in his defense. While the offensive numbers are quite solid, they're not superficially impressive enough for voters. That said, he's the acknowledged best player on the acknowledged best team.
Alex Gordon , Kansas City Royals
Gordon's candidacy, like Donaldson's, depends upon the full breadth of his skills, which is why he's not a particularly strong candidate. His bat is "merely" good, but it's complemented by exceptional defense and plus base-running. If the Royals pull off the upset and make the postseason, then Gordon, the team's veteran presence and only true standout at the moment, will make it onto some ballots. 
Victor Martinez , Tigers
V-Mart's numbers are better than Cabrera's, but he has the "primary DH" thing working against him. His best hope is that his rare tandem of power plus contact skills earns him some points with voters who are fatigued by all the strikeouts these days. Oh, and the Tigers will need to win the division.