AL Rookie of the Year Watch: Jose Abreu above all
Let's check in on the thus far one-sided AL Rookie of the Year race. Can anyone challenge the South Side Slugger?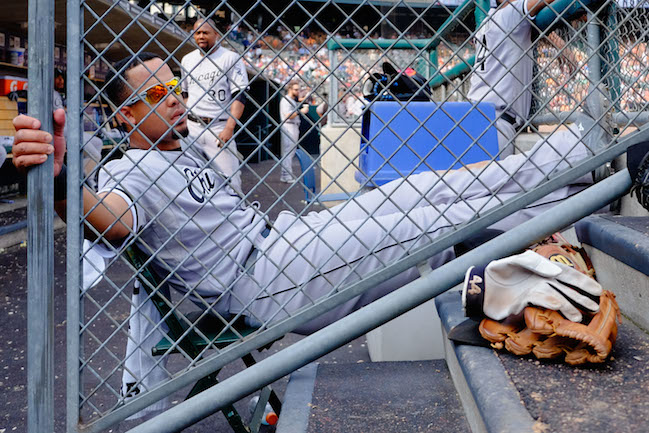 Awards Watch: NL MVP | AL MVP | NL Cy Young| AL Cy Young | NL ROY
Let us continue with our Awards Watch series and check in on the current status of the American League Rookie of the Year race.
Before we run down the leading candidates, please keep in mind that these are predictions based on the season to date and not statements of who we believe deserves to win. In other words, the driver here is how we think the BBWAA will vote for the award in question when the time comes. Of course, there's plenty of season left for things to change ...
[Players listed alphabetically within categories]
There's simply no debate right now. Abreu is authoring one of the most impressive rookie seasons since ... well, since Mike Trout in 2012. But the point remains that this is a legendary first-year performance. The 27-year-old Cuban defector is batting .300/.359/.600 with 31 homers, and that home run total comes despite his spending time on the DL. Abreu has been even better since returning from injury. He has quickly established himself as one of the top power hitters in baseball (incredibly, more than 30 percent of his fly balls have cleared the fence this season), and as such Abreu is the runaway choice for Rookie of the Year honors in the AL. 
Has Betances been the best reliever in baseball this season? Quite possibly. In 71 innings (impressive workload by contemporary relief standards), he has struck out more than 39 percent of opposing hitters and logged an ERA of 1.52. That's no Abreu, but that's enough to merit a mention. 
Masahiro Tanaka, Yankees
This was once a heck of a race between Tanaka and Abreu, but the former's elbow injury has changed that. Tanaka's numbers, though, remain deeply impressive: 18 starts, 2.51 ERA (4th in AL), 153 ERA+ (4th in AL), 7.11 K/BB ratio (4th in AL). Let's also not forget that Tanaka began his career with 16 straight quality starts -- a streak that ended only when his elbow began to give out. It would take a prompt return to health and a dominating September plus a collapse by Abreu to make this competition again. What could have been ... 
The hard-throwing Ventura (he averages 96 mph with his fastball and his sinker and 95 with his cutter) has pitched to a 3.45 ERA in 133 innings for the (at the moment) first-place Royals. He has allowed three runs or fewer in 16 of 22 starts. 
Kiermaier has filled in quite ably for the 2013 AL Rookie of the Year, the injured Wil Myers. In 241 plate appearances, Kiermaier's batting .279/.332/.502 (133 OPS+) with 25 extra-base hits. He has also spent time at all three outfield positions and grades out as a plus defender in right. That said, there's almost zero chance his body of work winds up comparing to the frontrunner absent some kind of injury to Abreu. 
Santana's rookie line of .320/.360/.476 (231 plate appearances) translates to an OPS+ of 133 (the same mark as Kiermaier), and he has also stolen 12 bases in 15 attempts. Defensively, he has spent significant time at two premium spots -- center and shortstop -- so his numbers at the plate become even more impressive by positional standards. In the end, the playing time and offensive outputs can't compare to what Abreu has done. 
Springer's on the DL with a quad injury, and his return won't happen for another couple of weeks at least. So, like everyone else, he's working from far behind when it comes to Abreu. The first-year right fielder is batting .231/.336/.468 with 35 unintentional walks and 20 homers in 345 plate appearances. So far, so good -- at least when healthy. 
The Nats will host the All-Star Game in 2018

The Orioles are looking to trade Machado heading into his walk year

The Cardinals have been linked for a while to the Baltimore star
Gallardo spent the first eight years of his career in Milwaukee

MLB revenues are at a record high right now, but teams aren't spending it on players

Chicago added Tyler Chatwood earlier this offseason but might not be done adding to the ro...