AL Rookie of the Year Watch: No clear favorite with six weeks to go
The AL Rookie of the Year race is wide open at the moment, but one of a number of players could run away it in the coming weeks.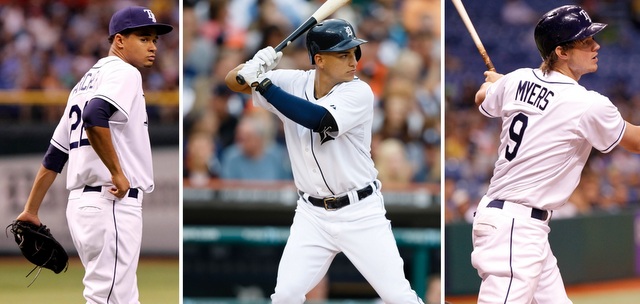 Awards Watch: NL MVP | AL MVP | NL Cy Young | AL Cy Young
We're keeping tabs on eight major award races -- four different awards, one for each league -- on a bi-weekly basis between now and the end of the season, and I'm not sure any of them are more wide open than the AL Rookie of the Year race. With a little less than six weeks left in the regular season, a front-runner has yet to emerge.
As a reminder, these posts are not intended to tell you who we think should win each award. We're looking at who we think will be in contention for each award based on voter tendencies and stuff like that. Here's a look at the AL Rookie of the Year race.
Chris Archer, Rays: In 15 starts, Archer has a sterling 2.95 ERA (130 ERA+) and 1.11 WHIP in 88 1/3 innings. His record (6-5) and strikeout rate (6.3 K/9) aren't anything special, so that's a knock against him. Plus he's unlikely to throw more than 130-140 innings or so. Tampa Bay players have won two of the last five AL Rookie of the Year Awards (Evan Longoria in 2008 and Jeremy Hellickson in 2011), and voters like to go back to the well. The Rays have a great player development reputation and helps Archer's case.
Jose Iglesias, Tigers: Has a Rookie of the Year ever been traded at midseason? I'm not sure. Iglesias is hitting .321/.367/.398 (108 OPS+) with elite defense at shortstop in 81 total games this year, most with the Red Sox. Although Iglesias is not expected to hit much long-term, his Rookie of the Year case will be very strong if he maintains a .300+ average with his defense. If the voting were held today, I think he'd win.
Wil Myers, Rays: Myers actually ranks second among AL rookies with 2.0 WAR despite only playing 52 games. That's what happens when you hit .312/.362/.490 (137 OPS+) with nine home runs, I suppose. Myers is going to wind up playing fewer than 100 games this year, and that will definitely be the big knock against him come voting time. If he mashes down the stretch and helps the Rays to a playoff spot by hitting in the middle of the lineup, his case will be mighty strong despite the lack of playing time.
Yan Gomes, Indians: Who leads AL rookies in WAR? That's right, it's Yan Gomes at 2.5 WAR. He has only played 58 games and batted 211 times, but Gomes is a catcher hitting .297/.346/.500 (138 OPS+) with eight homers. That raw performance is nearly identical to what Myers has done, but one is a right fielder and the other plays behind the plate. That's a huge, huge difference. Gomes might be a little too under the radar to get much Rookie of the Year love, but he absolutely belongs in the conversation.
Leonys Martin, Rangers: Martin leads all AL rookies with 376 plate appearances, during which time he's hit .276/.327/.397 (95 OPS+) with 27 stolen bases. His case is built around the steals and strong center field defense. If he had a .300+ average like Iglesias, Martin's case would be much stronger.
J.B. Shuck, Angels: Shuck is the old man of the group at 26, but he's hit a solid .295/.334/.379 (103 OPS+) with two homers, three steals and okay outfield defense. He's been a very nice under-the-radar pickup for the Halos, but Shuck will need a huge finish to the season to garner serious Rookie of the Year consideration.
Danny Farquhar, Nick Franklin & Brad Miller, Mariners: Farquhar has an ugly 77 ERA+, but he recently took over as Seattle's closer and has gone 8-for-9 in save chances. If he brings the ERA down and finishes with 20 or so saves, his case will be a lot stronger. Franklin (111 OPS+) and Miller (110 OPS+) have been good in limited time and have really shored up the team's middle infield situation.
Martin Perez, Rangers: The start of Martin's season was delayed after a line drove broke his forearm, but he joined the team's rotation for good in late June and has gone 6-3 with a 3.48 ERA (122 ERA+) in 75 innings. Neither his WHIP (1.29) nor his strikeout rate (6.2 K/9) stand out. Compared to Archer, it's clear Perez has some ground to make up just to receive the most Rookie of the Year votes among pitchers.
Boston wants to add two big bats to their lineup, not just one

Even more relievers signed on the final day of the Winter Meetings

Keep tabs on the top 50 free agents right here
The league is not happy Ohtani's medical information leaked

Kansas City and Baltimore were quite busy at the Rule 5 Draft

Piscotty's mother was diagnosed with ALS earlier this year