AL Rookie of the Year Watch: Shaping into two-man race
It looks like it's coming down to Wil Myers vs. Jose Iglesias for the AL Rookie of the Year award.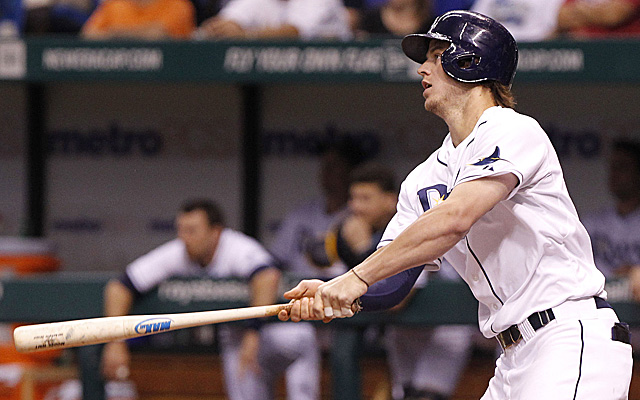 Awards Watch: NL MVP | AL MVP | NL Cy Young | AL Cy Young | NL Rookie of the Year
In our final bi-weekly look at the race for every major individual award, we now get to an overall underwhelming crop of AL rookies -- at least in terms of full-timers. There are worthy candidates, though, so let's take a look.
As a reminder, these aren't our picks but instead an attempt to gauge how the voting body would make a selection as things currently stand -- based upon voting history, trends and observations of the current voting body.
Jose Iglesias, Tigers: After Thursday's win over the Mariners, Iglesias is hitting .310/.357/.395 and has flashed solid defense this season at both shortstop and third base for two different contenders -- filling a vital hole at different points in the season for each team. No position-playing AL Rookie of the Year has ever appeared in fewer than 122 games in a non-strike-shortened season and Iglesias is going to fall short of that. However, he has impacted more games than Myers. An added element of drama here is the chance that the Tigers could pull of a sweep of the major player awards (MVP, Cy Young and Rookie of the Year).
Wil Myers, Rays: He's provided a great spark for the Rays, entering Thursday's action hitting .300/.363/.497 with 13 homers, 49 RBI and 41 runs. He's only played in 77 games, meaning he can only appear in 88 games at the most. That would be a record low -- for AL position players in non-strike years -- for a Rookie of the Year by 34 games. He has made a big impact, though, and Iglesias is only set to appear in 114 at most. This one is going down to the wire and should be interesting.
Chris Archer, Rays: He's had a very successful rookie campaign, currently sitting 9-7 with a 3.02 ERA, 1.08 WHIP and 90 strikeouts in 122 innings. I feel like he's clearly a step behind the top two here but would be a very worthy candidate for third place.
Danny Farquhar, Mariners: Since taking over as Mariners closer, the 26-year-old right-hander has converted 14 of 16 save chances with a 2.89 ERA and 26 strikeouts in 18 2/3 innings pitched. Had he done this for the full season, he'd easily be among the front-runners, but his season ERA is 4.53 in 51 2/3 innings. Having a 7.61 ERA in his first 17 outings (23 2/3 innings) costs him dearly here.
Martin Perez, Rangers: He was coming on strong a few weeks ago, but since then he's lost twice and his team has tanked -- which probably hurts him, though I don't think team performance should impact individual awards. He's 9-5 with a 3.64 ERA, 1.34 WHIP and 68 strikeouts in 106 1/3 innings. These figures should put him behind Archer in the pecking order.
Dan Straily, Athletics: He's set to start Thursday evening against the Twins in Oakland, so it's a good chance to move on up here. Heading into the start, he's 10-7 with a 4.11 ERA, 1.24 WHIP and 113 strikeouts in 140 innings. A strong finish could get him into a fight with Archer for third.
David Lough, Royals; Brad Miller, Mariners; J.B. Shuck, Angels
Boston wants to add two big bats to their lineup, not just one

Even more relievers signed on the final day of the Winter Meetings

Keep tabs on the top 50 free agents right here
The league is not happy Ohtani's medical information leaked

Kansas City and Baltimore were quite busy at the Rule 5 Draft

Piscotty's mother was diagnosed with ALS earlier this year