ALCS Game 1 Red Sox-Tigers starting lineups: Peralta in LF
Here are the starting lineups for Game 1 of the ALCS at Fenway Park.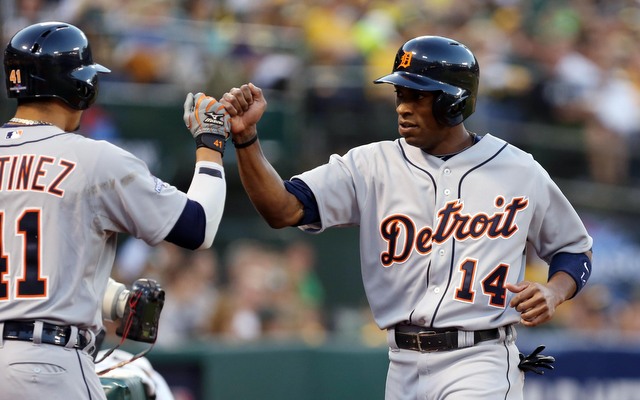 More ALCS: Game 1 pitching preview | Who has the edge?
BOSTON -- The Red Sox and Tigers kick off their ALCS matchup with Game 1 on Saturday night, at Fenway Park in Boston. First pitch is scheduled for a little after 8pm ET and can be seen on Fox.
Both teams announced their ALCS roster earlier today and there was only one change: Detroit swapped right-hander Luke Putkonen for left-hander Phil Coke just to have another southpaw in the bullpen. Otherwise both rosters remained the same. Here are the starting lineups:
Starting pitcher: Anibal Sanchez, RHP
Starting pitcher: Jon Lester, LHP
And, well, they're probably right

Supposedly, MLB execs have discussed letting teams hit any three hitters they want in the...

Keep tabs on the top 50 free agents on the market right here
After the departures of Steven Souza and Corey Dickerson, the Rays add a right-handed bat

Rasmus essentially walked away from baseball during last season

Forrest Whitley is the Astros' top pitching prospect and set to work in Double-A this year