ALCS Game 2 grades: Red Sox stun Tigers with unlikely comeback
In Game 2 of the ALCS, the Red Sox came back from the brink of defeat for an impossible comeback win. Now it's time to grade it.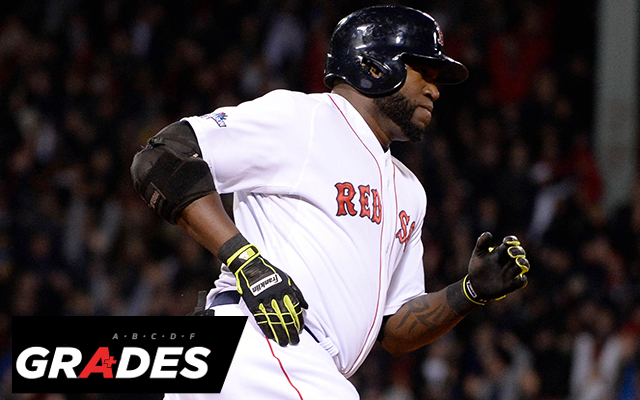 MORE: Game 2 quick hits | ALCS Game 2 box score
The Red Sox pulled off a stunning comeback win over the Tigers in Game 2 of the ALCS on Sunday night, and now that we've caught our breath, let's pass out some report cards ... 
| Team | Grade | Analysis |
| --- | --- | --- |
| | A | David Ortiz. Big Papi does it again in the postseason. He had one walk and one hit on the night, and that one hit was an eighth-inning grand slam to tie the score at 5-5. Stated another way, when Ortiz stepped up with two outs, the Sox had a 7.5 percent chance of winning the game. After he touched home plate, they had a 52.7 percent chance of winning.  |
| | A | Max Scherzer. Another Detroit starter, another dominant outing. (Um, we'll get to the bullpen in a moment.) In Game 2, Scherzer went seven innings, gave up only one run on two hits, struck out 13 (a season high) and walked two. As well, he notched five ground-ball outs and threw 69 of his 108 pitches for strikes. Scherzer carried a no-hitter into the sixth, but what was also impressive is that he rebounded to retire four straight -- three by strikeout -- after giving up that first and only run. On Scherzer's next-to-last pitch of the night, his fastball hit 96. Still and yet, Detroit lost.  |
| | B+ | Dustin Pedroia. He made a sparkling play in the field in the third, in the sixth he drove in the only Boston run of the game with a double off the Monster, and then he kept the line moving in the eighth with a clutch single off Al Alburquerque. We know what happened next. That's more than enough to earn a solid grade, especially given the way Scherzer was pitching. |
| | D- | Clay Buchholz. He was quite good over the first five innings of his Game 2 start, but here's how his sixth inning went: fly out, homer, double, double, line out, homer, single. All it takes is one inning to undermine what had been a good night's work. If not for that eighth inning miracle, Buchholz would be the undisputed goat of Game 2.  |
| | F | The Detroit bullpen, to be specific. They frittered away not only a Scherzer gem but also -- and much more critically -- a four-run eighth-inning lead. Jim Leyland summoned five different relievers on Sunday night, and each of those five relievers gave up a run. Actually, here's the more telling tally for Tigers' pen in Game 2 ... Runs allowed: 5; outs recorded: 3.  |
They still would much rather grab the AL East, however

Sale becomes the first AL pitcher to reach 300 strikeouts since 1999

Steve Balboni's long-standing record of 36 has finally fallen
Several players called for the netting to be extended down the base lines following Wednesday's...

Maria made landfall as a Category 4 on Wednesday

The players are trying to do their job and don't want to see anyone hurt