ALCS Game 2 Red Sox-Tigers starting lineups: Jhonny Peralta at short
The Red Sox will look to even the ALCS in Game 2 on Sunday night. Here are the starting lineups.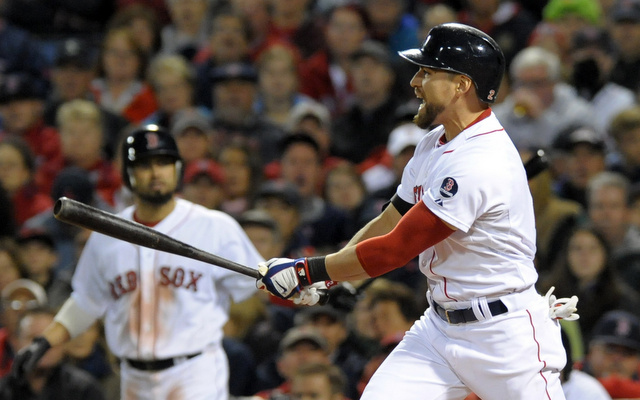 More ALCS: Game 2 pitching preview | Peralta has carried Tigers | Positive signs for Sox
BOSTON -- After a thrilling Game 1 (and a near no-hitter!) on Saturday night, the Red Sox and Tigers will follow-up with ALCS Game 2 at Fenway Park on Sunday night. First pitch is scheduled for a little after 8pm ET and can be seen on Fox. Here is each team's starting lineups.
Detroit Tigers
Austin Jackson

, CF

Torii Hunter

, RF

Miguel Cabrera

, 3B

Prince Fielder

, 1B

Victor Martinez

, DH

Jhonny Peralta

, SS

Alex Avila

, C

Omar Infante

, 2B

Don Kelly

, LF
Starting pitcher: Max Scherzer , RHP
Boston Red Sox
Jacoby Ellsbury

, CF

Shane Victorino

, RF

Dustin Pedroia

, 2B

David Ortiz

, DH

Mike Carp

, 1B

Jonny Gomes

, LF

Jarrod Saltalamacchia

, C

Stephen Drew

, SS

Will Middlebrooks

, 3B
Starting pitcher: Clay Buchholz , RHP
No other rookie in baseball history has hit more home runs than Judge has this year

Jays have said goodbye to Encarnacion and will to Bautista. Should they move on from Donaldson,...

Judge's big September means Jose Altuve has some serious competition for the award
Goldschmidt? Rendon? Blackmon? Stanton if he hits 62 HR? Who would be your pick?

Bruce Maxwell of the A's has been kneeling during the national anthem

Iowa and Missouri are two programs mixing technology and analytics