ALCS Game 6 Red Sox-Tigers lineups: Alex Avila back after knee strain
After leaving Game 5 with a left knee strain, Alex Avila is back behind the plate for the Tigers in Game 6 of the ALCS.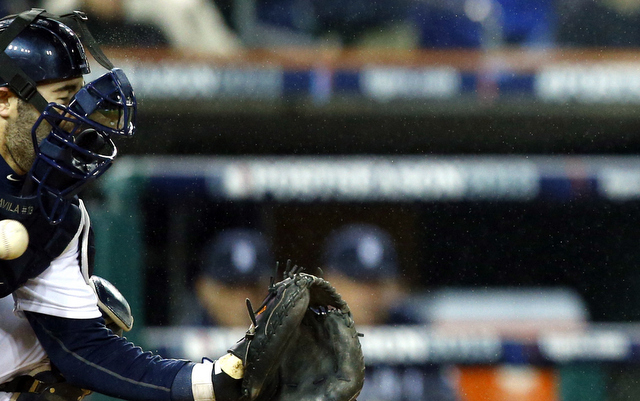 More ALCS: Game 6 pitching preview | Who has the edge?
BOSTON -- With one more win, the Red Sox will return to the World Series for the third time in the last 10 seasons. The Tigers, meanwhile, will look to avoid elimination in Game 6 in hopes of advancing to their third World Series in the last eight seasons. Here are the starting lineups for each team in ALCS Game 6, with first pitch scheduled for a little after 8pm ET.
Boston Red Sox
Jacoby Ellsbury

, CF

Shane Victorino

, RF

Dustin Pedroia

, 2B

David Ortiz

, DH

Mike Napoli

, 1B

Jarrod Saltalamacchia

, C

Jonny Gomes

, LF

Stephen Drew

, SS

Xander Bogaerts

, 3B
Starting Pitcher: Clay Buchholz , RHP
Detroit Tigers
Torii Hunter

, RF

Miguel Cabrera

, 3B

Prince Fielder

, 1B

Victor Martinez

, DH

Jhonny Peralta

, LF

Alex Avila

, C

Omar Infante

, 2B

Austin Jackson

, CF

Jose Iglesias

, SS
Starting Pitcher: Max Scherzer , RHP
Puig has a healthy relationship with his club of choice and gave the quote of the night

The Dodgers are back in the World Series thanks to a smartly built roster, analytics and m...

Seager missed the NLCS with a back injury
The Cubs foundation is still strong, but Theo Epstein and company have work to do

Turner and Taylor are the third set of co-MVPs in LCS history

Stylistically, the Dodgers seem to match up better against the Yankees and here is why