Alderson: Mets not ready to sell yet; coveted Niese likely staying
The Mets will weigh whether to buy or sell over the next "ten to twelve days." In any case, their sale may be fairly limited.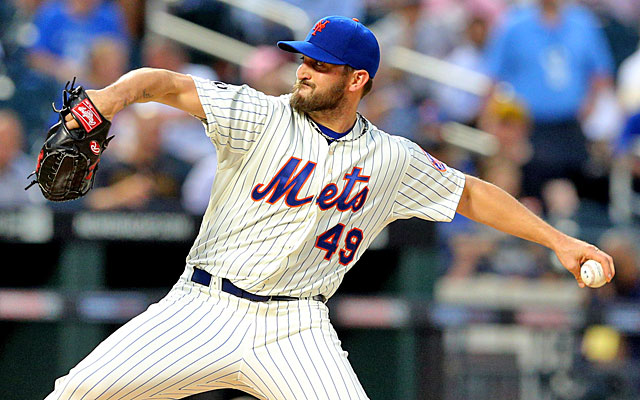 More MLB: Power Rankings | Expert Picks | Latest news & notes | Fantasy news
Mets general manager Sandy Alderson said in a phone interview that the team hasn't determined yet whether it will be a buyer or seller this summer, but that even if New York does decide to sell, top pitcher Jonathon Niese, presumably the biggest Mets trade target of other teams, very likely isn't going anywhere.
"We like Jonathon. He's the only lefty in the rotation," Alderson said. "We'd be hard-pressed to trade Niese."
While the Mets currently don't look like a contender at 37-47, in a division where no team has run away, it doesn't hurt to delay a potential sale. Alderson suggested that their course depends on "what happens over the next 10 to 12 days."
In any case, it doesn't sound like the Mets are ready to make wholesale changes.
"We kind of like our team," Alderson said. "If you look at the run differential, we should be a .500 team. We're not. At the same time, it doesn't mean we should throw everyone overboard."
Alderson made a case that his team is a lot better than its record, based on that run differential (327 runs scored, 331 runs allowed) -- though that may not completely satisfy Mets fans who've seen them post losing records the first five seasons in Citi Field.
"We're not happy with our record by any means," Alderson said. "We're thinking we have the potential to be better than our record."
A league-worst 10-20 record in one-run games doesn't help, about which Alderson said, "That has got to change." Alderson didn't blame the bullpen, a usual culprit for close defeats, but rather the team's inability to hit late in games.
"We like the pen. We like the rotation. Neither is where we want it to be ultimately," Alderson said.
They particularly like Niese, who is 5-4 with a 2.88 ERA.
Rotation depth should be the strength of the team, particularly once Dillon Gee and staff ace Matt Harvey return (Harvey is expected back next year) and top prospect Noah Syndergaard is promoted. Alderson noted that some of the Mets' active starters have been consistent (Niese in particular) while others have not (Zack Wheeler, notably).
It is that consistent performance why Niese will be coveted by others, but also why the Mets prefer to keep him. Additionally, as Alderson noted, they only have one advanced lefty starter in the minors, Steven Matz, who's at Double-A Binghamton.
Assuming Niese stays, a potential Mets sale could lack impact considering most of the team's top players, excepting David Wright -- who isn't going anywhere -- are inexpensive kids they would have little reason to move.
Veteran starter Bartolo Colon, who has been a great signing at $20 million for two years, and Daniel Murphy could be the exceptions. Murphy is a good hitter who has improved at second base, and contenders such as the Orioles and Blue Jays could be looking at second base (though as of a few days ago the Jays hadn't shown any interest in Murphy).
Murphy's name has come up "periodically," Alderson said, and that apparently includes the time the Mets threw out the concept of a potential trade of Murphy for Astros shortstop Jonathan Villar (who was just optioned by Houston to Triple-A Oklahoma City), as was revealed in the regrettable leakage of Astros talks/notes from last year. Alderson didn't deny the veracity of the leaked conversations, only characterizing the two Mets mentions in the rare wholesale leakage as "pretty innocuous" which is fair to say since there were no mentions of franchise man Wright or any of the team's top pitchers.
The Dodgers and Braves pulled off a whopper on Saturday

Sabathia will reportedly spend a 10th season in the Bronx

Fowler suffered a knee injury at Chicago's Guaranteed Rate Field
The lefty starter is coming off a terrible season

After acquiring Ian Kinsler and Zack Cozart in recent days, the Angels are trending upward

Cozart's coming off a big season as the Reds' shortstop