Alex Gordon of the Royals, elite defender
Not so long ago, Alex Gordon was a third baseman. Now he's perhaps the best defensive corner outfielder in baseball.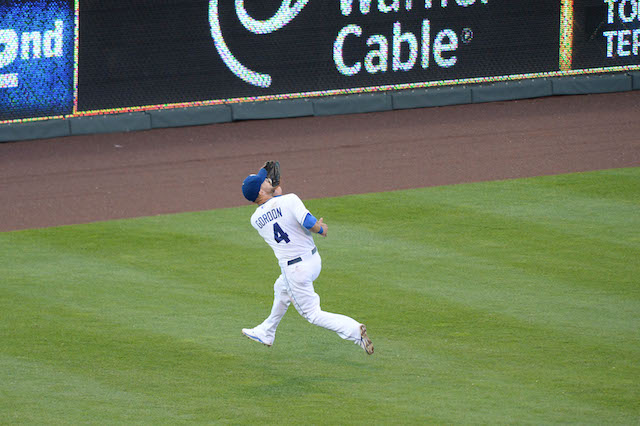 MORE: Spicing up the Home Run Derby | Lucroy and the art of framing
MINNEAPOLIS -- All-Star Alex Gordon of the Royals will be sitting out Tuesday's Midsummer Classic because of a wrist injury, but even though he won't take the field he's very much a deserving All-Star. His 2014 batting line of .268/.348/.425 (112 OPS+) is quite solid, but with Gordon it's in large measure the other ways he provides value that make him a frontline contributor. For instance, he's an asset on the bases, both in terms of stealing and taking the extra base a majority of the time. And then there's his defense. 
Gordon, of course, was drafted out of the University of Nebraska as a third baseman, and that's the position he manned in the minors and for the first three seasons of his big-league career. During the 2010 season, though, the Royals transitioned him to left field.
There's a Bill James principle called the "defensive spectrum," in which positions are ordered from left to right in order of increasing difficulty and rigors. It runs like this ... 
1B - LF - RF - 3B - CF - 2B - SS - C
Generally speaking, moving left on the spectrum is an easy enough transition for a player. Aging shortstops become second baseman, catchers sometimes slide over to third, third baseman to first, center fielders get bumped to a corner. In that sense, Gordon's leap shouldn't have been much of a challenge. Of course, he was shifting from the infield to the outfield, which is something else altogether. In fact, counting Gordon just 15 players since 1901 have spent at least 300 games at third base and at least 300 games in left field (Harmon Killebrew, Chipper Jones, Pete Rose and Gary Sheffield among them, so not bad company). 
Gordon says he played "a little bit" of outfield in high school, so did that make for a less involved transition? "Not really," he said during All-Star week in Minneapolis. "To make the switch mid-year was not easy. Down in Triple-A I made a lot of mistakes, but I made it my focus to try to get a little better every day. Shagging balls during batting practice was important, and I still do that today."
That incremental focus while learning his new position paid off, obviously, but even Gordon himself was surprised at how well he took to left field. "I didn't think it would go as smooth as it did, but, good lord willing, it did."
Gordon also notes that the most primary skill native to the outfield -- tracking fly balls off the bat -- has to be there to an extent. "On the other hand," he said, "there's a lot of work that goes into judging balls and learning your first step. A lot of hard work went into that for me."
Thanks to his native skills and the work he put in, Gordon's shift has gone swimmingly. The three straight Gold Gloves he's won testify to that notion, as does the eyeball test. There's also the numbers. According to Ultimate Zone Rating -- perhaps the best of the advanced defensive metrics -- Gordon has been a pronounced asset with the glove, and that's been the case ever since he made the switch. 
When reputation, your eyes and the numbers tell you the same good things, you've got a special fielder. Gordon, despite a somewhat unlikely switch, is just that. 
The Yankees may not be done collecting stars

The team could instead use a closer by committee approach

Both Seung-Hwan Oh and Trevor Rosenthal are free agents
The Yankees may plug their third base hole with a familiar face

Darvish's poor World Series hasn't scared the Dodgers away

GM Sandy Alderson said he followed his manager's recommendation