Alex Rodriguez all but assured of major Biogenesis-related suspension
The biggest name linked to MLB's Biogenesis PED case, Alex Rodriguez is almost sure to receive a lengthy suspension, Jon Heyman reports. Nearing 38, such a ban could potentially end his career.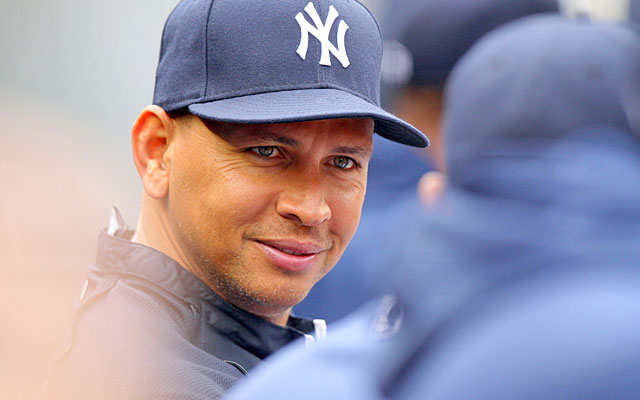 Alex Rodriguez, who once appeared on his way to breaking baseball's all-time home run record, is all but assured of a Biogenesis-related MLB ban being levied against him -- quite possibly more than the usual 50 games for first-time offenders -- people familiar with the case say.
Rodriguez is expected to be one of up to 15 or so players to receive suspensions by MLB when they are announced, possibly within a couple weeks.
Ron Berkowitz, Rodriguez's publicist, declined comment on the investigation.
Rodriguez declined to answer the questions of MLB investigators when they interviewed him, sources told CBSSports.com, as did perhaps most of the other players linked to the PED case. The players union believes baseball's Jenkins Rule allows players not to answer MLB investigators' questions, and players are being advised that their answers could be used against them in a possible appeals process or additional legal matter.
A-Rod, Brewers star Ryan Braun -- who was suspended for PED use for the rest of the season Monday -- and most other players involved publicly denied they received performance-enhancing drugs from now-defunct Biogenesis or its proprietor, Tony Bosch, who became a witness for MLB in the case.
Any Biogenesis-related suspension based on so-called "non-analytic positives" (not triggered by a positive test) is subject to appeal -- though the likelihood now is that suspension announcements would be made before any appeals. Players union chief Michael Weiner told the New York Daily News, speaking generally and not necessarily about A-Rod, that appeals aren't necessarily automatic, explaining that in cases where the evidence is overwhelming the player might simply accept a suspension.
Weiner also suggested appeals could possibly go into next year.
Rodriguez had targeted Monday for his return to play for the Yankees, but an MRI revealed a Grade 1 left quad strain, setting him back. By rule, he must sit for five days before beginning a new rehab assignment, though there's no guarantee he'll be back then.
"I don't think he's going to beat the suspension back to the field," one person connected to Rodriguez said.
Even if A-Rod is on the disabled list because of his quad injury or any other reason, that doesn't inoculate him from suspension. Starting in spring training, MLB has been investigating the players identified in the Miami New Times report about Biogenesis.
MLB has extensively interviewed Bosch. His credibility will be at issue since he will be claiming to be a drug dealer after publicly telling ESPN he wasn't one, player sources said. But word from people familiar with the case suggests that Bosch's testimony is merely the beginning of the evidence.
"MLB has receipts, checks, the whole nine yards," a person with ties to the players said.
"He's looking at a lengthy suspension," another player-connected source said about A-Rod.
Sources who have spoken to Rodriguez say the Yankees third baseman is expecting a suspension, though he hasn't said that publicly.
MLB people declined to comment, except to say its investigators are going where the evidence takes them.
MLB appears to be readying bans which likely will be based on the drug-test failure standard:
• First offense: 50 games
• Second offense: 100 games
• Third offense: Lifetime ban
Article 7A of the Joint Drug Agreement suggests the 50/100/life standards can be used for test failures or players who "otherwise violated the program."
However, Weiner and the players could try to negotiate penalties down, as he suggested in his All-Star Game talk. Players' lawyers say there is no fixed 50/100/life schedule that applies, based on the "just cause" section of the same agreement -- though MLB powers are unlikely to agree.
Some players could receive multiple suspensions at once, as long as MLB believes it can prove separate violations, as ESPN.com first reported. So MLB could possibly try to suspend a player 150 games if it determines there are two violations (one for 50, one for 100), or even rule a lifetime ban if there are determined to be three or more infractions -- though that might be a difficult case to make.
The union may claim that a player with a clean record should be limited to one suspension at one time, or perhaps in the event of a severe case that two 50-game bans would be more appropriate than 50 and 100 for 150 since a never-suspended player wouldn't have been acting under the belief he's vulnerable to the second violation.
Additionally, if a player is proven to have encouraged others to use PEDs, or even procured them for others, that could put him in line for a stiffer penalty.
If MLB has a strong case, Rodriguez could be more vulnerable to multiple violations because he has interviewed on multiple occasions with MLB on PEDs in the past -- even though he has never failed a non-survey test or been suspended previously (he admitted failing the 2003 MLB survey test after Selena Roberts, then at Sports illustrated, reported that he did).
If MLB can possibly prove drug ties before and after his MLB interviews denying involvement, it's possible he could get 150 games. While it would seem to be difficult to imagine a lifetime ban within one ruling, 150 games away could effectively end the career of a player with two bad hips who turns 38 on July 27.
"It could get ugly," one Rodriguez-connected source suggested of all the different punches, counterpunches and possibilities.
All the players have personal lawyers working on their behalf, and while there is no evidence any negotiations are currently ongoing, it's possible some players could try to negotiate their penalties after they are levied -- but before official appeals. All the appeals would be heard by baseball's new arbitrator, Fredric Horowitz. No player has ever sued baseball over a PED ban.
Braun has been the other bold-faced name linked to Biogenesis. The remaining eight major-league players are Nelson Cruz, Bartolo Colon, Jhonny Peralta, Everth Cabrera (all 2013 All-Stars), 2012 All-Star Game MVP Melky Cabrera, Yasmani Grandal, Jesus Montero and Francisco Cervelli. Minor leaguers Cesar Puello, Fernando Martinez, Fautino de los Santos and Jordan Norberto also have been tied to the case in media reports. There have been reports there may be several more names, but if so it's curious why they have not surfaced.
Most players who've spoken publicly have denied involvement with PEDs through Biogenesis. A-Rod issued a statement saying he has never been a "patient" of Bosch. Braun was one who provided an explanation for his appearance in Bosch's alleged notebook, saying he employed Bosch only as a consultant in his case to overturn a failed test from 2011.
It is the notebook allegedly belonging to Bosch, which appeared in the Miami New Times article, that helped trigger the case. In the notebook, 19 drugs are reportedly listed next to a person said to be Rodriguez while Braun only has dollar amounts, which he claimed were related to consulting fees. That doesn't mean Braun isn't a serious subject of the investigation, though.
Colon, Melky Cabrera and Yasmani Grandal already received 50-game suspensions last year after failing tests, so presuming their drug procurement came before their failed tests, it is unlikely for them to receive further penalties related to this case. Gio Gonzalez was mentioned in the original report, but a family member's use of Biogenesis might explain that.
The player agency ACES, which by far had the most players connected to drug dealer Kirk Radomski in the Mitchell Report, either represents or represented more than half (nine total) of the players connected to Biogenesis to date. Sources connected to players say MLB investigators questioned them extensively about ACES, the Brooklyn-based agency run by Seth and Sam Levinson, though a case against them may be harder to prove. Additionally, the union's position is that player agencies come under their auspices, and that MLB is powerless to punish them. The union backs the Levinsons.
MLB has extensively interviewed Bosch and several others connected to the case. It is believed that all or almost all the players have been interviewed by MLB investigators, and that baseball is in the process of finalizing its case -- suggesting a ruling could come within a week or two. MLB has given no indication about the timing, though Weiner suggested at the All-Star Game that he expected a ruling within a month or so.
A-Rod's case is the highlight because he is the all-time player. He also has about $100 million to go on his record $275 million contract through 2017.
With so much money at stake, no one would be shocked if his case winds up being litigated for years to come.
Rodriguez is said by sources close to him to be an extremely rare late-career player who has his own personal disability insurance policy after signing a big deal. Many younger players take out insurance before big contracts, but it's unusual for players who've already made big bucks to have policies, much less A-Rod, who has made more money than any player in MLB history.
Rodriguez's insurance apparently was taken out to give him double coverage on the $275 million deal, which also had $30 million in potential HR-plateau money. He is now extremely unlikely to receive the bulk of the $30 million, and perhaps none of it.
A drug suspension potentially could affect how an insurance company views his disability -- although it may be very difficult for an insurer to prove that steroids caused his hip issues, especially since Rodriguez's surgeon has said he didn't believe that to be the case. The Yankees also are covered for about 80 percent in the event he has a career-ending injury or disability.
Like A-Rod, Braun also invoked the Jenkins Rule before coming clean to MLB, resulting in his suspension. Those players declined to answer baseball investigators based on the ruling that allowed Ferguson Jenkins to refuse to answer questions related to recreational drugs. MLB may believe that decades-old Jenkins Rule doesn't apply, but union people say there's no reason it shouldn't.
The players may have additional concern about federal law enforcement looking into the matter, and believe they are covered as any other defendant who takes the fifth. While MLB could mention the players' lack of cooperation in any appeal, union people say they hope and believe MLB wouldn't try to suggest any negative inference from the decisions to take the proverbial fifth.
According to the new rules, MLB is within its right to announce its suspensions before appeals are heard, but the players union may try to convince baseball to hold off until appeals can be heard. The rule says that if a player's name is made public through other means, MLB can announce the suspension before an appeal is heard.
MLB seems likely to make the announcements before any appeals since the names are already out there, originally via the New Times, and it could be messy to keep such big news a secret. The union will try to suggest it would be fairer to have the appeals heard first, as they may be concerned that an announcement for a certain penalty could lead to rigidity in considering a reduced ban.
Despite a seven-game ALCS, the Houston rotation lines up nicely for the World Series

Sabathia and the Yankees are a perfect fit for each other

Bregman threw out Greg Bird at the plate to preserve the Astros' lead
The 2017 World Series begins Oct. 24

The Yankees returned to contention even quicker than their front office expected

The Dodgers have the better defense, rotation, and bullpen, in our estimation