Alex Rodriguez's downfall is one of saddest baseball stories ever told
A-Rod's name is show after baseball's arbitrator gives him a 162-game penalty for PEDs.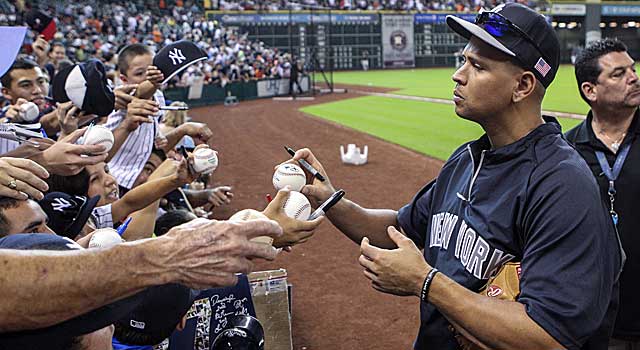 More A-Rod: Rodriguez banned 162 games | Yanks' next move? | Last of A-Rod?
Alex Rodriguez's season, including playoffs, is kaput. Same for his legacy.
The indescribably talented 18-year-old kid who came out of Miami will henceforth be known now as the spoiled would-be all-time baseball great who felt the need to cheat the system to become better than the best. He was befallen to a rare combination of selfishness, ego and greed.
Instead of the all-time home-run champion, Rodriguez will be known as the all-time steroid king.
He was a steroid cheat in the "loosey, goosey" days of Texas, as he once put it. But even more brazenly, he continued to cheat in the decidedly non-loosey-goosey years long after Major League Baseball started testing for steroids, and even after commissioner Bud Selig made it his priority to rid the game of steroids and steroid cheats.
Rodriguez's 162-game year-long ban, decided Saturday by baseball arbitrator Fredric Horowitz, seals his fate as baseball's king of performance enhancers. Rodriguez in a statement derided the decision as the opinion of one man, but it's more than that; it's MLB's final word in its collectively bargained process, as even baseball's union suggested in its statement expressing disagreement with the lengthy ban while affirming the process.
While Horowitz's written opinion won't be made public (one person familiar with it said it is "brutal" in regard to Rodriguez), not one detail has emerged to suggest A-Rod is some innocent. Even a few folks on his side have suggested that some penalty was warranted, though perhaps not the 211 games MLB sought, or even the 162 finally decided.
Rodriguez himself only issued statements, talked to the few media people he still likes and, most importantly, declined to testify at his own hearing. A-Rod made a big issue out of Selig not testifying, to the point of walking out of the hearing, but Rodriguez was the one at issue here, the one on trial -- or even as he said, the one "fighting for my life."
No negative inference is to be taken by a criminal defendant deciding not testifying at his own criminal trial. But let's be real. If someone is innocent of taking PEDs, if someone is fighting for his baseball life and has a nice tale to tell, he gets his butt right up there on the stand and tells it.
A-Rod was always willing to say he was innocent when not under oath. But given the chance to be cross-examined under oath, he punted. What does that tell you?
Rodriguez had plenty to say through his spokesman on Saturday, calling the decision an "injustice," adding the call "comes as no surprise me as the deck has been stacked against me from day one." He claimed in his statement (again, not under oath) that he didn't take performance-enhancing drugs. But the question remains: If true, why not say that under oath, and to the arbitrator?
No surprise, Rodriguez is now vowing to take the case to federal court, and most legal experts say it's a long shot his case will be heard, considering the issue has been settled through a collectively-bargained arbitration process. (Though one baseball lawyer wondered whether some federal judge wanting to make a name for himself might have extra interest in this attention-grabbing case). It's another big question how quickly he can win an injunction, which would allow him to stay on the field, at least while he's 38 and has a better chance to be productive.
But even -- if by some miracle -- he wins a temporary stay and a round in this fight he will ultimately lose, his name is gone. Even if he can somehow navigate a treacherous court endeavor to fight some more, no one in the public can reasonably believe he is an innocent man.
He is, we know, a man who was willing to go on 60 Minutes and tell Katie Couric he was innocent of taking PEDs when he knew darned well he lived through those "loosey-goosey" Texas days.
He is, we know, one of 104 who tested positive in the 2003 survey test, as he admitted in a 2009 interview with Peter Gammons following a Sports Illustrated report, and a man who went on to vow at a press conference that spring in Tampa that he would never take the stuff again and to judge him "from this day forward."
Well, today was judgment day, and it was about as bad as it could be. The 162 games represents the biggest drug penalty in baseball history.
While Horowitz's written ruling won't be made public unless A-Rod really follows through on his federal-court vow, no one gets 162 games, especially without even one failed test, unless there are some major massive transgressions.
MLB, upon issuing the original 211-game penalty, had said there were PED violations for three consecutive years, the very three years after vowing to judge him from this day forward. Word is, there were hundreds of text messages between Rodriguez and drug pusher/fake doctor Tony Bosch of Biogenesis fame.
Bosch turned out to be MLB's star witness, and his credibility issues -- which are many -- apparently weren't worse than A-Rod's case and credibility. That's a sad statement for Rodriguez, since Bosch is a questionable, sleazy character. Rodriguez's legal team tried to discredit Bosch's word in the hearing, going so far as to find an alleged Blackberry expert who claimed text messages could be doctored, but that was nothing more than a Hail Mary --  apparently like the rest of A-Rod's case.
Rodriguez has been scrutinized for years, and while he has some fine qualities, one big issue always has been his lack of a refined sense of deciphering right from wrong. He is no dummy, but he's always believed he could outsmart anyone else and the system, and those qualities combined to topple him. He was given everything -- ability, personality, looks -- and he wanted more.
A-Rod has had a few moments of clarity, like when he came clean to Gammons after playing dirty with Couric. But in the end, he acted as if he was the only person who mattered.
MLB's case pressed that he obstructed its drug investigation, and the imposed penalty suggests that storyline had merit. 60 Minutes reported that A-Rod's camp leaked the information that Ryan Braun and Yankees teammate Francisco Cervelli were involved, too. (Rodriguez denies this, for what that's worth.)
A-Rod's is about the saddest tale ever told. He's still rich by all accounts (conservatively, he's spending $1 million a month on lawyer fees) thanks to his $500 million in baseball contracts, but his name has no value. And despite the gift of gab and a winning personality, he's practically friendless, as well, at least when it comes to the folks who helped him most.
He's discarded or had a falling out with the man from the Boys and Girls club who helped raise him, the beloved high school coach, the agent who had him starting at age 18 and negotiated the $500 million-plus in contracts for him, baseball executives who've backed him, Derek Jeter and legions of other great people. He's even had a falling out with his cousin Yuri Sucart.
He's left with the people he pays, his new agent Dan Lozano (whose ability to use A-Rod to recruit is history now), his rotation of lawyers, his current spokesman, the latest semi-celebrity girlfriend and very few other friends/supporters he doesn't pay or support.
It's nothing short of a Greek tragedy. The man who was given everything is down to a few handlers (and few real friends), a very likely still robust but seriously dwindling bank account and a name that's valueless. Sad.
Jonah Keri talks to Orioles manager Buck Showalter

Contreras said on Tuesday that he's willing to pay the price

And their offseason decisions prove it
Hosmer recently signed an eight-year contract with San Diego, and his usual No. 35 was spoken...

As part of the five-player deal, Brandon Drury is headed to the Bronx

Stoneman Douglas caps will be worn during Friday's spring training games