All-Star Game comes to Kansas City (but where are the Royals?)
It's been 23 years since a Royal had a hit in an All-Star Game. Four times in the last six years, the lone Royals representative didn't even get in the All-Star Game. It's nice that the All-Star Game has come to Kansas City. It would be nicer if the Royals were All-Star relevant.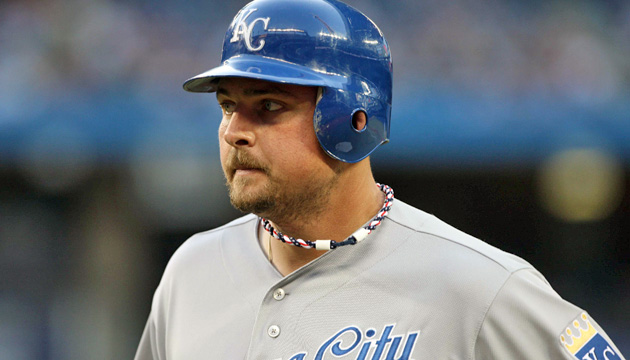 Billy Butler is the Royals' lone All-Star. (US Presswire)
KANSAS CITY, Mo. -- Did you know the Royals once sent a pitcher to the All-Star Game with a 5.27 ERA?

Did you know the Royals once sent two players to an All-Star Game, and neither one of them got in the game?

Did you know that the last Royal to get a hit in an All-Star Game was Bo Jackson?

"That's a long time ago," Carlos Beltran said Monday.

Yes, it was. It was 23 years ago, and since that night in Anaheim in 1989, Royals hitters are 0-for-10. Royals pitchers have thrown 12 1/3 innings and allowed six runs.
More on All-Star Game
Related links
It's nice that baseball brought the All-Star Game to Kansas City this year. It would be nicer if they brought the Royals to the All-Star Game (or if the Royals deserved to go).

The Royals have their traditional one All-Star this year, for the ninth straight year. Four times in the last six years, the Royal representative hasn't even played.

You can be sure that Billy Butler will get in the game Tuesday night. You can be sure that American League manager Ron Washington won't want to upset the locals, the way AL Home Run Derby captain Robinson Cano did by first saying he wanted to pick a Royal, and then not following through by doing it.

It was fitting that the most memorable moment of Monday night's Derby was Cano getting shut out, and the Kauffman Stadium fans loving every bit of it.

Do you blame baseball fans here for feeling forgotten?

This is all supposed to be changing, of course.

The Royals have told you it's going to change. We've told you it's going to change.

Butler said it again Monday.

"There's going to be a time when Kansas City's going to be a force in the American League Central, and you'll have more than one [All-Star]," Butler said. "You just don't know when."

The Royals were sure it was going to be this year. They didn't expect to win the AL Central in 2012, but when they got the All-Star Game for this summer, they certainly expected that they'd be showing off more of their young talent.

Maybe Mike Moustakas. Maybe Eric Hosmer.

Not yet.

Instead, the Royals could only show off in Sunday's All-Star Futures Game, when they had the starting pitchers for both the U.S. (Jake Odorizzi) and World (Yordano Ventura) teams. Royals fans packed the ballpark with the most enthusiastic Futures Game crowd ever, and they loudly cheered Royals prospect Wil Myers.

They believe in the future, but as one Royals person said Sunday, "You can only sell the future for so long."

The Royals know they need to change things soon, and that's why club officials are already determined to try to sign a significant free-agent pitcher next winter.

They know the history. The 2012 Royals are 37-47 at the break, the ninth straight season that the Royals have been at least 10 games under .500 in the first half. The Royals are 9 1/2 games out of first place, which is actually their smallest All-Star break deficit since 2003.

It's no wonder they've had so little good recent All-Star Game history.

It's no wonder they had so few good All-Star candidates that Mark Redman made it with that 5.27 ERA in 2006. Jose Rosado won 37 games total in his major-league career, and yet he twice represented the Royals in an All-Star Game.

Beltran had four seasons with the Royals where he hit 20 home runs and drove in 100 runs, and yet he'd been traded to the Astros by the time he made his first All-Star team.

"Every year, they picked a reliever or something," Beltran said.

There was a time when it was different.

"When I was growing up, the Royals were like the Rangers and Yankees are now," A's manager Bob Melvin said.

There'll be a time, you'd think, when things will be different again.

"I think they're on the verge," Melvin said, "of having guys who will be relevant."

It's too bad it didn't happen this year. It's too bad that this Kansas City All-Star Game isn't really a Royals All-Star Game.


This would undoubtedly be the worst trade in Miami Marlins history

The Pirates recently shipped Gerrit Cole and Andrew McCutchen to Houston and San Francisco,...

Surely, Martinez and his agent are holding out for more
The reliever had a very good 2017 season with the NL Central champs

We don't need to discuss Chipper's Hall of Fame case, so let's have fun instead

Dioner Navarro still hopes to return someday