All-Star Game won't upset Clayton Kershaw's routine
Reigning NL Cy Young winner Clayton Kershaw will enjoy some good timing when it comes to staying on his schedule after the All-Star Game.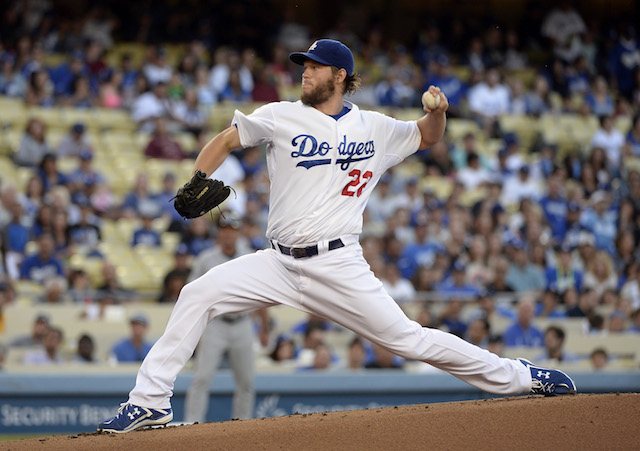 More All-Star Game: Full AL and NL Rosters | All All-Star Game Coverage
MINNEAPOLIS -- Dodgers ace of aces Clayton Kershaw won't start Tuesday night's All-Star Game for the NL, but he figures to be the second hurler in line for manager Mike Matheny. Regardless of when he logs his inning (or two), Kershaw won't see his routine upset by the Midsummer Classic. 
"This is my start day," he said in the NL clubhouse on Tuesday. "So just think of it as a really short start for me."
So short "start" on regular rest it shall be. Dodgers manager Don Mattingly has already pegged Kershaw as his Sunday starter against the Cardinals in St. Louis, which means Kershaw will enter that start on full rest, again if you consider his brief All-Star outing to be a "start."
Given the back inflammation that sidelined Kershaw for more than a month earlier this season, being able to adhere to the usual routine is a good thing. As well, the comfortable majority of Kershaw's 196 career starts have come on four-days' rest (56.1 percent of his starts, to be exact).
Besides that injury, it's also worth keeping mind that Kershaw is coming off a 2013 season in which he logged 259 innings counting the postseason. So the lighty duty headed his way Tuesday night is indeed welcome. "It's good to get the rest," Kershaw said. "Actually, I think getting the rest is more important than staying on schedule."
Lucky for Kershaw and the Dodgers, Kershaw will enjoy both rest and the routine that's most familiar to him. 
Harrison has a thing for ending no-hit bids

Hill was close to perfect across regulation but it turned out to be all for nothing in the...

Plus Hank Aaron weighs in on Colin Kaepernick, Trevor Rosenthal hits the DL, and more
Davis should help fortify the Red Sox outfield

Whether or not Mike Matheny will adjust is to be seen

Hammerin' Hank wants to see Kaepernick get another shot in the NFL