All-Stars or Some-Stars? Not again!
CC Sabathia went on the disabled list Wednesday, and will miss the All-Star Game. Matt Kemp is almost certainly out, as well, joining Jacoby Ellsbury, Troy Tulowitzki, Mariano Rivera and many other stars who are hurt and won't be at the July 10 game in Kansas City. Baseball may face another year of "Who's not here?" questions. Even more reason baseball needs Bryce Harper and Mike Trout.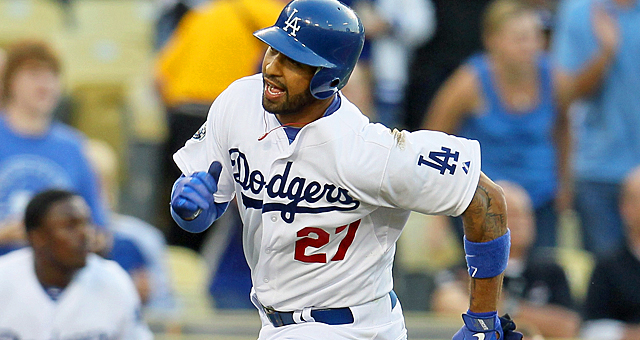 Will Matt Kemp play in the All-Star Game? It doesn't look like it right now.
(Getty)
CC Sabathia is on the disabled list. He won't be in the All-Star Game.

Matt Kemp, it appears, will not be in the All-Star Game. Oh, and now Andre Ethier has an oblique injury, so he may be out, as well.
More on All-Star Game
Stories


Jacoby Ellsbury, Troy Tulowitzki, Mariano Rivera, Evan Longoria, Chris Carpenter, Chase Utley . . .

Not again.

The biggest issue the All-Star Game faces isn't the silly decision to tie the game to home-field advantage in the World Series. It's not the interminable home run derby. It's not even the lack of league identity.

It's the lack of All-Stars. It's the All-Star Game turning into the Some-Stars Game -- again.

Make a list of the players you'd most like to see in the July 10 game Kansas City. Then think about how many of them won't be there, simply because of injuries.

I'd like to say that at least you'll see Bryce Harper and Mike Trout, but I can't guarantee that, either. Because of the way the All-Star voting is done, neither Harper nor Trout was on the fan ballot.

Trout, who leads the American League in batting, has to be picked. Harper? That's not nearly as certain.

It should be, for one simple reason: He's a star, and the All-Star Game badly needs stars.

We don't need another year where the theme of the game becomes "Who's not here."

It's happened two years in a row. There's a real danger it happens again.

Baseball understands the problem. There's a clause in the new CBA labeled "Mandatory Participation."

But that only deals with players who choose to miss the game. This isn't about that. This isn't about anything that can be legislated, anything that someone's fault.

Sabathia is legitimately hurt; otherwise, he wouldn't be missing two regular-season starts. Kemp is legitimately hurt; after putting up MVP numbers in April, he has missed most of May and June.

The top two guys in the National League ERA race, Brandon Beachy and Ryan Dempster? Both hurt.

The top guy in the American League ERA race, Chris Sale? It looks like he'll be pitching the Sunday before the All-Star Game, and thus won't pitch in Kansas City. Same goes for Zack Greinke.

A quick count showed 25 one-time All-Stars who are currently on the disabled list (and I may have missed a few).

It's not their fault. They're hurt.

It's nobody's fault.

But in two weeks in Kansas City, we'll be calling it a problem.
Harrison has a thing for ending no-hit bids

Hill was close to perfect across regulation but it turned out to be all for nothing in the...

Plus Hank Aaron weighs in on Colin Kaepernick, Trevor Rosenthal hits the DL, and more
Davis should help fortify the Red Sox outfield

Whether or not Mike Matheny will adjust is to be seen

Hammerin' Hank wants to see Kaepernick get another shot in the NFL