All-Time Single-Season Series: By the numbers
Which players appeared on multiple teams in our All-Time Single-Season series? Which decades were best represented? Let's check it out.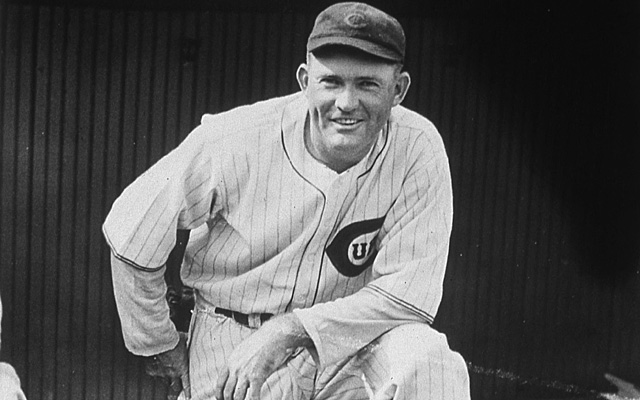 All-Time Single-Season National League vs. American League teams
Over the past month, the three Eye on Baseball scribes have undertaken the task of putting together an all-time single-season team for each of the 30 current MLB franchises. If you haven't yet seen some of the teams, check out the entire series by clicking on any of the links below:
ALL-TIME SINGLE-SEASON TEAMS: CHC | STL | MIL | CIN | PIT | CHW | DET | KCR | CLE | MIN | ARI | COL | SD | LAD | SF | SEA | HOU | LAA | TEX | OAK | BOS | NYY | BAL | TOR | TBR | MIA | NYM | ATL | WAS | PHI
As a quick, fun summary, let's check out the players who appeared on multiple teams. Obviously this isn't going to be a list of baseball's greatest players because many of them spent their entire prime -- if not entire career -- with the same franchise.
Still, it's interesting to see who was great(est) with multiple teams in at least one season.
Here are the players who appeared on multiple teams. 
FOUR: Rogers Hornsby (Braves, Cardinals, Cubs, Giants).
THREE: Adrian Beltre (Dodgers, Mariners, Rangers), Roger Clemens (Astros, Blue Jays, Red Sox), Rich "Goose" Gossage (Padres, Pirates, Yankees), Mike Marshall (Dodgers, Expos, Twins), Paul Molitor (Blue Jays, Brewers, Twins), Alex Rodriguez (Mariners, Rangers, Yankees).
TWO: Grover Cleveland "Pete" Alexander (Cubs, Phillies), Jay Bell (Diamondbacks, Royals), Armando Benitez (Marlins, Mets), Bert Blyleven (Rangers, Twins), Barry Bonds (Giants, Pirates), Kevin Brown (Marlins, Padres), Miguel Cabrera (Marlins, Tigers), Gary Carter (Mets, Expos), Carlos Delgado (Blue Jays, Marlins), Mark Eichhorn (Blue Jays, Orioles), Rollie Fingers (Athletics, Brewers), Carlton Fisk (Red Sox, White Sox), Bobby Grich (Angels, Orioles), Lefty Grove (Athletics, Red Sox), Vladimir Guerrero (Angels, Expos), Roy Halladay (Phillies, Blue Jays), Bryan Harvey (Angels, Marlins), Shoeless Joe Jackson (Indians, White Sox), Fergie Jenkins (Cubs, Rangers), Randy Johnson (Diamondbacks, Mariners), Nap Lajoie (Athletics, Cleveland), Al Leiter (Marlins, Mets), Brad Lidge (Astros, Phillies), Greg Maddux (Braves, Cubs), Pedro Martinez (Expos, Red Sox), Joe Nathan (Rangers, Twins), Rob Nen (Giants, Marlins), Gaylord Perry (Indians, Padres), Andy Pettitte (Astros, Yankees), J.J. Putz (Diamondbacks, Mariners), Frank Robinson (Orioles, Reds), Ivan Rodriguez (Marlins, Rangers), Nolan Ryan (Angels, Rangers), Johan Santana (Mets, Twins), Tom Seaver (Mets, Reds), Tris Speaker (Indians, Red Sox), Bruce Sutter (Cardinals, Cubs), Billy Wagner (Mets, Astros), Hoyt Wilhelm (Orioles, White Sox).
And now, let's count the number of players each decade received in the series. It's worth noting expansion, the designated hitter and the expanded role of relief pitchers here and the impact it had on this section. Taking those three items into account, it makes sense that the modern decades got a lot more play here -- especially expansion, as many teams only had a handful of decades from which to choose and a select few have only been around since the 1990s. 
The number of entries per decade in this series:
1900s (and earlier): 14
1910s: 16
1920s: 19
1930s: 17
1940s: 15
1950s: 13
1960s: 36
1970s: 62
1980s: 62
1990s: 89
2000s: 99
2010s: 59
The Nats will host the All-Star Game in 2018

The Orioles are looking to trade Machado heading into his walk year

The Cardinals have been linked for a while to the Baltimore star
Gallardo spent the first eight years of his career in Milwaukee

MLB revenues are at a record high right now, but teams aren't spending it on players

Chicago added Tyler Chatwood earlier this offseason but might not be done adding to the ro...