All-Time Single-Season Team: Baltimore Orioles/St. Louis Browns
Today belongs to the Orioles, so let's check off the best single-season performances in franchise history.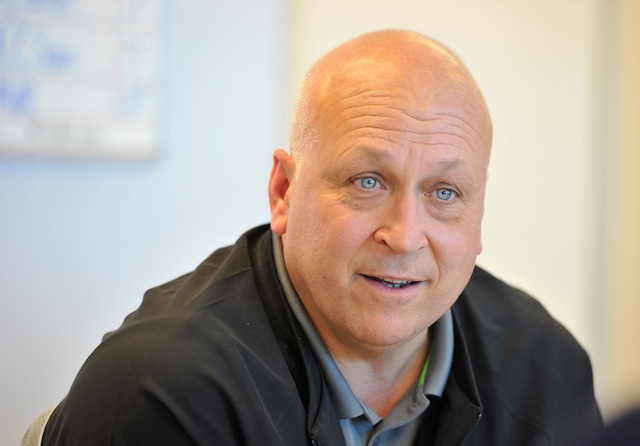 ALL-TIME SINGLE-SEASON TEAMS: CHC | STL | MIL | CIN | PIT | CHW | DET | KCR | CLE | MIN | ARI | COL | SD | LAD | SF | SEA | HOU | LAA | TEX | OAK | BOS | NYY
It is time, once again, for another entry into our all-time single-season series. What is this, you ask? Here's the explanation:
Obviously, the term "single-season" implies that we're focused on brilliance within the confines of one campaign and not, say, career value or even value across a handful of seasons in the same uniform. While this is no doubt a largely subjective undertaking, please bear that in mind before airing objections. Or not. Whatever.

Also, we're largely limiting the selections to those of modern era (i.e., from 1900 onward) in large part because the "primordial soup" days of the sport bear only the most basic resemblances to the game played today. That's more a general principle than hard-and-fast rule, though. As well, a player can appear only once on the team in question. So even those who excelled at multiple positions over the years will be assigned one spot and one spot only.
Today's team is the Orioles. The O's of course trace their origins back to the St. Louis Browns and even one season of the first iteration of the Milwaukee Brewers back in 1901. Along the way, the franchise has rung up three World Series trophies and seven pennants, so now let's see what the "Oriole Way" has to offer in terms of single-season excellence ...
CATCHER - Chris Hoiles, 1993
As the name above suggests, this is not a particularly strong position for the O's. Still, Hoiles in '93 batted an excellent .310/.416/.585 (162 OPS+) with 29 homers in 126 games. While Hoiles wasn't regarded as a top-tier defender, those numbers are exceptional by the standards of the position. For his troubles, he received a handful of AL MVP votes. 
Also considered: Matt Wieters in 2011, Rick Dempsey in 1985, Javy Lopez in 2004, Mickey Tettleton in 1989
FIRST BASE - George Sisler, 1920
There's lots to choose from at first base, but the Hall of Famer Sisler gets the nod. In 1920, Sisler batted .407/.449/.632 (182 OPS+) with 19 homers, 18 triples and 49 doubles. Sisler also led MLB in total bases, led the league in at-bats and swiped 42 bags. As well, Sisler's 257 hits that year stood as the all-time single-season record until Ichiro topped it 84 years later. 
Also considered: More Sisler, 1970 Boog Powell, lots of Eddie Murray, 1961 Jim Gentile, 2013 Chris Davis, 1998 Rafael Palmeiro. 
SECOND BASE - Bobby Grich, 1974
The roundly underrated Grich in 1974 played in 160 games and batted .263/.376/.431 (135 OPS+) with 19 homers, 90 walks and an MLB-leading 20 HBPs. Grich that year also claimed his second Gold Glove award (deservedly, as he was one of the best defensive second basemen of his era). As for his wheels, Grich that year stole 17 bags and took the extra base an impressive 63 percent of the time. 
Also considered: Other Grich seasons, Brian Roberts in 2005, Roberto Alomar in 1996
SHORTSTOP - Cal Ripken Jr., 1991
Obviously, the only question here is which Ripken season to choose. I'm siding with his 1991 campaign, in which he bested Cecil Fielder for the AL MVP award and batted .323/.374/.566 (career-best 162 OPS+) with an MLB-leading 85 extra-base hits and an MLB-leading 368 total bases. Needless to say, that's sublime production for a shortstop. Ripken also claimed the Gold Glove and the Silver Slugger. 
Also considered: Other Ripken seasons, but it was always going to be Ripken. OK, I'll also name-check Miguel Tejada from 2004-06.
THIRD BASE - Brooks Robinson, 1964
Robinson is the indisputable choice at the hot corner, and his MVP '64 season wins out. That year, Robinson was typically brilliant in the field, and at the plate he batted .317/.368/.521 (145 OPS+) with 28 homers, 35 doubles and an AL-leading 118 RBI. Robinson that season also played in 163 games and led the majors in sac flies. 
Also considered: More Robinson seasons, A few Harlond Clift years, Doug DeCinces in 1978, Melvin Mora in 2004. 
LEFT FIELD - George Stone, 1906
The 1906 season was in the "deep" Deadball Era, and Stone that year authored a line of .358/.417/.501 (MLB-leading 193 OPS+), while the average hitter batted a measly .247/.306/.314. Stone also chipped in 20 triples, 25 doubles and 35 stolen bases in 154 games played. As well, Stone led the majors in total bases and times on base. 
Also considered: More George Stone, 1922-23 Ken Williams, 1982 John Lowenstein, 1964 Boog Powell, 1941 Roy Cullenbine, 1928 Heinie Manush, 1931 Goose Goslin. 
CENTER FIELD - Brady Anderson, 1996
This is the standout year in which Anderson clouted 50 home runs and batted .297/.396/.637 (156 OPS+) en route to a top-10 finish in the AL MVP vote. Anderson also contributed 76 walks, an AL-leading 22 HBPs, 21 stolen bases, 37 doubles, 117 runs scored and 369 total bases. That's rare power for an up-the-middle defender. 
Also considered: 2012 Adam Jones, 1967 and 1969 Paul Blair, 1980 Al Bumbry, 1920 Baby Doll Jacobson. 
RIGHT FIELD - Frank Robinson, 1966
Here's the thunder. The great Frank Robinson won the triple crown in this, his first season as an Oriole. That year, he batted .316/.410/.637 (MLB-leading 198 OPS+) with 49 homers, 34 doubles, 122 runs scored and 122 RBI. In his worst month of the season, he put up an .874 OPS. He was quite understandably a unanimous choice for AL MVP (of note: teammates Brooks Robinson and Boog Powell finished second and third, respectively). 
Also considered: No one else, at least not seriously.
DESIGNATED HITTER - Harold Baines, 1999
Baines logged just 390 plate appearances with the O's in 1999 (he was traded to the Indians in late August), but it's his excellence on a rate basis that places him on this team. That year, the 40-year-old Baines hit .322/.395/.583 (151 OPS+) with 24 homers, 201 total bases and 81 RBI in 107 games for Baltimore. 
Also considered: Luke Scott, 2010; Aubrey Huff, 2008; Ken Singleton, 1983
STARTING PITCHERS - 1975 Jim Palmer, 1992 Mike Mussina, 1968 Dave McNally, 1959 Hoyt Wilhelm, 1906 Barney Pelty. 
The numbers ... 
Palmer: 23-11, 2.09 ERA, 169 ERA+, 1.03 WHIP, 193 K, 323 IP, 25 CG, 10 SHO
Mussina: 18-5, 2.54 ERA, 157 ERA+, 1.08 WHIP, 130 K, 241 IP, 8 CG, 4 SHO
McNally: 22-10, 1.95 ERA, 150 ERA+, 0.84 WHIP, 202 K, 273 IP, 18 CG, 5 SHO
Wilhelm: 15-11, 2.19 ERA, 173 ERA+, 1.13 WHIP, 139 K, 226 IP, 13 CG, 3 SHO
Pelty: 16-11, 1.59 ERA, 163 ERA+, 0.95 WHIP, 92 K, 260 2/3 IP, 25 CG, 4 SHO 
In the second of Palmer's three Cy Young seasons, he worked a career-high 323 innings, held opposing hitters to an OBP of .266 and logged 29 quality starts in 38 chances. Mussina's age-23 season saw him finish fourth in the AL Cy Young vote, and, in related matters, he finished second in the AL in WAR (among pitchers and position players), third in ERA, eighth in innings, second in WHIP, fifth in K/BB ratio and seventh in complete games. In '68 McNally's WHIP of 0.84 checks in as the 14th-best mark of all-time and 10th-best since 1900. Just four times in 35 starts that season did McNally give up more than three runs. 
The Hall of Famer Wilhelm in only one season logged more starts than relief appearances, and this was it. In '59, Wilhelm made 27 starts against five relief outings, and he posted a 2.18 ERA as a starter versus a 2.35 mark out of the bullpen. Wilhelm's overall ERA and his ERA+ each led MLB that year. As for Pelty, he was an early practitioner of the curve ball, and in '06 he enjoyed his finest campaign. He held opposing hitters to a .206 average, and while it was indeed deep in the Deadball Era it's still notable that he managed to give up only a single home run in those 260 2/3 innings. 
Also considered: Other Palmer seasons, other Mussina seasons, 1969 Mike Cuellar, some Urban Shocker, 1919 Alan Sothoron, 1950 Ned Garver, 1984 Mike Boddicker. 
RELIEF PITCHERS - 1997 Randy Myers, 1994 Mark Eichhorn, 1965 Stu Miller
Myers in '97 worked just 59 2/3 innings, but what a 59 2/3 innings they were: 1.51 ERA, 293 ERA+, 56 whiffs, 45-out-of-46 in save opportunities. Eichhorn logged 71 innings in the strike-shortened '94 season, and along the way put up an ERA+ of 233 and allowed only one home run. As for Miller, his 1.89 ERA (184 ERA+), 119 1/3 innings, 104 Ks against 22 unintentional walks and 46 multi-inning appearances earn him a spot. He also went 24-for-25 in save opps. 
Also considered: 2002 Buddy Groom, 1979 Tim Stoddard, 1989 Gregg Olson, 1973 Bob Reynolds, 1991 Todd Frohwirth, 1967 Moe Drabowsky, 1969 Eddie Watt, 2002 Jorge Julio, 2004 B.J. Ryan. 
---
THE LINEUP
1. Bobby Grich, 1974
2. George Sisler, 1920
3. Cal Ripken Jr., 1991
4. Frank Robinson, 1966
5. Brooks Robinson, 1964
6. George Stone, 1906
7. Chris Hoiles, 1993
8. Brady Anderson, 1996
9. Harold Baines, 1999
Coming Tuesday: The Toronto Blue Jays 
The Nats will host the All-Star Game in 2018

The Orioles are looking to trade Machado heading into his walk year

The Cardinals have been linked for a while to the Baltimore star
Gallardo spent the first eight years of his career in Milwaukee

MLB revenues are at a record high right now, but teams aren't spending it on players

Chicago added Tyler Chatwood earlier this offseason but might not be done adding to the ro...