All-Time Single-Season Team: Boston/Milwaukee/Atlanta Braves
Our all-time single-season series moves onto the Braves. They have more than a few Hall of Famers on their roster.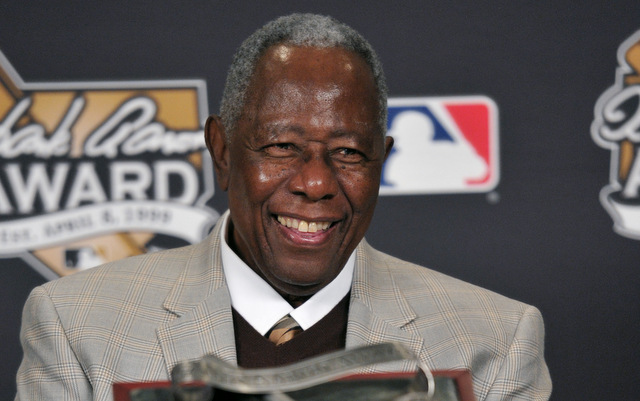 ALL-TIME SINGLE-SEASON TEAMS: CHC | STL | MIL | CIN | PIT | CHW | DET | KCR | CLE | MIN | ARI | COL | SD | LAD | SF | SEA | HOU | LAA | TEX | OAK | BOS | NYY | BAL | TOR | TBR | MIA | NYM
There are only three teams left in our all-time single-season team series. As a reminder, here is what we're trying to do:
Obviously, the term "single-season" implies that we're focused on brilliance within the confines of one campaign and not, say, career value or even value across a handful of seasons in the same uniform. While this is no doubt a largely subjective undertaking, please bear that in mind before airing objections. Or not. Whatever.

Also, we're largely limiting the selections to those of modern era (i.e., from 1900 onward) in large part because the "primordial soup" days of the sport bear only the most basic resemblances to the game played today. That's more a general principle than hard-and-fast rule, though. As well, a player can appear only once on the team in question. So even those who excelled at multiple positions over the years will be assigned one spot and one spot only.
Today we're going to cover the Atlanta Braves, who have been around in some form since way back in 1876. They were in Boston from 1876-1953, Milwaukee from 1954-65, and Atlanta from 1966 to today.
CATCHER -- 2003 Javy Lopez
Lots of great candidates behind the plate, but Lopez gets the nod for hitting .328/.378/.687 (169 OPS+) with 43 home runs and 109 RBI. He also threw out runners at a league average rate and finished fifth in the NL MVP voting. That kind of power from a catcher is almost unheard of. Both Joe Torre and Brian McCann had several seasons worthy of consideration.
FIRST BASE -- 1998 Andres Galarraga
By WAR, the best first base season in franchise history belongs to Hank Aaron, who spent the 1971-72 seasons at the position (mostly). We're using him at another position though, so the Big Cat is our man at first. He hit .305/.397/.595 (157 OPS+) with 44 homers and 121 RBI, proving his huge power numbers at Coors Field were no fluke. Freddie Freeman, Felipe Alou and Fred McGriff were among the other first base candidates.
SECOND BASE -- 1928 Rogers Hornsby
This is team number four for Hornsby, who also made our Cubs, Cardinals and Giants teams. The Hall of Famer led the league in batting average (.387), on-base percentage (.498), slugging percentage (.632), OPS (1.130), OPS+ (202), walks (107) and WAR (8.8) in 1928. That was his only season with the Braves, as he was traded to Chicago after the season. Hornsby was known to be a bit ornery, but it makes you wonder just how much of a jerk he really was considering how often he changed teams despite being so historically great. Marcus Giles' huge 2003 season was the only real competition at second base.
SHORTSTOP -- 1964 Denis Menke
This was a really, really close call. Among the closest in the series. Here are the two candidates:
1964 Denis Menke: .283/.368/.479 (136 OPS+), 29 2B, 5 3B, 20 HR, 65 RBI, 4 SB, 6.7 WAR
2005 Rafael Furcal: .284/.348/.429 (102 OPS+), 31 2B, 11 3B, 12 HR, 58 RBI, 46 SB, 6.5 WAR
The production came in different shapes -- Menke was more of a power hitter, Furcal a speed/defense guy -- but their overall value was nearly identical. I'm an offense first guy so I'm going with Menke. Wouldn't be mad if you made me take Furcal though.
THIRD BASE -- 1953 Eddie Mathews
The Braves have had some great players at the hot corner over the years, so this was a tough decision. The candidates:
1953 Eddie Mathews: .302/.406/.627 (171 OPS+), 31 2B, 47 HR, 135 RBI, 8.3 WAR
1973 Darrell Evans: .281/.403/.556 (156 OPS+), 25 2B, 41 HR, 104 RBI, 9.0 WAR
2007 Chipper Jones: .337/.425/.604 (165 OPS+), 42 2B, 29 HR, 102 RBI, 7.6 WAR
If you take WAR at face value, Evans if the guy. If you prefer dingers and total offensive output, it's Mathews. If you're a relatively young fan, it's Chipper. All three guys had brilliant seasons but Mathews was just a tiny bit better in my opinion. Can't go wrong with the Hall of Famer, I suppose.
LEFT FIELD -- 1989 Lonnie Smith
Even if I wanted to bend the rules and use Chipper in left, Smith still beats him out. Chipper's best season as a left fielder was pretty good (153 OPS+ and 5.3 WAR), but Smith hit .315/.415/.533 (168 OPS+) with 21 home runs, 21 steals and a league-leading 8.8 WAR. Evaluations of his defense were mixed but the stats (dWAR, specifically) say he was excellent in '89.
CENTER FIELD -- 2000 Andruw Jones
Man, peak Andruw was so good. He swatted 36 doubles and 36 homers during that 2000 season, hitting .303/.366/.541 (126 OPS+) overall. He also stole 21 bases. Jones was the best defensive outfielder in baseball history (by dWAR, by a lot) and he was in his defensive peak in 2000, making everything look easy. He was unreal in center field.
Dale Murphy received serious consideration, particularly his 1982-87 seasons, and he probably would have gotten the call in center if this was a career-based series. It's not; this is about the best single-season and that belongs to Andruw.
RIGHT FIELD -- 1963 Hank Aaron
I hope you aren't surprised, this spot was never going to anyone but Aaron. The only question was which season to pick. The best candidates:
1959: .355/.401/.636 (182 OPS+), 223 H, 46 2B, 39 HR, 123 RBI, 19 SB, 8.6 WAR
1961: .327/.381/.594 (163 OPS+), 197 H, 39 2B, 34 HR, 120 RBI, 21 SB, 9.3 WAR
1963: .319/.391/.586 (179 OPS+), 201 H, 29 2B, 44 HR, 130 RBI, 31 SB, 9.1 WAR
I could have listed about eight other seasons as well. How are you supposed to pick just one? I'm taking that '63 season because Aaron did it all that year -- 200+ hits, 40+ homers, 30+ steals. Pick one of his seasons out of a hat and you'll be fine.
STARTING PITCHERS -- 1953 Warren Spahn, 1978 Phil Niekro, 1991 Tom Glavine, 1995 Greg Maddux, 1996 John Smoltz
Not a bad rotation, huh? Four Hall of Famers and another guy who will likely get into Cooperstown when he appears on the ballot for the first time later this year. Here are the numbers:
Spahn: 23-7, 2.10 ERA, 188 ERA+, 1.06 WHIP, 265 2/3 IP, 70 BB, 148 K, 8.9 WAR
Niekro: 19-18, 2.88 ERA, 142 ERA+, 1.19 WHIP, 334 1/3 IP, 102 BB, 248 K, 10.0 WAR
Glavine: 20-11, 2.55 ERA, 153 ERA+, 1.09 WHIP, 246 2/3 IP, 69 BB, 192 K, 8.5 WAR
Maddux: 19-2, 1.63 ERA, 260 ERA+, 0.81 WHIP, 209 2/3 IP, 23 BB, 181 K, 9.7 WAR
Smoltz: 24-8, 2.94 ERA, 149 ERA+, 1.00 WHIP, 253 2/3 IP, 55 BB, 276 K, 7.3 WAR
All five of those guys had other seasons worth considering for the all-time single-season team as well. Pitchers like Irv Young, Vic Willis and Johnny Sain all had stellar seasons with the Braves and would have made the rotations of other teams, but they're stuck behind those five guys with this franchise. Crazy good rotation.
RELIEF PITCHERS -- 1982 Steve Bedrosian, 2011 Eric O'Flaherty, 2012 Craig Kimbrel
Bedrosian is our ironman reliever, having thrown 137 2/3 innings with a 2.42 ERA (156 ERA+) during that '82 season. He also struck out 123 batters. O'Flaherty and Kimbrel were just ridiculous, posting a 0.98 ERA (393 ERA+) and 1.01 ERA (399 ERA+) those years, respectively. Kimbrel also struck out 116 batters while walking only 14 in 62 2/3 innings, which is ... lol.
---
THE LINEUP
1928 Rogers Hornsby
1989 Lonnie Smith
1963 Hank Aaron
1953 Eddie Mathews
1998 Andres Galarraga
2003 Javy Lopez
2000 Andruw Jones
1964 Denis Menke
Coming Sunday: The Montreal Expos/Washington Nationals
Dodgers manager Dave Roberts on Sunday announced his World Series rotation for the first four...

How should the Astros play it when one of their two aces isn't on the mound against the Do...

The former big-league infielder also worked as GM of the Puerto Rico national team
The Indians pitching coach would be getting his first MLB managerial job

In the last several years, lots of droughts have ended in MLB

The most likely scenarios are Dodgers winning in five or six games