All-Time Single-Season Team: California/Anaheim/LA Angels
It's time to hit the Angels in our All-Time Single-Season series -- which includes several campaigns of recent vintage.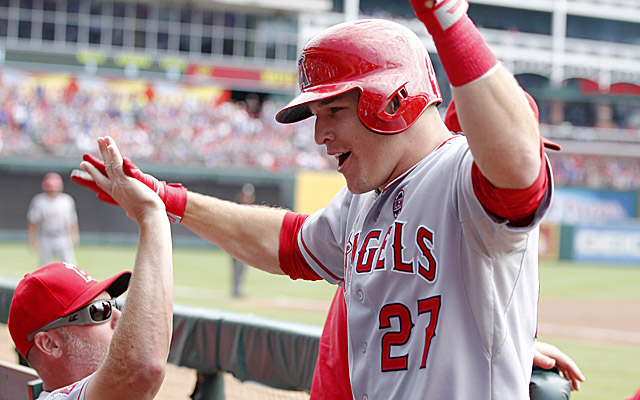 ALL-TIME SINGLE-SEASON TEAMS: CHC | STL | MIL | CIN | PIT | CHW | DET | KCR | CLE | MIN | ARI | COL | SD | LAD | SF | SEA | HOU
The latest installment in our All-Time Single-Season series is a team that hasn't moved cities, but has gone through several name changes.
From 1961-64, they were the Los Angeles Angels.
From 1965-96, they were the California Angels.
From 1997-2004, they were the Anaheim Angels.
And since then, they've been the Los Angeles Angels of Anaheim. Fun times, eh?
Before diving in, allow me a few words.
1. This is only looking at the best single season in franchise history. Thus, don't think about "who is the best shortstop in franchise history" but instead "who had the best season at shortstop in franchise history." There's a difference.
2. This is subjective. That means that it's, like, our opinion, dude. We can have differences in opinion without one of us being a moron. Trust me, it's possible. Definitely feel free to dispute some choices and even make your own lineup. That's encouraged, in fact.
3. Just for the sake of variety, we've installed a rule that one player can only be used once per team.
Time for the Halos.
CATCHER - Brian Downing, 1979
Downing came over from the White Sox before the 1978 season in a deal that included Bobby Bonds. He would end up being a very good hitter throughout most of his 20-year career. He's probably better known these days as a left fielder or even DH, as he transitioned to left in 1981 and never caught again after that season.
In '79, though, Downing was the Angels' full-time catcher and was outstanding at the plate. He hit .326/.418/.462 (142 OPS+) with 27 doubles, 12 homers, 75 RBI and 87 runs. He also walked (77) more times than he struck out (57).
Lance Parrish was definitely superior behind the plate and had a very good offensive season in 1990, so consider him the runner-up while guys like Mike Napoli, Bengie Molina and great defensive backstop Bob Boone warrant mention.
FIRST BASE - Wally Joyner, 1987
Real crowded group here. Mo Vaughn had a few nice power seasons, albeit in a ridiculous era for power. Rod Carew boasted some great batting average seasons, albeit without much power at all. Kendrys Morales in 2009 was great and if Albert Pujols had a different name -- that is, if we weren't expecting him to be, you know, Albert Pujols -- it would be a lot easier to realize he's right in the mix for his 2012 season. Don Mincher was excellent in 1967, too.
I'm going with Joyner's sophomore campaign, though, when he topped 30 in doubles and homers while walking more than he struck out and also hitting the century mark in both runs and RBI.
The line: .285/.366/.528 (137 OPS+), 33 doubles, 34 homers, 117 RBI, 100 runs, eight steals, 72 walks and 64 strikeouts.
SECOND BASE - Bobby Grich, 1979
As I've noted before, one way to find historically underrated players is to find guys who took lots of walks. Back as recent as the mid-1990s, the only rate stat that mattered was batting average, so guys like Grich (career .266 hitter, but .371 on-base percentage) are relegated to he was just a .266 hitter! without better context.
We can't be sure what Grich would have done without a strike in 1981, but that was a beauty from a rate-stat perspective (.304/.378/.543, 165 OPS+). It was the runner-up here to 1979, when he finished eighth in MVP voting -- and, really, I'm good with either choice. It was a flip of the coin.
In '79, Grich clubbed 30 doubles and 30 homers with 101 RBI, 78 runs and a .294/.365/.537 slash line, good for a 145 OPS+.  Though he didn't win the Gold Glove that year -- he previously won four -- he still flashed good leather at a premium defensive position.
This was mostly a handful of Grich seasons against a small handful of Howie Kendrick years, but Adam Kennedy, Sandy Alomar, Jerry Remy and even Johnny Ray crept into the periphery.
SHORTSTOP - Jim Fregosi, 1964
Back in the Angels' first decade of play, Fregosi was a rock for the franchise. He was a six-time All-Star and even received MVP votes eight straight seasons despite the club rarely hanging in contention for long. He was by all accounts (and I have to say by all accounts, since I wasn't alive then) a very good defender, too, winning a Gold Glove in 1967.
The pick was a real tough call between several Fregosi seasons, namely 1964, 1967 and 1970. The earliest one gets the nod on the strength of more well-roundedness offensively in higher on-base percentage and good baserunning along with good power.
For those interested, here are those three together.
1964: .277/.369/.463, 141 OPS+, 22 2B, 9 3B, 18 HR, 72 RBI, 86 R, 8 SB, 72 BB, 87 K
1967: .290/.349/.395, 125 OPS+, 23 2B, 6 3B, 9 HR, 56 RBI, 75 R, 9 SB, 49 BB, 77 K
1970: .278/.353/.459, 127 OPS+, 33 2B, 5 3B, 22 HR, 82 RBI, 95 R, 0 SB, 69 BB, 92 K
Erick Aybar, David Eckstein and Orlando Cabrera all got a look here.
THIRD BASE - Troy Glaus, 2000
Glaus posted several monster power seasons in his career, but his breakout remains his best. He led the AL with 47 homers while also driving home 102 and scoring 120 runs with 37 doubles, 14 stolen bases and a .284/.404/.604 (150 OPS+) line. He grades out above average defensively, too.
There have been a lot of very good seasons at third base in Angels history. Doug DeCinces hit 30 homers with a .301 average in 1982 amongst a few other good ones. In 1985, jack-of-all-trades Tony Phillips played more games at third than anywhere else and he scored 119 runs with a .394 on-base percentage and 27 homers. Chone Figgins was an excellent on-base and steals guy from 2007-09 and Carney Lansford had a solid 1979 season, though he didn't fully blossom until he was gone.
LEFT FIELD - Darin Erstad, 2000
The man who is now the head coach at the University of Nebraska (his alma mater) exploded in 2000 with an MLB-best 240 hits. Among them, 39 doubles, six triples and 25 homers. He drove home 100 while stealing 28 bases and scoring 121 times.
Oh yeah, he hit .355 with a .951 OPS (137 OPS+) and won a well-deserved Gold Glove.
What an all-around season.
We'll avoid WAR on a certain other player who seems to anger people when tied to WAR, but Erstad's 2000 effort is tops in WAR in a single-season in Angels history for anyone without the initials M.T. It was a tour de force of all-around great baseball play.
Not surprisingly, doubles machine Garret Anderson was all over the board here, especially with his 2002 and 2003 seasons. We could list a bunch of other names, but Erstad blew the field away here, other than those two Anderson seasons that were briefly considered.
As for Don Baylor's MVP season? He's been used elsewhere.
CENTER FIELD - Mike Trout, 2013
Any suggestion that Fred Lynn or Jim Edmonds had a better season in an Angels uniform is done from one of two points of view:
1. Bias against Trout due to fatigue from the AL MVP debates. 
2. Time distorting memory on Edmonds/Lynn in Angels garb.
Trout twice did better than Lynn or Edmonds ever did in a season with the Angels as a center fielder. I'll put Trout's season I didn't pick against the best of Lynn and Edmonds.
Trout '12: .326/.399/.564, 168 OPS+, 27 2B, 8 3B, 30 HR, 83 RBI, 129 R, 49 SB
Edmonds '95: .290/.352/.536, 129 OPS+, 30 2B, 4 3B, 33 HR, 107 RBI, 120 R, 1 SB
Lynn '82: .299/.374/.517, 142 OPS+, 38 2B, 1 3B, 21 HR, 86 RBI, 89 R, 7 SB
Trout was even better last season, too, finishing second in MVP voting for the second straight season to one of baseball's generational hitters.
Devon White and Torii Hunter also had quality seasons in center.
RIGHT FIELD - Vladimir Guerrero, 2004
Vlad the Impaler came over to significant hype in 2004 after signing a free agent deal with the Angels, and he'd go out and win the AL MVP in his first season (see Albert and Josh, that is how you do it).
Though he was no longer the high-level stolen base threat he was in 2001-02, he still stole 15 bases in 18 attempts and scored an AL-best 124 runs, making him an elite all-around player. Remember that hose from right? He accrued 13 outfield assists that season with an already established "you're a moron if you run on this guy" reputation.
All this on top of his .337/.391/.598 (157 OPS+) line along with 39 doubles, 39 homers and 126 RBI. He led the AL with 366 total bases and was third with 206 hits. And though he was always a free swinger, Vlad was a good enough bad ball hitter to only strike out 74 times in 612 at-bats.
Guerrero faced heavy competition here from Tim Salmon, especially Salmon's 1995 season -- in which he hit 34 homers with 105 RBI, 111 runs and a .330/.429/.594 line. In fact, with a 165 OPS+, it could be argued Salmon was a slightly better hitter, but Guerrero is right there while having the advantage with the arm and legs.
Reggie Jackson in 1982 also flashed comparable power to Guerrero (39 homers, 101 RBI), but hit .275/.375/.532 (147 OPS+) while leading the majors in strikeouts and trailing in value on the basepaths and in right.
And then there's Bobby Bonds, who had 37 homers, 40 steals, 115 RBI and 103 runs in 1977 -- but he loses out on the rate offensive stats, as he hit .264/.342/.520 (136 OPS+) that year. 
Did we mention Torii Hunter (after his position change) or Lee Thomas? How about several other Salmon and Guerrero years? This was one of the more loaded positions I've seen thus far.
DESIGNATED HITTER - Don Baylor, 1979
Baylor started 65 games here, so we'll call that good enough. His 1979 season was outstanding at the plate, as he led the majors in both runs (120) and RBI (139) while also hitting 33 doubles and 36 homers. His plate discipline was evident in the 71 walks (and we can't talk Baylor without mentioning his hit-by-pitch total, which was 11 that year) and 51 strikeouts in a whopping 722 plate appearances. And if all that weren't enough, he also stole 22 bases.
If 65 games isn't to your liking, take a look at Frank Robinson in 1973 as a more than suitable alternative. Chili Davis was a quality full-time DH for the Angels in the mid-'90s, too.
STARTING PITCHERS - 1964 Dean Chance, 1973 Nolan Ryan, 1977 Frank Tanana, 1990 Chuck Finley, 2011 Jered Weaver
Well, let's see ... Chance won a Cy Young in '64 after leading the AL in wins (20), ERA (1.65), complete games (15), shutouts (11), innings pitched (278 1/3), ERA+ (200) and home run rate (0.2 HR/9 IP). He also had a 1.01 WHIP and 207 strikeouts. Oh yeah, and he even threw in four saves for good measure.
Ryan never won a Cy Young, but he finished second in '73 and that's also the season he posted a career-high 383 strikeouts. The quick-and-dirty line: 21-16, 2.87 ERA, 1.23 WHIP, 26 complete games, four shutouts, 326 innings pitched.
Tanana was outstanding early in his career for the Angels and his best effort came in '77 when he was 15-9 with an AL-best 2.54 ERA (AL-best 154 ERA+). He also had 20 complete games and seven shutouts, working 241 1/3 innings.
Finley went 18-9 in consecutive years (1990-91), but the former was much better. He had a 2.40 ERA (158 ERA+) in 236 innings.
Weaver was 20-5 and led the majors in WHIP (1.02) in 2012, but I like his 18-8 2011 season better because his ERA was 0.40 better, ERA+ was 21 points higher, WHIP was better, he struck out 56 more batters and threw 47 more innings.
Some of the other names in the crowded field (again): Jim Abbott, Bartolo Colon, John Lackey, Dan Haren, Ervin Santana, Mike Witt, Mark Langston, Andy Messersmith, Jarrod Washburn and Bert Blyleven. There were some real gems and obviously tough omissions in there.
RELIEF PITCHERS - 2002 Troy Percival, 2008 Francisco Rodriguez, Bryan Harvey, 1991
Percival's spot in Angels lore was cemented when he went 7-for-7 in save attempts in the postseason while recording the final out of the only World Series championship in franchise history. In the regular season, Percival saved 40 games in 44 chances with a 1.92 ERA (232 ERA+), 1.12 WHIP and 68 strikeouts in 56 1/3 innings.
We know why K-Rod's here. He holds the all-time, single-season record with 62 saves in 2008. Save totals aside, he objectively had a few better seasons if we're looking at run prevention or strikeout rate or keeping guys off base, but I'm going to respect the record here.
Harvey led the AL with 46 saves in 1991 while sporting a 1.60 ERA (257 ERA+), 0.86 WHIP and 101 strikeouts against 17 walks in 78 2/3 innings. Stellar work.
Bob Lee in 1964 had one of those old-school ironman seasons we'd expect from the era and he would've been the fourth choice here. Brendan Donnelly, Scot Shields, Donnie Moore, Mark Eichhorn and Brian Fuentes were among the others under consideration -- though this was pretty top-heavy.
---
THE LINEUP
1. 2000 Darin Erstad, LF
2. 2013 Mike Trout, CF
3. 2004 Vladimir Guerrero, RF
4. 1979 Don Baylor, DH
5. 2000 Troy Glaus, 3B
6. 1979 Bobby Grich, 2B
7. 1987 Wally Joyner, 1B
8. 1979 Brian Downing, C
9. 1964 Jim Fregosi, SS
Considering the franchise wasn't around until the '60s, that's a pretty awesome lineup of single seasons -- remember, look at the actual production in the seasons we use instead of the career-long pedigree of the players who posted said production. Well done, Halos.
Up next: The Texas Rangers, who were once the second incarnation of the Washington Senators
It's almost that time of the year again, time for the Tebow madness to return

Walker was a tremendous all-around player, but Coors Field undoubtedly inflated his career...

A beardless Wilson says that he tried to outrun the police on the second day he had his driver's...
The Diamondbacks outfielder was not impaired, he was just going way too fast

MLB can unilaterally implement rule changes, which will also include limits on mound visit...

If the MLBPA wants to repair MLB's salary structure, it should push for more money for young...