All-Time Single-Season Team: Chicago Cubs
We're starting a new series. Our first installment in the All-Time Single-Season team series is the Cubs. Included: 1959 Ernie Banks and 1964 Ron Santo.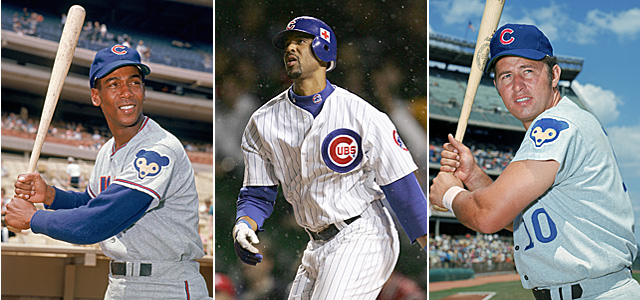 Related: The legend of Mordecai 'Three Finger' Brown
Pitchers and catchers report to spring training in just over a month. There are a few free agents left to sign -- a very few notables -- and we aren't likely to see many trades either. Thus, it's time to have a little fun here at Eye On Baseball. So over the next 30 days, we'll provide one installment per day -- obviously hitting each of the 30 MLB franchises -- in a series of All-Time Single-Season teams.
To be clear, we're putting together an All-Star team for each of the 30 MLB teams of the best single-season performances in franchise history. The exercise is obviously subjective and arguments will surely happen at many different positions for many different franchises. After all, we're dealing with thousands and thousands of individual player seasons in MLB history.
One final note: Pitchers in the very early days of baseball used to throw upwards of 600 innings in a season and it was mostly done underhanded. The numbers are staggering, but since it was such a different game than our modern game, we're very likely to ignore a decent chunk of the hurlers in that era.
First up, the Chicago Cubs.
CATCHER - Gabby Hartnett, 1930
We very nearly had our first upset of the series on the first position of the first entry. Remember Rick Wilkins? In 1993, Wilkins hit .303/.376/.561 (151 OPS+) with 23 doubles, 30 homers and 73 RBI. It was a very tough omission and both versions of WAR say he'd be the pick, but I'm gonna stick with the Hall of Famer Hartnett.
Hartnett won the NL MVP in 1935, but his best season came in 1930 when he hit .339/.404/.630 (144 OPS+) with 31 doubles, 37 homers and 122 RBI. He also nailed 47 percent of would-be basestealers.
Quick note on one of the many differences in era? Hartnett took home a reported $18,000 for his services that season.
Other notables: Wilkins, 1886 King Kelly, several other Hartnetts, 2008 Geovany Soto, several Randy Hundleys and a few Jody Davises
FIRST BASE - Derrek Lee, 2005
Amidst many good-to-very good campaigns, Lee exploded in 2005, hitting .335/.418/.662 (174 OPS+) with 50 doubles, 46 homers, 107 RBI, 120 runs and 15 stolen bases. He led the league in hits, doubles, average, slugging, OPS, OPS+ and total bases. He won a Gold Glove and even topped league MVP Albert Pujols for the Silver Slugger at first base. Lee finished third in MVP voting, though the Cubs' losing record had to have hurt matters.
Other notables: Several Cap Ansons, several Frank Chances, 1945 Phil Cavarretta and a few Mark Graces
SECOND BASE - Rogers Hornsby, 1929
The best second baseman in franchise history is rather easily Hall of Famer Ryne Sandberg, but his best seasons (1984, 1990-92) were all bested by Hall of Famer Hornsby's first of four with the Cubs. In '29, Hornsby came to the Cubs by way of a trade with the Boston Braves. He'd end up hitting .380/.459/.679 (178 OPS+) with 47 doubles, eight triples, 39 homers, 149 RBI and 156 runs. He won the NL MVP and both versions of WAR show this season as one of the truly elite campaigns in baseball history.
Other notables: Most Sandberg seasons, several Billy Hermans and a few Johnny Evers.
SHORTSTOP - Ernie Banks, 1959
The only real decision here was which Banks season to use. We'll go with his second of back-to-back MVP seasons by a nose over his first.
In '59, Banks hit .304/.374/.596 (156 OPS+) with 25 doubles, six triples, 45 homers, 143 RBI and an MLB-best 20 intentional walks while flashing Gold Glove-quality defense at short (he didn't win the Gold Glove, but advanced metrics show outstanding defensive ratings). His 1958 season was very similar, so there isn't a wrong answer here in the least.
Other notables: Many Banks seasons, several Joe Tinkers as well
THIRD BASE - Ron Santo, 1964
Just as he was for a while in Hall of Fame voting tallies, Santo was underrated in his time due to taking a lot of walks. That is, the only rate stat that mattered for years was batting average, and players who walk a lot might have a lower average than some peers while also having a superior on-base percentage, which we now know is much more important.
The 1964 season was one of four in which Santo led the NL in walks and one of two in which he led the NL in OBP. He hit .313/.398/.564 with 33 doubles, 13 triples, 30 homers, 114 RBI and 94 runs. He also took home his first of five Gold Gloves.
Other notables: Lots of Santo years, 1976 Bill Madlock, 1912-13 Heinie Zimmerman, several Stan Hacks and a few Aramis Ramirezes
LEFT FIELD - Billy Williams, 1972
For all the (mostly unfair) criticism Alfonso Soriano took on his long-term contract -- that the Cubs finally unloaded this past season -- he very nearly came out the winner here. In 2007, Soriano hit .299/.337/.560 (122 OPS+) with 42 doubles, five triples, 33 homers, 70 RBI, 97 runs and 19 steals, helping lead the Cubs to the NL Central title.
Still, Williams comes out on top by a slight margin here. The Hall of Famer hit .333/.398/.606 (171 OPS+) with 34 doubles, six triples, 37 homers, 122 RBI and 95 runs. He was the runner-up in MVP voting to some fellow named Johnny Bench. Ever heard of him?
Other notables: Most of Williams career, a few Sorianos, a handful of Riggs Stephensons, 1979 Dave Kingman (48 homers!), 1952 Hank Sauer and 2004 Moises Alou
CENTER FIELD - Hack Wilson, 1930
Not much competition here. Wilson's best years were all the best center field years in Cubs history, and 1930 stands above and beyond the rest. Hack hit .356/.454/.723 (177 OPS+) with 35 doubles, six triples, 56 home runs, 191 RBI (still the MLB single-season record that probably will never be broken) and 146 runs.
Other notables: Several more Wilsons, 1950 Andy Pafko, 1993 Sammy Sosa, 2010 Marlon Byrd (and, no, Jerome Walton's overrated 1989 season wasn't considered)
RIGHT FIELD - Sammy Sosa, 2001
We aren't going to get into a guessing game here on, let's say, cleanliness. For our purposes, we don't care about anything but on-field performance. Thus, Hall of Famer Andre Dawson's 1987 MVP season is buried beneath Sosa's four-year explosion from 1998-2001. It was, numbers-wise, one of the greatest four-year stretches in MLB history. During that stretch, Sammy's average season was this: .310/.396/.662, 61 homers and 149 RBI. Average!
Though Sosa won the MVP in 1998, 2001 was his best effort. He hit .328/.437/.737 (203 OPS+) with 34 doubles, five triples, 64 homers, 160 RBI and 146 runs. He led the majors in runs, RBI and total bases.
Other notables: Several Sosas, several Dawsons and a few Bill Nicholsons
STARTING PITCHERS - 1971 Fergie Jenkins, 1920 Pete Alexander, 2003 Mark Prior, 1906 Three Finger Brown and 1992 Greg Maddux
Quite a collection here. The lines ...
Jenkins: 24-13, 2.77 ERA (141 ERA+), 1.05 WHIP, 263 K, 325 IP, 30 CG, 3 SHO
Alexander: 27-14, 1.91 ERA (166 ERA+), 1.11 WHIP, 173 K, 363 1/3 IP, 33 CG, 7 SHO
Prior: 18-6, 2.43 ERA (179 ERA+), 1.10 WHIP, 245 K, 211 1/3 IP, 3 CG, 1 SHO
Brown: 26-6, 1.04 ERA (253 ERA+), 0.93 WHIP, 144 K, 277 1/3 IP, 27 CG, 9 SHO
Maddux: 20-11, 2.18 ERA (166 ERA+), 1.01 WHIP, 199 K, 268 IP, 9 CG, 4 SHO
Obviously the four non-Prior names above had several seasons under consideration, especially Jenkins and Brown. There's also Rick Sutcliffe's 1984 Cy Young season and his 1987 season wasn't too shabby either. Rick Reuschel, Hippo Vaughn and Bill Hands had a few seasons worthy of consideration, too.
I'm guessing the main contention here will be not selecting Sutcliffe's 16-1 season in '84. He missed the cut because he only started 20 games for the Cubs after being acquired via trade and his rate stats were a bit shy of Maddux and Prior, who compiled theirs in much greater innings tallies.
RELIEF PITCHERS - 1977 Bruce Sutter (closer), 1983 Lee Smith and 2007 Carlos Marmol
The Hall of Famer Sutter established himself in '77, when he saved 31 games with a 1.34 ERA (328 ERA+), 0.86 WHIP and 129 strikeouts in 107 1/3 innings. He had many very good seasons and actually won the Cy Young in 1979, but '77 was the best season of his career by the majority of the measures available.
Smith actually had a terrible 4-10 record in '83, but judging relievers on record is folly. He saved an NL-best 29 games in 33 tries with a 1.65 ERA (229 ERA+), 1.07 WHIP and 91 strikeouts in 103 1/3 innings.
Marmol is a polarizing figure these days, no doubt, but he was stellar in a few seasons. His 2007 season may well have been the best season ever for a Cubs setup man. He appeared in 59 games and blew just one lead. He had a 1.43 ERA (325 ERA+), 1.10 WHIP and 96 strikeouts in 69 1/3 innings. I could see arguments for his 2010 season being superior, but 2007 was far more impressive to me.
These three had several seasons under consideration along with 2008 Kerry Wood, 2010-11 Sean Marshall, 1989 Les Lancaster, 1990 Paul Assenmacher, a few Randy Myers years and, of course, The Shooter: 1998 Rod Beck.
---
THE LINEUP
1. 1929 Hornsby, 2B
2. 1959 Banks, SS
3. 2001 Sosa, RF
4. 1930 Wilson, CF
5. 2005 Lee, 1B
6. 1972 Williams, LF
7. 1964 Santo, 3B
8. 1930 Hartnett, C
9. 1906 Brown, P
Save this to compare with the others over the course of the next month. Next up (Monday): The St. Louis Cardinals