All-Time Single-Season Team: Cleveland Indians
Our series looking at the best individual seasons in each team's history continues today with the century-old Cleveland Indians.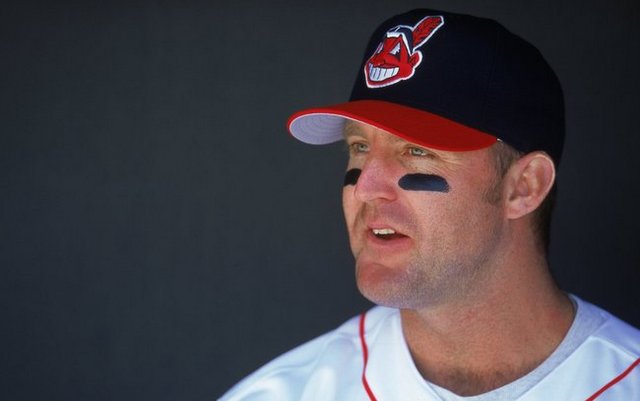 More All-Time Single-Season Teams: CHC | STL | MIL | CIN | PIT | CHW | DET | KCR
It's time for another entry into out All-Time Single-Season Teams series. What's this, you ask? Here's the explanation:
Obviously, the term "single-season" implies that we're focused on brilliance within the confines of one campaign and not, say, career value or even value across a handful of seasons in the same uniform. While this is no doubt a largely subjective undertaking, please bear that in mind before airing objections. Or not. Whatever.

Also, we're largely limiting the selections to those of modern era (i.e., from 1900 onward) in large part because the "primordial soup" days of the sport bear only the most basic resemblances to the game played today. That's more a general principle than hard-and-fast rule, though. As well, a player can appear only once on the team in question. So even those who excelled at multiple positions over the years will be assigned one spot and one spot only.
Today's team is the Cleveland Indians, who have been around since 1915. Before that they were the Cleveland Naps (1903-14), the Cleveland Bronchos (1902), and the Cleveland Blues (1901). All were considered for historical reasons.
CATCHER -- 1961 John Romano
Romano's career was relatively short -- only seven full seasons and three partial seasons -- but he was also one of the best hitting catchers in the game for a short time. During that 1961 season, he hit .299/.377/.483 (132 OPS+) with 29 doubles, 21 homers, 80 RBI, and more walks (61) than strikeouts (60). He also threw out 39 percent of attempted base-stealers, a bit above the 36 percent league average that year. Romano's defensive skill separates him from the pack. This was the first of his two All-Star appearances and the only year in which he received MVP votes (finished 24th in the voting).
Other notable Cleveland catchers are 1920 and 1922 Steve O'Neill, 1970 Ray Fosse, 2005 Victor Martinez and 2013 Carlos Santana.
FIRST BASE -- 2002 Jim Thome
This was a relatively easy call. In fact, it was a question of which Thome season to use more than which player to use. Thome, then only 31, hit .304 with a .445 on-base percentage while leading the league in walks (122), slugging percentage (.677), OPS (1.122) and OPS+ (197). He finished second in WAR (7.4) and swatted 52 home runs with 118 RBI that year. Thome was never known for his first base defense, but his bat more than made up for it.
We could have used either 1997 or 2001 Thome as well. 1929 Lew Fonseca, 1930 Ed Morgan and 1937 Hal Tronksy were other candidates.
SECOND BASE -- 1904 Nap Lajoie
With all due respect to Hall of Famer Robert Alomar, we're dipping into the pre-Indians days at second base. Lajoie, a Hall of Famer himself, was a monster with the 1904 Naps, leading the league in hits (208), doubles (49), RBI (102), total bases (302) batting average (.376), on-base percentage (.413), slugging percentage (.546), OPS (.959), OPS+ (203), and WAR (8.6). The hard part was picking which Lajoie season to use. He was awesome.
Pretty much every Lajoie season from 1903-13 was worth considering, ditto Alomar's 1999 and 2001 campaigns. Late-career Joe Gordon, another Hall of Famer, put up excellent seasons in 1947-48.
SHORTSTOP -- 1948 Lou Boudreau
Boudreau was a very easy call at shorstop. He put up 10.4 WAR by hitting .355/.453/.534 (165 OPS+) with 34 doubles, 18 homers, 106 RBI, and ... ready for this? ... 98 walks and only nine strikeouts in 1948. That's insane. Boudreau was named AL MVP that year.
A few other Boudreau seasons (1943-45, most notably) and 1923 Joe Sewell are our honorable mentions at short.
THIRD BASE --1953 Al Rosen
We could have very easily used 1996 Thome here -- yes, he started his career at the hot corner -- but since we already have him at first, Rosen it is. Rosen was named AL MVP that year by hitting .336 with a .442 on-base percentage while topping the league in runs (115), homers (43), RBI (145), total bases (367), slugging percentage (.613), OPS (1.034), OPS+ (180) and WAR (10.1). He was only .0016 points behind Mickey Vernon for the batting title, which would have given Rosen the Triple Crown.
1971 Graig Nettles and 1902-04 Bill Bradley are the other third base notables.
LEFT FIELD -- 1995 Albert Belle
Not much of an argument to be made here; Belle had one of the most dominant offensive seasons in history in 1995. He became the first and only player in history to record 50 doubles and 50 homers in the same season -- Belle had 52 doubles and 50 home runs -- and he also led the league with 121 runs and 126 RBI. A nice .317/.401/.690 (177 OPS+) batting line tied it all together. Belle finished right behind Mo Vaughn in the AL MVP race, as in 308 points (12 first place votes) to 300 points (11 first place votes) right behind. No real competition in left field.
CENTER FIELD --1916 Tris Speaker
Another Hall of Famer, and another instance in which we're simply picking a season from said Hall of Famer's career. Speaker's best year with the Tribe was his first, when he hit .386/.470/.502 (186 OPS+) -- league-leading rates across the board -- with an MLB best 211 hits and an AL best 41 doubles. He also walked 82 times compared to only 20 strikeouts.
Other center field worthy seasons belong to 1917-23 Speaker, 1950-52 Larry Doby, 1993-94 Kenny Lofton and 2005-07 Grady Sizemore.
RIGHT FIELD -- 1912 Shoeless Joe Jackson
Shoeless Joe is best remembered for his time with the White Sox, but he also spent five and a half years in Cleveland as well. I couldn't decide between his 1911 and 1912 seasons, so I'll let you pick:
1911: .408/.468/.590, 45 2B, 19 3B, 7 HR, 83 RBI, 41 SB, 56 BB, 43 K, 9.2 WAR
1912: .395/.458/.579, 44 2B, 26 3B, 3 HR, 90 RBI, 35 SB, 54 BB, 19 K, 9.6 WAR
Toss up. Hitting .408 is pretty awesome, but having more triples than strikeouts is even cooler in my book. 1912 it is. Manny Ramirez in 1999 is pretty much the only non-Shoeless Joe right fielder worth considering.
DESIGNATED HITTER -- 2006 Travis Hafner
Easy call at DH, where Hafner hit .308/.439/.659 (181 OPS+) with 42 homers and 117 RBI during that 2006 season. His 2004-05 seasons were awesome as well, but 2006 stands out from the pack. No real competition for Pronk at the DH spot.
STARTING PITCHERS -- 1908 Addie Joss, 1918 Stan Coveleski, 1946 Bob Feller, 1968 Luis Tiant, 1972 Gaylord Perry
We could have gone with five Feller seasons, but our rules don't allow that. Here are the numbers:
Joss: 24-11, 1.16 ERA, 204 ERA+, 0.81 WHIP, 325 IP, 130 K, 30 BB
Coveleski: 22-13, 1.82 ERA, 164 ERA+, 1.08 WHIP, 311 IP, 76 K, 58 BB
Feller: 26-15, 2.18 ERA, 151 ERA+, 1.16 WHIP, 371 1/3 IP, 348 K, 153 BB
Tiant: 21-9, 1.60 ERA, 186 ERA+, 0.87 WHIP, 258 1/3 IP, 264 K, 73 BB
Perry: 24-16, 1.92 ERA, 168 ERA+, 0.98 WHIP, 342 2/3 IP, 234 K, 82 BB
Joss and Coveleski don't have the sexy strikeout numbers of the other three guys, but that is a function of the era and not a reflection of their skill. Perry was the only one of these five to win a Cy Young in the cited season and that's because the award was not introduced until 1956. Still, the all-time single-season Tribe rotation boasts four sub-2.00 ERA seasons and four 300+ innings seasons. That's pretty awesome.
Other candidates include 1911 Vean Gregg, 1926 George Uhle, 1970 Sam McDowell, 2007 CC Sabathia and 2008 Cliff Lee.
RELIEF PITCHERS -- 1979 Sid Monge, 1982 Dan Spiller, 1995 Jose Mesa
The Indians have been around long enough to have some dynamite relief seasons, including Monge and Spiller in 1979 and 1982, respectively. Monge chucked 131 innings of 2.40 ERA (178 ERA+) ball out of the bullpen that year while Spiller managed a 2.49 ERA (166 ERA+) in 133 2/3 innings. I'm not sure if we're ever going to see another 100+ inning reliever given modern bullpen usage.
Mesa saved a league leading 46 games in 1995 but, more impressively, he managed a 1.12 ERA (418 ERA+) in 64 innings as well. He also struck out 58 batters against only 17 walks. 2007 Rafael Betancourt and 1998 Michael Jackson both have strong cases to be included on our team.
---
THE LINEUP
1912 Shoeless Joe Jackson
1916 Tris Speaker
1995 Albert Belle
2002 Jim Thome
1953 Al Rosen
2006 Travis Hafner
1904 Nap Lajoie
1948 Lou Boudreau
1961 John Romano
When I run that lineup through the Lineup Analyzer at Dave Pinto's Baseball Musings, it tells me it would average 8.13 runs pers game. That works out to 1,317 runs per 162 games. The 1999 Indians hold the modern record with 1,009 runs scored. The Indians/Naps/Bronchos/Blues have had some all-time great hitters over the years. Wowza.
Tuesday's All-Time Single-Season Team: Minnesota Twins
CBS Sports HQ Daily Newsletter
Get the best highlights and stories - yeah, just the good stuff handpicked by our team to start your day.
Please check the opt-in box to acknowledge that you would like to subscribe.
Thanks for signing up!
Keep an eye on your inbox for the latest sports news.
Sorry!
There was an error processing your subscription.
Keep it right here for all of Sunday's MLB action

Lots of home runs were hit Sunday. Lots and lots of home runs

Mike Trout is amazing, the Nats are in trouble, and the Royals and O's are embarrassing
The game is buried on a Sunday at 4 p.m. ET/1 p.m. PT while 15 MLB games are in progress

With the benefit of hindsight, the Cardinals looked to have messed up

Samardzija had been rumored to be available