All-Time Single-Season Team: Colorado Rockies
It's time to move to the thin air of Denver and check out the likes of Troy Tulowitzki, Larry Walker, Ellis Burks and Todd Helton. It's the All-Time Single-Season team for the Colorado Rockies.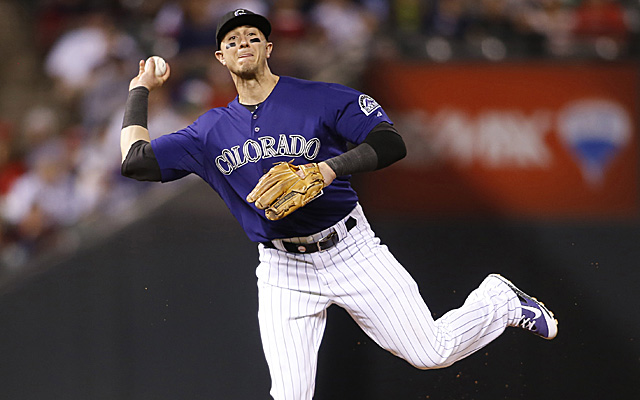 All-Time Single-Season Teams: CHC | STL | MIL | CIN | PIT | CHW | DET | KCR | CLE | MIN | ARI
It's time for Part 12 of our 30-part series in looking at the best single seasons in the history of each MLB franchise. Though not quite as young as the franchise we looked at Wednesday, this installment is still a youngster. It's the Colorado Rockies, who were birthed in 1993.
As a reminder, this is a single-season series so we're going after the best single-season per position in the history of the franchise and not necessarily the best player in franchise history. We've also installed a rule that each player can only be used once, so if a stud player hopped around the diamond, we'll have to pick just one of his seasons.
Let's get our Coors Field on ...
CATCHER - Chris Iannetta, 2008
As opposed to most other positions, this provided very slim pickings. On the strength of walks, hit-by-pitches and some power, Iannetta wins out here. In 2008, he hit .264/.390/.505 (125 OPS+) with 22 doubles, 18 homers and 65 RBI in just 104 games (407 PA, 333 AB).
Wilin Rosario in 2012 had a case, but got on base at a substantially lower rate (.390 for Iannetta; .312 for Rosario). His only major argument over Iannetta would actually be home run power, but it's not as big a gap as it appears. Rosario hit 28 homers, but homered once every 14.1 at-bats while Iannetta in 2008 homered once every 18.5 at-bats. With most everything else either even or favoring Iannetta, the choice is clear.
Several Iannetta seasons along with Rosario last season, Charles Johnson (2003-04), Jeff Reed (1997-98) and Miguel Olivo (2010) got a look.
FIRST BASE - Todd Helton, 2000
Loaded? Loaded.
Remember when Andres Galarraga hit .370 in 1993? Or how about when he had 47 homers and 150 RBI in 1996? Or when he had 41 homers and 140 RBI in 1997?
Yeah, those don't make the cut here. It was all Helton. Any of a handful of seasons could have been the choice and it ultimately came down to 2000, 2001, 2003 and 2004. In 2000, though, Helton led the NL in every major rate stat (average, OBP, slugging, OPS). He also led in hits, doubles, RBI and total bases.
How's this line? .372/.463/.698 (163 OPS+), 59 doubles, 42 homers, 147 RBI, 138 runs, 216 hits, 103 walks and 61 strikeouts.
No one aside from Helton or Galarraga was even remotely considered.
SECOND BASE - Eric Young, 1996
EY!
The '96 season marked the only All-Star selection in the 15-year career of Young. He hit .324/.393/.421 with 23 doubles, four triples, eight homers, 74 RBI, 113 runs and an NL-best 53 stolen bases. He also walked 47 times while only striking out 31 times in 568 at-bats. It's the type "hit the ball on the ground and leg it out" approach that Lou Brown would appreciate.
Overall, this position was also a bit underwhelming in the history of the franchise. Some of the names that surfaced in our search: Jamey Carroll (2006), Clint Barmes (2008-09), Terry Shumpert (1999) and Todd Walker (2001).
SHORTSTOP - Troy Tulowitzki, 2010
The only question was which Tulo season to use because no one else in franchise history has done anything remotely worthy of being considered alongside Tulowitzki's 2007, 2009, 2010, 2011 or 2013 seasons.
Though injury held him to 122 games, Tulowitzki's best work came in 2010 -- ever so slightly -- when he hit .315/.381/.568 (138 OPS+) with 32 doubles, 27 homers, 95 RBI, 89 runs and 11 steals. He also won a Gold Glove and finished fifth in MVP voting -- and, again, that was with missing 40 games due to injury.
Strong arguments could be made for any of the above mentioned years, though.
THIRD BASE - Vinny Castilla, 1998
Playing in all 162 games, Castilla hit .319/.362/.589 (127 OPS+) with 28 doubles, 46 homers, 144 RBI and 108 runs in 1998. For a power hitter, he made pretty good contact, too, whiffing 89 times in 645 at-bats.
Castilla actually had pretty good competition here in Garrett Atkins (2006, mainly, but also 2005 and 2007), Jeff Cirillo (2000-01) and Charlie Hayes (1993). A small handful of Castillo seasons were also under consideration before we settled on 1998.
LEFT FIELD - Ellis Burks, 1996
This was unbelievably close between Burks and Matt Holliday's 2007 season. Look at them side-by-side:
Burks: .344/.408/.639, 149 OPS+, 211 H, 45 2B, 8 3B, 40 HR, 128 RBI, 142 R, 32 SB
Holliday: .340/.405/.607, 150 OPS+, 216 H, 50 2B, 6 3B, 36 HR, 137 RBI, 120 R, 11 SB
Flip a coin, basically.
Dante Bichette in 1995 was pretty close, too. A few other Holliday, Bichette and Burks seasons were considered. As for Cargo, we'll get to him ...
CENTER FIELD - Carlos Gonzalez, 2010
Did Cargo play in CF enough to merit selection here? I'm going with yes, considering he was a nomad in the outfield that season. He started 34 games in right, 51 in left and 55 in center.
In that glorious 2010 season, Cargo exploded onto the scene, hitting .336/.376/.598 (143 OPS+) with 34 doubles, nine triples, 34 homers, 117 RBI, 111 runs and 26 steals. He led the NL in hits and average while pacing the majors with 336 total bases. He also took home a Gold Glove and Silver Slugger while finishing third in MVP voting.
If not for Gonzalez, we'd be choosing between several Dexter Fowler tease jobs (seriously, when is his breakout season finally coming?), a couple Juan Pierre seasons and 2003 Preston Wilson.
RIGHT FIELD - Larry Walker, 1997
Jeromy Burnitz was very good in 2004, Brad Hawpe flashed some pop a few years and Michael Cuddyer is coming off an excellent 2013 season, but this was all Walker, the Hall of Fame hopeful.
The MVP season for Walker is the pick here, albeit by a slim margin over 1998, 1999, 2001 and 2002.
In '97, Walker hit .366/.452/.720 (178 OPS+) with 46 doubles, 49 homers, 130 RBI, 143 runs and 33 stolen bases. He led the league in homers, OBP, slugging, OPS and total bases while also winning the Gold Glove and, again, the MVP. In fact, his .720 slugging percentage is the 25th-best in a single season in MLB history. It's actually 14th if we exclude Babe Ruth and Barry Bonds.
STARTING PITCHERS - 2010 Ubaldo Jimenez, 2013 Jhoulys Chacin, 2013 Jorge De La Rosa, 2008 Aaron Cook, 1994 Marvin Freeman
This was pretty tough. As we all know, the Rockies don't exactly have a pitching-rich history in the elevated confines of Coors Field.
The numbers for this group:
Jimenez: 19-8, 2.88 ERA, 161 ERA+, 1.16 WHIP, 214 K, 221 2/3 IP
Chacin: 14-10, 3.47 ERA, 127 ERA+, 1.26 WHIP, 126 K, 197 1/3 IP
De La Rosa: 16-6, 3.49 ERA, 127 ERA+, 1.38 WHIP, 112 K, 167 2/3 IP
Cook: 16-9, 3.96 ERA, 118 ERA+, 1.34 WHIP, 96 K, 211 1/3 IP
Freeman: 10-2, 2.80 ERA, 179 ERA+, 1.21 WHIP, 67 K, 112 2/3 IP
Some of the other names considered: Pedro Astacio, Jason Jennings, Jef Francis, Jason Hammel and Mike Hampton (only for his outstanding season with the bat in 2001).
RELIEF PITCHERS - 2008 Brian Fuentes, 2009 Huston Street, 2000 Gabe White
In '08, Fuentes successfully closed down 30 of his 34 save opportunities with a 2.73 ERA (172 ERA+), 1.10 WHIP and 82 strikeouts in 62 2/3 innings. Though saves in and of themselves can be overrated, Fuentes was probably even underappreciated during his time with the Rockies.
The following season, Street had to adjust from having one of the most pitcher-friendly parks in the majors as his home (Oakland's O.co Coliseum) to the light air of Coors Field being his home. He transitioned in superb fashion, saving 35 of his 37 chances with a 3.06 ERA (154 ERA+), 0.91 WHIP and 70 strikeouts in 61 2/3 innings.
White was acquired by the Rockies in a trade with the Reds on April 7, 2000. He went on to have an extremely productive year as a bit of a jack-of-all-trades reliever. He went 11-2 with five saves and 16 holds. In 83 innings of work, he sported a 2.17 ERA (268 ERA+) and 0.92 WHIP while striking out 82 hitters and walking just 12 unintentionally.
Some of the relievers who got a look: Jose Jimenez, Rafael Betancourt, Matt Belisle, Manny Corpas and Curtis Leskanic.
---
THE LINEUP
1. 2010 Carlos Gonzalez, CF
2. 2010 Troy Tulowitzki, SS
3. 1997 Larry Walker, RF
4. 2000 Todd Helton, 1B
5. 1996 Ellis Burks, LF
6. 1998 Vinny Castilla, 3B
7. 1996 Eric Young, 2B
8. 2008 Chris Iannetta, C
A ridiculously stout top six, no?
Next up: San Diego Padres
Plus the D-Backs keep plummeting and the Red Sox make history. Keep it right here for all of...

Bautista didn't do much with his limited opportunity

Soto has eight games of experience at Double-A, but he's coming to The Show
Our advanced computer model simulated Sunday's Royals vs. Yankees game 10,000 times

Injuries continue to afflict the Nationals

SportsLine's Mike McClure, a DFS pro with more than $1M in winnings, gives optimal lineup...