All-Time Single-Season Team: Houston Astros
Our look at the best individual seasons in each team's history continues today with the Houston Astros, who are entering year two of their AL tenure.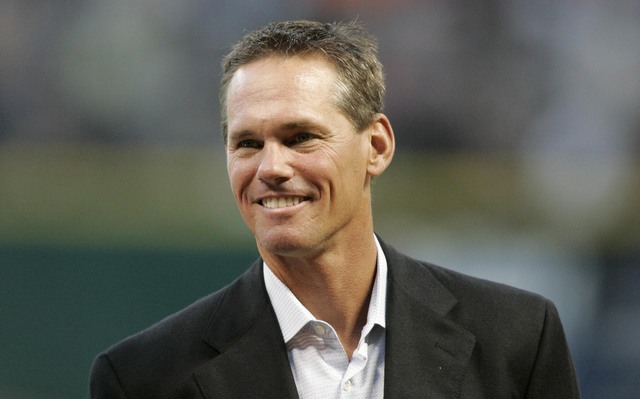 ALL-TIME SINGLE-SEASON TEAMS: CHC | STL | MIL | CIN | PIT | CHW | DET | KCR | CLE | MIN | ARI | COL | SD | LAD | SF | SEA
We're now beyond the halfway point of our series looking at the best individual seasons in the history of each organization. What exactly are we doing, you ask? Here's a reminder:
Obviously, the term "single-season" implies that we're focused on brilliance within the confines of one campaign and not, say, career value or even value across a handful of seasons in the same uniform. While this is no doubt a largely subjective undertaking, please bear that in mind before airing objections. Or not. Whatever.

Also, we're largely limiting the selections to those of modern era (i.e., from 1900 onward) in large part because the "primordial soup" days of the sport bear only the most basic resemblances to the game played today. That's more a general principle than hard-and-fast rule, though. As well, a player can appear only once on the team in question. So even those who excelled at multiple positions over the years will be assigned one spot and one spot only.
Today's team is the Houston Astros, who have been around since the 1965 and were previously known as the Houston Colt .45's (1962-64).
CATCHER -- 2013 Jason Castro
The pickin's behind the plate are pretty slim, but Castro was legitimately stellar last season. The third year (really fourth year due to injury) backstop hit .276/.350/.485 (130 OPS+) in 120 games while leading full-time AL catchers with 18 home runs and ranking second with 4.5 WAR. It's tough to say the catcher position is loaded with tradition in Houston, but Castro was excellent in 2013 and is worthy of a spot on the all-time single-season team.
The only other serious candidate was 1977 Joe Ferguson and I'll explain why in a bit.
FIRST BASE -- 1994 Jeff Bagwell
There was no doubt this would be Bagwell, right? The only question was which season. His 1994 season stands out the most even though he was limited to 110 games by the strike. In those 110 games, Bagwell hit .368/.451/.750 (213 OPS+) with 39 home runs, 15 stolen bases and 116 runs driven in. He led the league in WAR (8.2), runs (106), RBI, slugging percentage, OPS and OPS+. Bagwell was named MVP unanimously, but, more impressively, it was the 24th greatest offensive season in baseball history by OPS+ and eighth best by someone not named Barry Bonds, Babe Ruth or Ted Williams.
Just about every Bagwell season from 1993-2002 was considered for this spot as were a few Lance Berkman seasons. More on him in a sec.
SECOND BASE -- 1996 Craig Biggio
Biggio famously moved all around the field during his career, but he did play the most games at second base. Had he played more at catcher, he would have been serious competition for Castro and Ferguson behind the plate.
The 1997 season was the best of Biggio's soon to be Hall of Fame career, during which he hit .309/.415/.501 (143 OPS+) while leading the league with 34 hit-by-pitches, 146 runs and 9.4 WAR. He also swatted 22 home runs and stole 40 bases. That's some kind of leadoff man right there. Hard to believe he didn't receive a single first place MVP vote.
A handful of Joe Morgan and Bill Doran seasons were considered, but it was pretty clear this was Biggio's spot to lose from the get go.
SHORTSTOP -- 1983 Dickie Thon
Like catcher, the shortstop position has not been kind to the Astros over the years. Thon's 1983 campaign is easily the best of the bunch thanks to his .286/.341/.457 (127 OPS+) batting line and league-leading 7.4 WAR. He also hit 20 homers and stole 34 bases. Thon's 1982 season was also considered but that's pretty much it. Not much to see at shortstop in Houston.
THIRD BASE -- 2005 Morgan Ensberg
I'm a big believer in the idea that you can't go to the World Series (nevermind win it) without getting some big unexpected performances. When the Astros won the NL pennant in 2005, they did so thanks in part to Ensberg's surprise 36 homer, 101 RBI season at the hot corner. He hit .283/.388/.557 (144 OPS+) that year and also played a mean third base. That performance resulted in Ensberg's only All-Star Game appearance and a fourth place finish in the MVP voting.
Ensberg's 2003 season and Bill Spiers' 1997 season were a distant second and third, respectively.
LEFT FIELD -- 2001 Lance Berkman
I am officially bending the rules. We're supposed to only consider players at the position where they played the most games (like Biggio at second), but Berkman played a ton of games in both left field (533) and at first base (624) during his time with Houston and actually spent more seasons as a full-time outfielder (seven) than as a full-time first baseman (five). Since the games played total is relatively close (difference is roughly half-a-season), I'm using Puma in left. I wasn't about to do an all-time single-season Astros post without the guy.
During that 2001 season, Berkman hit .331/.430/.620 (161 OPS+) with a league-leading 55 doubles to go along with his 34 home runs, 126 RBI and 6.5 WAR. Jose Cruz's 1983-84 seasons as well as Moises Alou's 1998 effort were also considered.
CENTER FIELD -- 1972 Cesar Cedeno
I came into this post expecting to see Biggio have the top season at three positions, but he didn't come close to having the best center field season. That honor goes to Cedeno, who finished sixth in the 1972 MVP voting by hitting .320/.385/.537 (162 OPS+) with a league-leading 39 doubles plus 22 home runs and 55 stolen bases. He also racked up 8.0 WAR.
Cedeno's 1973 season was strongly considered, ditto a few Jim Wynn seasons and Richard Hidalgo's out of nowhere 2000 effort.
RIGHT FIELD -- 1986 Kevin Bass
Berkman's 2004 season is the best right field season in team history, but we already bent the rules to get him into left field. Bass gets the nod for hitting .311/.357/.486 (134 OPS+) with 20 homers and 22 steals in 1986. Not eye-popping but going 20-20 is pretty cool. 1980 Terry Puhl was the primary competition here.
DESIGNATED HITTER -- N/A
You know what, I think I'm just going to leave the DH position out. The Astros have only been in the AL for one season and their leader in games played at the position in 2013 was Chris Carter, who suited up as the DH only 47 times. Historically, the 'Stros are predominantly an NL franchise so we'll consider them as one for the purposes of this post. We can revisit this down the line, after they spend a few more years in the Junior Circuit.
STARTING PITCHER -- 1969 Larry Dierker, 1986 Mike Scott, 1999 Mike Hampton, 2005 Roger Clemens, 2005 Andy Pettitte
The Astros have had a number of really great individual pitching seasons throughout their history, so much so that neither Roy Oswalt nor Hall of Famer Nolan Ryan make the top five. Here are the stats for the all-time single-season rotation:
Dierker: 20-13, 2.33 ERA, 152 ERA+, 305 1/3 IP, 1.02 WHIP, 3.22 K/BB
Scott: 18-10, 2.22 ERA, 161 ERA+, 275 1/3 IP, 0.93 WHIP, 4.25 K/BB
Hampton: 22-4, 2.90 ERA, 155 ERA+, 239 IP, 1.29 WHIP, 1.75 K/BB
Clemens: 13-8, 1.87 ERA, 226 ERA+, 211 1/3 IP, 1.01 WHIP, 2.98 K/BB
Pettitte: 17-9, 2.39 ERA, 177 ERA+, 222 1/3 IP, 1.03 WHIP, 4.07 K/BB
Both Scott and Clemens won the Cy Young Award in those seasons while Hampton finished second in the voting. Squeezing in an Oswalt or Ryan (or Joe Niekro or Don Wilson or J.R. Richard) season instead of Hampton wouldn't have been too tough, but I went with the lefty.
RELIEF PITCHER -- 1999 Billy Wagner, 2002 Octavio Dotel, 2004 Brad Lidge
With all due respect to Hal Woodeshick, who chucked 114 innings of 161 ERA+ ball in 1963, I'm going with the three guys who were once teammates. That trio combined for ... get this ... 399 strikeouts and a 1.79 ERA in 266 2/3 innings during those three seasons above. Lidge struck out 157 batters in 94 2/3 innings during that insane 2004 season, one of the best relief seasons in modern history. Wagner saved 39 games while Dotel was simply a workhorse, throwing 97 1/3 innings while appearing in more than half the team's games (83). This is some bullpen trio, probably the most dominant we've seen in this series on an inning-by-inning basis.
---
THE LINEUP
1996 Craig Biggio, 2B
1972 Cesar Cedeno, CF
1994 Jeff Bagwell, 1B
2001 Lance Berkman, LF
2005 Morgan Ensberg, 3B
1986 Kevin Bass, LF
2013 Jason Castro, C
1983 Dickie Thon, SS
Up Next: The California/Anaheim/Los Angeles Angels
Francisco leads the Dominican Winter League with seven home runs

Thome deserves enshrinement and here's why the case against him does not hold up

The Twins have already fortified the bullpen with Addison Reed, and now they want to address...
The Orioles likely want pitching, and the Indians have plenty of it

Halladay died in a November plane crash off the coast of Florida

The power-hitting outfielder is headed to Toronto