All-Time Single-Season Team: Kansas City Royals
Our run-down of the best single-season performances in the history of each franchise continues today with the Royals of KC.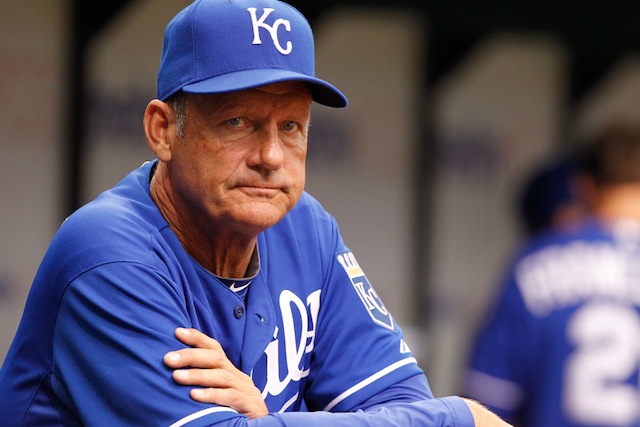 More All-time Single-Season Teams: CHC | STL | MIL | CIN | PIT | CHW | DET
In order to pass the time between now and that holy day of obligation when the first pitchers and catchers report to spring training, we're in the early stages of naming the "All-Time Single-Season Team" for all 30 clubs.
Obviously, the term "single-season" implies that we're focused on brilliance within the confines of one campaign and not, say, career value or even value across a handful of seasons in the same uniform. While this is no doubt a largely subjective undertaking, please bear that in mind before airing objections. Or not. Whatever.
Also, we're largely limiting the selections to those of modern era (i.e., from 1900 onward) in large part because the "primordial soup" days of the sport bear only the most basic resemblances to the game played today. That's more a general principle than hard-and-fast rule, though. As well, a player can appear only once on the team in question. So even those who excelled at multiple positions over the years will be assigned one spot and one spot only.
And now on to the Royals All-Time Single-Season Team. Keep in mind that the Royals have been around just since 1969, so they'll have much less to choose from relative to your old-line franchises ...
CATCHER - Darrell Porter, 1979
Porter was a skilled defender who knew how to work a count at the plate. In '79, Porter enjoyed his best season with the bat: .291/.421/.484 (142 OPS+) with 20 homers, a majors-leading 121 walks (versus just 65 strikeouts) and a majors-leading 13 sac flies. Porter that year placed in the top 10 in the AL MVP balloting.  
Other candidates include a couple of other Porter seasons (underrated player, that Porter), Salvador Perez just last year, Mike Macfarlane in '93 and John Wathan in 1980. 
FIRST BASE - John Mayberry, 1975
What a season Mayberry enjoyed in '75: .291/.416/.547 (AL-leading 168 OPS+) with 34 homers, 38 doubles, 119 walks and 303 total bases. Mayberry also grounded into just eight double plays all year (he played in 156 games on the season). In the AL MVP vote, he finished runner-up to Boston's Fred Lynn. 
Also receiving votes: More Mayberry, late-career George Brett in 1988 and 1990 (to state the painfully obvious, another spot on this team is set aside for Mr. Brett), a handful of seasons from Mike Sweeney and 1983 Willie Aikens. 
SECOND BASE - Frank White, 1982
White is the top second baseman in franchise history, and in a related matter we have declared his '82 to be the finest single-season performance by a second baseman in franchise history. That year, White batted .298/.318/.469 (114 OPS+) with 45 doubles and 10 stolen bases in 145 games. White in 1982 also made the All-Star team for fourth time in his career and won his sixth-straight Gold Glove. 
Believe it or not, Jose Offerman offers White his stiffest competition on the strength of his 1998 bestowals. White's defensive superiority wins out, though. 
SHORTSTOP - Jay Bell, 1997
Bell spent only one season in a KC uniform, but it was a good one: .291/.368/.461 (115 OPS+), while the average MLB shortstop that year batted .265/.321/.381. Bell also tallied 21 homers on the season before being allowed to depart for Arizona via free agency. For what it's worth, Bell in '97 also grades out very well according to defensive metrics. 
As it turns out, shortstop isn't a particular franchise strength, but other candidates include assorted Freddie Patek and U.L. Washington seasons, and Mike Aviles's rookie campaign of 2008. 
THIRD BASE - George Brett, 1980
The only dilemma here was which George Brett season to choose. Eventually, we went with the Hall of Famer's standout 1980 season, even though he missed roughly a month after injuring his knee while sliding. That year, Brett batted a sublime .390/.454/.664 (MLB-leading 203 OPS+) with 66 extra-base hits in just 117 games. In a related matter, Brett also topped Reggie Jackson for AL MVP laurels. Oh, and Brett was batting .400 as late as Sept. 19 of that year. Only that knee injury kept it from being one of the most valuable seasons in MLB history. 
For this spot, there is no competition by any other name, but Brett's 1985 season certainly merits a mention. If forced to name a candidate other than Brett, we'll go with Kevin Seitzer in '87. But not really. 
LEFT FIELD - Alex Gordon, 2011
Gordon is one of the best defensive corner outfielders in the game today, and in 2011 he boasted excellence in all phases of the game: .303/.376/.502 (140 OPS+) with 45 doubles at the plate, and on the bases he swiped 17 bags. He was also awarded his first of three Gold Gloves (and counting). Other strong mentionables include some early-career seasons from Willie Wilson and, obviously, Bo Jackson in 1989 and 1990. 
CENTER FIELD - Amos Otis, 1978
Given the brief history of the Royals, center is fairly well loaded. Do we tab Willie Wilson in 1980? Any number of Carlos Beltran seasons? Johnny Damon in 2000? Melky Cabrera in 2011? Or do choose from Amos Otis's many worthy years? In the end, it's Otis in 1978. 
That year, Otis in 141 games batted .298/.380/.525 (151 OPS+) with 22 homers and 32 stolen bases in 40 attempts, and that's in addition to his plus glove. Otis finished fourth in the AL MVP balloting that year behind Jim Rice, Ron Guidry and Larry Hisle. 
RIGHT FIELD - Danny Tartabull, 1991
Tartabull in his final season with the Royals batted .316/.397/.593 (171 OPS+) with 31 homers and 35 doubles in 132 games played. He also drove in 100 runs and made the All-Star team for the first and only time in his career. That season, Tartabull batted .374/.491/.683 with runners in scoring position.
Other Tartabull seasons were in the mix, as were 1977 Al Cowens, Jermaine Dye in 1999 and 2000.  
DESIGNATED HITTER - Hal McRae, 1976
Obviously, the quintessential Royals DH takes this honor. McRae's finest season came in his age-30 campaign of 1976, when he raked .332/.407/.461 (153 OPS+) with 34 doubles. His OBP and OPS paced the AL. McRae also stole 22 bases, and adding to his value is that he also spent almost 250 innings in the outfield. For his troubles, McRae made the All-Star team and finished fourth in the MVP race behind Thurman Munson, Brett and Mickey Rivers. 
Other candidates include more of McRae, Bob Hamelin's rookie season of 1994, Billy Butler in 2012 and Chili Davis in 1997. 
STARTING PITCHERS - 2009 Zack Greinke, 1989 Bret Saberhagen, 1993 Kevin Appier, 1994 David Cone, 1985 Charlie Leibrandt
The numbers ... 
Greinke: 16-8, 2.16 ERA, 205 ERA+, 1.07 WHIP, 242 K, 229 1/3 IP, 6 CG, 3 SHO
Saberhagen: 23-6, 2.16 ERA, 180 ERA+, 0.96 WHIP, 193 K, 262 1/3 IP, 12 CG, 4 SHO
Appier: 18-8, 2.56 ERA, 179 ERA+, 1.11 WHIP, 186 K, 238 2/3 IP, 5 CG, 1 SHO
Cone: 16-5, 2.94 ERA, 171 ERA+, 1.07 WHIP, 132 K, 171 2/3 IP, 4 CG, 3 SHO
Leibrandt: 17-9, 2.69 ERA, 153 ERA+, 1.22 WHIP, 108 K, 237 2/3 IP, 8 CG, 3 SHO  
Among the five seasons listed above, three Cy Youngs are to be found. Greinke boasts the top qualifying single-season ERA+ in franchise history, and I'm taking the second of Saberhagen's two Cy seasons in KC, mostly because of the superior run-prevention and command numbers he posted in '89. Appier won the AL ERA title in '93, and he logged a quality start in a whopping 85 percent of his outings that season.
As for Cone, he claimed the Cy in '94, and when eyeballing his innings total keep in mind that the season was cut short by a labor stoppage. In fact, he ranked eighth in the AL in innings that year. Leibrandt finished fifth in the AL Cy voting in '85 and averaged more than seven innings per start. In 23 of his 33 starts that season, he allowed three runs or fewer. 
Other options for the all-time single-season KC rotation include more seasons from Saberhagen and the underrated Appier, Mark Gubicza in 1988 and Larry Gura in 1978. 
RELIEF PITCHERS - 1983 Dan Quisenberry, 2013 Greg Holland, 1989 Jeff Montgomery
For a franchise that, as noted, has been around since just 1969, the Royals are pretty well flush with great relief seasons. So this one was difficult. Leading the way is of course "Quiz," who in '83 flashed a 1.94 ERA (210 ERA+) in a fairly ridiculous 139 relief innings. On that latter point, Quisenberry in '83 averaged more than two innings per relief appearance, and in 20 of his 69 outings he went three or more innings. Oh, and in those 139 frames, the submariner walked just nine batters unintentionally. 
Last year's Greg Holland makes the cut, thanks in large part to his 1.21 ERA, patently absurd 342 ERA+ (!) and 103 strikeouts in 67 innings. Circling back to that ERA+, it's the 19th best all-time among relievers to work at least 50 innings in a season. 
Elsewhere, we're going with a third right-hander, and it's Jeff Montgomery. In '89, Montgomery pitched to a 1.37 ERA (285 ERA+) and gave up just three home runs in 92 innings. 
Other possibilities? Any number of Joakim Soria campaigns (it was quite hard to leave him off), Quiz in '81, Luke Hochevar in 2013, Holland in 2011, Steve Farr in 1990 and lefty Tom Burgmeier in 1971.
---
THE LINEUP
1. 1978 Amos Otis
2. 1976 Hal McRae
3. 1980 George Brett
4. 1991 Danny Tartabull
5. 1975 John Mayberry
6. 2011 Alex Gordon
7. 1979 Darrell Porter
8. 1997 Jay Bell
9. 1982 Frank White 
Monday: The Cleveland Indians
CBS Sports HQ Daily Newsletter
Get the best highlights and stories - yeah, just the good stuff handpicked by our team to start your day.
Please check the opt-in box to acknowledge that you would like to subscribe.
Thanks for signing up!
Keep an eye on your inbox for the latest sports news.
Sorry!
There was an error processing your subscription.
The Brewers reliever says he's ready for any consequences as a result of the insensitive t...

A record 10 home runs were hit Tuesday night. Here's everything you need to know about the...

Alex Bregman took the lead for the AL and George Springer followed with another dinger
The AL and NL traded home runs all night long

The two All-Star teams combined for a record-breaking 10 home runs at Nationals Park on Tu...

The Mariners shortstop came through with a huge shot for the AL