All-Time Single-Season Team: Los Angeles/Brooklyn Dodgers
It's time to check out the all-time single-season team for the Dodgers. Will Matt Kemp's 2011 campaign be enough to best Hall of Famer Duke Snider?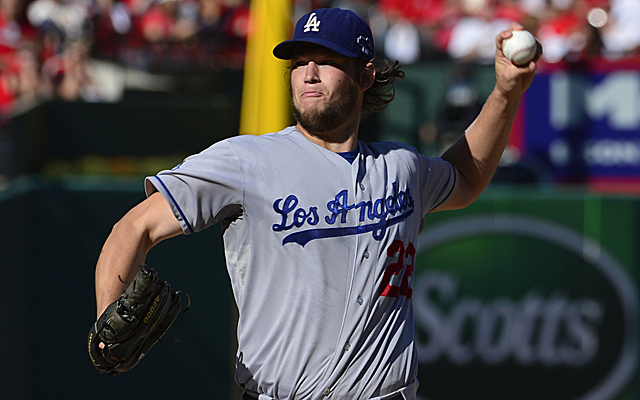 All-Time Single-Season Teams: CHC | STL | MIL | CIN | PIT | CHW | DET | KCR | CLE | MIN | ARI | COL | SD
Our entry into the all-time single-season team series for this Saturday is one of baseball's marquee franchises. It has accounted for 27 playoff appearances, 22 pennants and six World Series championships. It has played on both coasts in America's two largest cities.
That's right, it's the Los Angeles Dodgers -- and also the Brooklyn Dodgers, Brooklyn Robins, Brooklyn Superbas, Brooklyn Bridegrooms, Brooklyn Grooms, Brooklyn Grays and Brooklyn Atlantics. We're going all the way back to 1884 here, meaning the franchise is more than 100 years older than NL West bretheren Arizona and Colorado.
As a reminder, this is a single-season series so we're going after the best single season per position in the history of the franchise and not necessarily the best player in franchise history. We've also installed a rule that each player can only be used once, so if a stud player hopped around the diamond, we'll have to pick just one of his seasons -- and pitchers only get used once as well.
Let's check out these Dodgers.
CATCHER - Mike Piazza, 1997
Oh boy, this is gonna be unpopular. How dare we pick Piazza over Hall of Famer and three-time MVP Roy Campanella? Well, let's look at the numbers.
Piazza, '97: .362/.431/.638, 185 OPS+, 32 2B, 40 HR, 124 RBI, 104 R, 69 BB, 77 K
Campy, '51: .325/.393/.590, 159 OPS+, 33 2B, 33 HR, 108 RBI, 90 R, 53 BB, 51 K
Campy, '53: .312/.395/.611, 154 OPS+, 26 2B, 41 HR, 142 RBI, 103 R, 67 BB, 58 K
Campy, '55: .318/.395/.583, 152 OPS+, 20 2B, 32 HR, 107 RBI, 81 R, 56 BB, 41 K
Campanella was a superior defender, certainly, but Piazza's production in 1997 can't be denied. He's my selection.
Mike Scioscia, Russell Martin, Paul Lo Duca and Joe Ferguson got (very) quick looks, but this was all Piazza and Campanella.
FIRST BASE - Dolph Camilli, 1941
Ever heard of this dude? He took home the MVP in 1941 with one of several huge seasons in his career. In fact, Camilli had a seven-year peak that could be considered Hall of Fame worthy. His best work undoubtably came in 1941, though, when he hit .285/.407/.556 (164 OPS+) with 29 doubles, six triples, 34 homers, 120 RBI and 92 runs. He led the NL in homers and RBI while helping to lead Leo Durocher's Dodgers to a 100-54 record and the NL pennant.
The chief competition here came from Gil Hodges -- specifically 1954 -- with 1990 Eddie Murray, some Jack Fournier, some Steve Garvey, some Eric Karros and 1970 Wes Parker all getting a look.
SECOND BASE - Jackie Robinson, 1949
The only decision was whether or not to take Robinson's 1951 season instead. Both baseball-reference.com and Fangraphs show each season as top five overall in WAR among position players in franchise history. Let's take a look.
1949: .342/.432/.528, 152 OPS+, 38 2B, 12 3B, 16 HR, 124 RBI, 122 R, 37 SB, 86 BB, 27 K
1951: .338/.429/.527, 154 OPS+, 33 2B, 7 3B, 19 HR, 88 RBI, 106 R, 25 SB, 79 BB, 27 K
I'll take the '49 MVP season by a nose.
Davey Lopes, Jeff Kent, Steve Sax and Jim Gilliam merit a mention here, but only Jackie warranted serious consideration.
SHORTSTOP - Pee Wee Reese, 1949
The Dodgers had a decent double-play combo in 1949, eh?
Reese finished fifth in MVP voting behind Robinson, Stan Musial, Enos Slaughter and Ralph Kiner.
He hit .279/.396/.410 (113 OPS+) with 27 doubles, 16 homers, 73 RBI, 26 steals and an NL-best 132 runs scored -- not to mention superb defense by all accounts.
Stolen-base machine Maury Wills won the MVP in 1962 -- when he swiped 104 bags and was only caught stealing 13 times -- and was probably the runner-up, though Reese had most of the top seasons in this position.
Believe it or not, I strongly considered 2013 Hanley Ramirez, but only playing in 86 games greatly hurt his cause. On a rate basis, though, he would've won. Glenn Wright in 1930 put together a season of excellent raw stats, but offense in those days was booming and the 126 RBI can be a bit misleading (he ranked sixth in the NL, and that was the year that Hack Wilson drove home 191). Arky Vaughan, Bill Dahlan, Jimmy Johnston and Bill Russell also deserve a quick mention.
THIRD BASE - Adrian Beltre, 2004
Beltre would have an MVP to show for this season if it wasn't for the existence of Mr. Barry Bonds. The 25-year-old Beltre exploded in '04, hitting .334/.388/.629 (163 OPS+) with 32 doubles, 48 homers, 121 RBI, 104 runs and seven stolen bases. He led the majors in homers, won a Silver Slugger and played the typically awesome Beltre defense at third.
Ron Cey had some real good seasons and Billy Grabarkewitz's 1970 season warranted a look, but ultimately this wasn't even close. Beltre's 2004 season was ridiculous.
LEFT FIELD - Pedro Guerrero, 1985
All Pedro did that season was lead the league in on-base percentage, slugging percentage, OPS and the majors in OPS+. The division-winning Dodgers used him at five different positions and he got at least 10 starts at three of them (left field, third base and first base).
He hit .320/.422/.577 (182 OPS+) with 22 doubles, 33 homers, 87 RBI, 99 runs and 12 steals that season.
Tough exclusion? Zack Wheat hit .375/.428/.549 for the 1924 Brooklyn Robins. That batting average is definitely impressive, but we have to account for eras. Wheat's 163 OPS+ is inferior to Guerrero's, for one. Also of note, four players hit .354 or better and 10 players hit at least .328 in 1924. In 1985, Willie McGee won the batting title at .353 and Guerrero was second at .320.
We also can't move on without mentioning Kirk Gibson's 1988 MVP season, which included the greatest arm-pump in the history of home runs. Also, Gary Sheffield had a few awesome seasons in Dodger Blue (I actually would have taken his 2000 season over Wheat's '24), just as Jimmy Sheckard did a century earlier and Manny Ramirez was stupid good after being traded to LA in 2008. And how about some Tommy Davis (153 RBI in 1962!) and Lefty O'Doul?
Needless to say, this was a loaded position.
CENTER FIELD - Matt Kemp, 2011
The names, they plague me. I have a dude with a superior first name in Matt Kemp against a dude with an awesome -- albeit spelled incorrectly -- last name in Duke Snider. OK, OK, I'll get serious.
A handful of Duke seasons were considered against Kemp's monster 2011 campaign, but ultimately I decided on 1954. To the numbers machine!
Snider: .341/.423/.647, 171 OPS+, 39 2B, 10 3B, 40 HR, 130 RBI, 120 R, 6 SB, 84 BB, 96 K
Kemp: .324/.399/.586, 172 OPS+, 33 2B, 4 3B, 39 HR, 126 RBI, 115 R, 40 SB, 74 BB, 159 K
Glove-wise, they appear similar, per advanced metrics. Snider's rate stats are better, but OPS+ shows that it was era and not much more. Snider also struck out a lot less, but he actually led the NL in strikeouts, so that was also more due to the era than to better performance. Essentially, everything looks a dead heat until we see the stolen bases totals. That's where Kemp gets the nod here.
On career acumen, Snider is obviously the winner here by a landslide to this point, but we're only taking one season. Please keep that in mind.
Again, several Snider seasons were considered. Also on the board -- Pete Reiser, Jimmy Wynn, Willie Davis, Johnny Frederick, Goody Rosen and 19th century star Mike Griffin.
RIGHT FIELD - Babe Herman, 1930
Shawn Green in 2001 nearly took this thing home, but Herman gets the nod -- ever so slightly. Let's side-by-side this thing.
Herman: .393/.455/.678, 169 OPS+, 48 2B, 11 3B, 35 HR, 130 RBI, 143 R, 18 SB
Green: .297/.372/.598, 154 OPS+, 31 2B, 4 3B, 49 HR, 125 RBI, 121 R, 20 SB
That's Herman's win, though Green certainly deserves credit for his outstanding work in several Dodgers seasons.
This, again, was a loaded position. Wee Willie Keeler, Reggie Smith, J.D. Drew, Raul Mondesi, Darryl Strawberry, Willie Crawford, Dixie Walker and, yes, 2013 Yasiel Puig all had seasons worthy of consideration.
STARTING PITCHERS - 1966 Sandy Koufax, 1928 Dazzy Vance, 1964 Don Drysdale, 1988 Orel Hershiser, 2013 Clayton Kershaw
Remember the one-season-per-player rule, otherwise we would see a few more Koufaxes used. In fact, it was pretty tough to choose between Koufax's insanely good four seasons from 1963-66.
A case study of how misleading win-loss record can be due to team performance as opposed to pitcher performance is Drysdale's Cy Young-winning 1962 season vs. his actual best year, 1964. Check them out, sans W-L.
1962: 2.83 ERA, 128 ERA+, 1.11 WHIP, 232 K, 78 BB, 314 1/3 IP, 19 CG, 2 SHO
1964: 2.18 ERA, 147 ERA+, 0.97 WHIP, 237 K, 68 BB, 321 1/3 IP, 21 CG, 5 SHO
He was better in 1964, no? I would say significantly so, but he didn't even get a Cy Young vote while in '62 he won the award. Why? Because he went 25-9 in the latter and 18-16 in the former. The Dodgers were 80-82 in '64 and 102-63 in '62 (the 165 games is due to a three-game playoff vs. the Giants to determine the NL pennant), by the way -- but please keep clinging to W-L as the defining pitcher stat while you use your rotary phone to call up your best friend and tell him I'm a calculator-toting nerd. 
[And, yes, the only thing that actually matters is wins and losses -- but those are team wins and losses, not arbitrarily assigning them to individual players in a team sport]
The rest:
Koufax: 27-9, 1.73 ERA, 190 ERA+, 0.99 WHIP, 317 K, 77 BB, 323 IP, 27 CG, 5 SHO
Vance: 22-10, 2.09 ERA, 190 ERA+, 1.06 WHIP, 200 K, 72 BB, 280 1/3 IP, 24 CG, 4 SHO
Hershiser: 23-8, 2.26 ERA, 149 ERA+, 1.05 WHIP, 178 K, 73 BB, 267 IP, 15 CG, 8 SHO
Kershaw: 16-9, 1.83 ERA, 194 ERA+, 0.92 WHIP, 232 K, 52 BB, 236 IP, 3 CG, 2 SHO
More: Remembering Hershiser's September of 1988
There were tough exclusions for sure. This is one of baseball's best franchises, after all, and it has been rather pitching rich. Some others who got a look: Don Newcombe, Don Sutton, Whit Wyatt, Bill Singer, Kevin Brown, Bob Welch, Nap Rucker, Burleigh Grimes, Rube Marquard, Ralph Branca and, of course, Fernando Valenzuela.
RELIEF PITCHERS - 2003 Eric Gagne, 1974 Mike Marshall, 2013 Kenley Jansen
Gagne's 2003 season was one of the greatest closer seasons in baseball history. He saved 55 games without blowing one while posting a 1.20 ERA (337 ERA+!!!) and 0.69 WHIP(!) with 137 strikeouts -- against only 18 unintentional walks -- in 82 1/3 innings. Sick.
On an entirely different plane, Marshall's '74 season was beyond impressive. He appeared in a whopping 106 games and threw 208 1/3 innings without a start. Think about that. Only 23 pitchers this past season threw as many innings and all were starters. Anthony Swarzak of the Twins led all relievers with 96 innings pitched. But in 1974, Marshall racked up 208 1/3 innings.
He was effective, too. Marshall sported a 2.42 ERA (141 ERA+), 1.19 WHIP and 143 strikeouts. He led the NL with 21 saves. Another layer? Of 248 baserunners, only 10 attempted to steal a base -- and only four of those attempts were successful.
More: Top ironman relief seasons in MLB history
On Jansen, it almost feels like his performance this past season was underrated. He had 28 saves and 16 holds against four blown saves with a 1.88 ERA (190 ERA+) and 0.86 WHIP. He struck out 111 hitters against only 17 unintentional walks in 76 2/3 innings. Opposing hitters managed a .177/.236/.273 line against him. Oh, and only two of his 14 inherited runners scored.
Not surprisingly, many were considered here, such as Jonathan Broxton, Hong-Chih Kuo, Tom Niedenfuer, Jay Howell, Ken Howell, Takashi Saito, Joe Black, Guillermo Mota, Phil Regan, Steve Howe, Todd Worrell and Jeff Shaw.
---
THE LINEUP
1. 1949 Jackie Robinson, 2B
2. 2011 Matt Kemp, CF
3. 2004 Adrian Beltre, 3B
4. 1997 Mike Piazza, C
5. 1985 Pedro Guerrero, LF
6. 1930 Babe Herman, RF
7. 1941 Dolph Camilli, 1B
8. 1949 Pee Wee Reese, SS
And don't forget about the ridiculous pitching staff. Can this top the rival Giants? We'll find out Sunday.
Up next: The San Francisco/New York Giants
CBS Sports HQ Daily Newsletter
Get the best highlights and stories - yeah, just the good stuff handpicked by our team to start your day.
Please check the opt-in box to acknowledge that you would like to subscribe.
Thanks for signing up!
Keep an eye on your inbox for the latest sports news.
Sorry!
There was an error processing your subscription.
Plus Dustin Pedroia made his 2018 debut. Here is everything you need to know about Saturday's...

Trout set new career bests in hits and total bases, among other things

SportsLine's Mike McClure, a DFS pro with more than $1M in winnings, gives optimal lineup...
Reyes missed last season with Tommy John surgery

The walk-off was his 176th career homer, giving him more than Hideki Matsui

Miller is battling knee inflammation