All-Time Single-Season Team: Milwaukee Brewers
Our offseason series continues Tuesday with a look at the best single-season performances in Brewers history.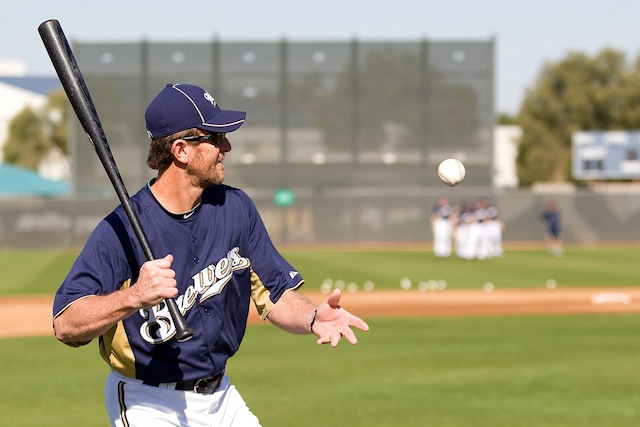 More All-time Single-Season Teams: CHC | STL
In order to pass the time between now and that holy day of obligation when the first pitchers and catchers report to spring training, we're in the early stages of naming the "All-Time Single-Season Team" for all 30 clubs.
Obviously, the term "single-season" implies that we're focused on brilliance within the confines of one campaign and not, say, career value or even value across a handful of seasons in the same uniform. While this is no doubt a largely subjective undertaking, please bear that in mind before airing objections. Or not. Whatever.
Also, we're largely limiting the selections to those of modern era (i.e., from 1900 onward) in large part because the "primordial soup" days of the sport bear only the most basic resemblances to the game played today. That's more a general principle than hard-and-fast rule, though. As well, a player can appear only once on the team in question. So even those who excelled at multiple positions over the years will be assigned one spot and one spot only. 
And now on to the Brewers' All-Time Single-Season Team ...
CATCHER - Ted Simmons, 1983
This one wasn't easy. A couple of Darrell Porter seasons merit consideration, as does Jonathan Lucroy's fine outputs in 2013 (he's also one of the best pitch-framers in the game today). Dave Nilsson in 1999 is also in the discussion. However, I'm going with the stalwart Simmons and his work in 1983. That season, Simmons batted .308/.351/.448 (126 OPS+) with 39 doubles and a career-high 108 RBI in 153 games. Yes, he spent just 744 1/3 innings behind the plate, but it was his primary position that year, so he qualifies. Mostly, it's Simba's bat that lands him in this spot. 
FIRST BASE - Cecil Cooper, 1980
Obviously, a host of Prince Fielder seasons are worthy, but it's Fielder's woeful defense that costs him when compared to Cooper. In '80, Cooper batted a robust .352/.387/.539 with 25 homers. As well, he led the majors with 122 RBI and paced the AL with 335 total bases. Cooper also claimed a Gold Glove and a Silver Slugger that year, and he finished fifth in the AL MVP balloting. 
A couple of other Cooper seasons are also in the mix, and let's also give a nod to George Scott in 1973. 
SECOND BASE - Paul Molitor, 1979
Yes, the Hall of Famer Molitor was a primary DH for a good chunk of his career and spent the majority of his career defensive innings at third. However, Molitor was a regular second baseman for his first three seasons in the bigs, a span that includes 1979. That year, he batted .322/.372/.469 (126 OPS+) with 16 triples and 33 stolen bases. Molitor also spent some time at short that year. 
As it turns out second base is a bit thin for the Brewers, and, of course, that's in part because they've been in existence just since 1969. With that said, other candidates include Rickie Weeks in 2010, Willie Randolph in 1991, Jim Gantner in 1983 and Fernando Vina in 1998. 
SHORTSTOP - Robin Yount, 1982
And here's the all-time face of the franchise. Yount, the third overall pick of 1973 draft, was a Brewers lifer and two-time MVP. Yount was at his best in '82, the year that "Harvey's Wallbangers" barged to the pennant. That season, Yount thumped .331/.379/.578 (166 OPS+) with 29 homers and led MLB in hits, doubles and total bases. He also unanimously won AL MVP honors and picked up a Gold Glove and a Silver Slugger. Even though the Brewers fell in seven games to the Cardinals, Yount batted .414/.452/.621 in the '82 World Series. 
Other serious candidates? We're talking '82 Robin Yount, so there are no other serious candidates. 
THIRD BASE - Tommy Harper, 1970
Obviously, Molitor was heavily considered for this assignment, as were Aramis Ramirez in 2012, Jeff Cirillo in 1998 and Sal Bando in 1978. But Harper it is. 
Harper came to the Seattle Pilots via the 1968 expansion draft, and when the Pilots relocated to Milwaukee and became the Brewers just prior to the 1970 campaign, Harper tagged along. And what a season he had in '70: .296/.377/.522 (146 OPS+) in 692 plate appearances. As well, by virtue of his 31 homers and 38 steals, Harper that season became just the fifth member (and the first infielder) to join the then-rare 30-30 club.  
LEFT FIELD - Ryan Braun, 2011
We're all aware of Braun's misdeeds, and it's entirely possible that his PED use had more than a little something to do with his NL MVP efforts in 2011. But this is a "face-value" kind of thought experiment, so Braun earns the job.
In 2011, Braun batted .332/.397/.597 (166 OPS+) with 33 homers, 38 doubles and 33 steals in 39 attempts. As well, Braun grounded into just nine double plays on the season, and managed to strike out fewer than 100 times, which is a feat for a power hitter in the current era. Suspicions and qualifiers are noted, but Braun it is. 
Elsewhere, other Braun seasons are worthy, and so is Larry Hisle in 1978. If, however, you're looking for a "clean" choice, then absolutely go with 1980 Ben Oglivie, who that season batted .304/.362/.563 (153 OPS+) with an AL-leading 41 homers (and an AL-leading 19 intentional walks). Oglivie was also an accomplished defender in left.  
CENTER FIELD - Carlos Gomez, 2013
Yes, Gomez was really that good last season. In addition to being perhaps the best defensive center fielder in baseball, Gomez authored a line of .284/.338/.506 (126 OPS+) with 24 homers and 10 triples. Gomez also swiped 40 bags against just seven times caught. That's a broad base of skills, to say the least. 
We'd be painfully remiss if we didn't mention Yount's days as a center fielder (note above, though, that a player can only appear once on each team), and Stormin' Gorman Thomas also had a number of excellent seasons. 
RIGHT FIELD - Sixto Lezcano, 1979
Sixto! In '79, Lezcano, whom the Brewers signed out of Puerto Rico in 1970, batted a whopping .321/.414/.573 (164 OPS+) in 138 games with 28 homers and 29 doubles. He also won a Gold Glove, drove in 101 Runs and logged more walks than strikeouts. Also in the mix are Geoff Jenkins in 2005, Jeromy Burnitz in multiple seasons and Corey Hart in multiple seasons. No one's comparing to those numbers of Lezcano's, though. 
STARTING PITCHERS - 1988 Teddy Higuera, 2004 Ben Sheets, 1978 Mike Caldwell, 1989 Chris Bosio, 2000 Jeff D'Amico
Higuera: 16-9, 2.45, 162 ERA+, 1.00 WHIP, 192 K, 227 1/3 IP, 8 CG, 1 SHO
Sheets: 12-14, 2.70 ERA, 162 ERA+, 0.98 WHIP, 264 K, 237 IP, 5 CG, 0 SHO
Caldwell: 22-9, 2.36 ERA, 160 ERA+, 1.06 WHIP, 131 K, 293 1/3 IP, 23 CG, 6 SHO
Bosio: 15-10, 2.95 ERA, 131 ERA+, 1.16 WHIP, 173 K, 234 1/3 IP, 8 CG, 2 SHO
D'Amico: 12-7, 2.66 ERA, 171 ERA+, 1.16 WHIP, 101 K, 162 1/3 IP, 1 CG, 1 SHO
Higuera, Sheets and Caldwell need no justification (Sheets's 2004 is one of the most underrated seasons in recent memory -- his 8.25 K/BB ratio from that year ranks 11th all-time). Bosio turned in strong work in '89, and D'Amico is there because of the outstanding run prevention numbers he churned out in 2000. Yes, he's barely a qualifier in terms of innings (he missed time with shoulder inflammation that season), but that's why he's slotted in at the fifth spot. 
And, no, 1982 AL Cy Young winner Pete Vuckovich didn't make the cut. In truth, he's one of the worst Cy Young winners of all, thanks to his middling 1982 ERA+ of 114 (middling by Cy standards, that is), and his downright poor K/BB ratio of 105/102. 
RELIEF PITCHERS - 1981 Rollie Fingers, 1997 Doug Jones, 1987 Dan Plesac
It goes without saying that a reliever should never, ever be the MVP, as Fingers was in '81, but he was indeed outstanding over the strike-shortened campaign: 78 innings in 109 total team games, 1.04 ERA, no unearned runs allowed, 4.69 K/BB ratio and just three homers allowed. As well, Fingers averaged 5.0 outs recorded per relief appearance that season.
Meanwhile, Jones's age-40 season makes the list thanks to his 80 1/3 innings, 2.02 ERA, 82 Ks versus eight unintentional walks and four homers allowed. Plesac is our lefty, as he worked 79 1/3 innings as a 25-year-old, second-year player and put up an OPS+ of 176 in hitter-friendly '87. Left-handed batters that season hit just .140/.219/.281 off Plesac. 
---
THE LINEUP
1. 1979 Paul Molitor, 2B
2. 1982 Robin Yount, SS
3. 1980 Cecil Cooper, 1B
4. 2011 Ryan Braun, LF
5. 1979 Sixto Lezcano, RF
6. 1983 Ted Simmons, C
7. 1970 Tommy Harper, 3B
8. 2013 Carlos Gomez, CF
Sure, that's a lot of right-handed bats, but that's also a lot of very, very good right-handed bats. 
Bask in the reflected glory, Brewers fans. 
Coming Wednesday: The All-Time Single-Season Cincinnati Reds team.
CBS Sports HQ Daily Newsletter
Get the best highlights and stories - yeah, just the good stuff handpicked by our team to start your day.
Please check the opt-in box to acknowledge that you would like to subscribe.
Thanks for signing up!
Keep an eye on your inbox for the latest sports news.
Sorry!
There was an error processing your subscription.
Can the 2018 Yankees make homer history? According to SportsLine's projections, it may be a...

Gregorius will miss at least 10 days with a bruised heel

The AL West race is the best race remaining in baseball
Could this be the year we get a massive tiebreaker scenario for a wild-card spot?

San Francisco is 7 1/2 games out of a postseason spot

Michael Rusk has a three-way parlay that could pay off huge Tuesday