All-Time Single-Season Team: New York Yankees
Our series looking at the best single seasons in the history of each fronchise hits the Bronx today. How many Hall of Famers make the Yankees' team? A lot.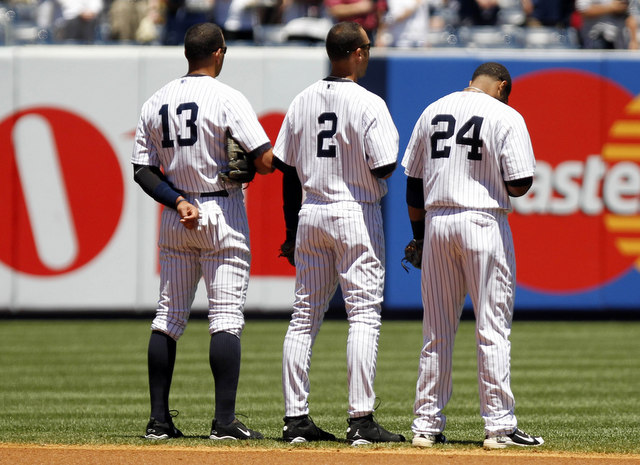 ALL-TIME SINGLE-SEASON TEAMS: CHC | STL | MIL | CIN | PIT | CHW | DET | KCR | CLE | MIN | ARI | COL | SD | LAD | SF | SEA | HOU | LAA | TEX | OAK | BOS
It is time, once again, for another entry into our all-time single-season series. What is this, you ask? Here's the explanation:
Obviously, the term "single-season" implies that we're focused on brilliance within the confines of one campaign and not, say, career value or even value across a handful of seasons in the same uniform. While this is no doubt a largely subjective undertaking, please bear that in mind before airing objections. Or not. Whatever.

Also, we're largely limiting the selections to those of modern era (i.e., from 1900 onward) in large part because the "primordial soup" days of the sport bear only the most basic resemblances to the game played today. That's more a general principle than hard-and-fast rule, though. As well, a player can appear only once on the team in question. So even those who excelled at multiple positions over the years will be assigned one spot and one spot only.
Today's team is the one everybody loves to hate: the New York Yankees. They've been the Yankees for going on 102 seasons now, but before that they spent 10 years as the New York Highlanders. Along the way they've won 27 World Series titles and 40 AL pennants. Here are the best single seasons in franchise history.
CATCHER -- 1956 Yogi Berra
The Yankees have had a lot of truly great catchers over the years, so this was not an easy call. Berra, a Hall of Famer, won three MVP awards but did not win one in 1956, his best offensive season. He finished second in the voting (more on that in a second) instead. Yogi hit .298/.378/.534 (142 OPS+) with 30 home runs and 105 RBI while walking way more than he struck out (65 BB, 29 K). He also threw out nearly half (48 percent) of attempted base-stealers while catching 135 of the team's 154 games.
Competition behind the plate was stiff. Berra had several worthy seasons as did Hall of Famer Bill Dickey and All-Stars Jorge Posada, Thurman Munson and Elston Howard. That fivesome accounts for five MVPs and 47 (!!!) All-Star Game appearances.
FIRST BASE -- 1927 Lou Gehrig
This post has a running theme. It's obvious who the player will be at many positions, but picking that player's best season is the hard part. That is true at first base, where Gehrig had the 10 best first base seasons in franchise history (by WAR). That 1927 year stands out not only as the best first base season in Yankees history, but as the best first base season in baseball history overall. Gehrig hit .373/.474/.765 (220 OPS+) with 52 doubles, 18 triples, 47 homers, 175 RBI, 109 walks, 84 strikeouts and 11.8 WAR that year. Miguel Cabrera's career best is a 187 OPS+, for comparison.
Don Mattingly's 1985-86 seasons received a cursory glance but nothing more. First base is all Gehrig.
SECOND BASE -- 2012 Robinson Cano
Somewhat surprisingly, second base was not an easy call. Cano gets the nod by hitting .313/.379/.550 (148 OPS+) with career highs in doubles (48) and homers (33) while playing in 161 of 162 games, but Hall of Famers Joe Gordon and Tony Lazzeri has some dynamite seasons in pinstripes as well. Ditto All-Stars Snuffy Stirnweiss and Willie Randolph. We could have picked the best season of any of those guys' careers and used it at second base.
SHORTSTOP -- 1999 Derek Jeter
I sure hope you weren't expecting someone else. In 1999, the Yankees' captain had a career best offensive season by hitting .349/.438/.552 (153 OPS+) with 37 doubles, 24 home runs, 102 RBI, 19 stolen bases and a league-leading 219 hits. Jeter's porous defense is a popular target for his detractors, but his bat was so good during his peak that it didn't really matter. The shortstop spot was his the whole time. No real competition.
THIRD BASE -- 2007 Alex Rodriguez
Oh boy, history's greatest monster. Since we're taking things at face value in this series, A-Rod's 2007 effort gets the call at the hot corner and it really isn't all that close. He hit .314/.422/.645 (176 OPS+) with 31 doubles, 54 homers, 156 RBI and 24 stolen bases en route to being named AL MVP. Obviously things have gone south since, but man, Rodriguez was so outrageously good back in the day. Again, this was an easy call. No serious competition other than A-Rod himself (2005, specifically).
LEFT FIELD -- 1921 Babe Ruth
.378/.512/.846 (238 OPS+), 44 doubles, 16 triples, 59 homers, 171 RBI, 177 runs
lol
Ruth actually played more games in right field (1,132) than left (1,050) during his career, but a good chunk of those right field starts came as his career was winding down in the mid 1930s. I think we all consider him a left fielder, so I'm making the executive decision to use him there. The only other candidates here were other Babe Ruth seasons.
CENTER FIELD -- 1956 Mickey Mantle
Remember when I said Berra finished second in the 1956 MVP voting? That's because Mantle won it. It was the first of his three MVP seasons. During the 1956 campaign he hit .353/.464/.705 (210 OPS+) with 52 home runs and 130 RBI, giving him the Triple Crown. Mantle was actually a bit better in 1957 (221 OPS+), but he hit "only" 34 home runs that year and, well, didn't win the Triple Crown. When in doubt, go with the Triple Crown season.
Some more Mantle seasons, a bunch of Joe DiMaggio seasons and, believe it or not, Rickey Henderson were also considered in center. His 1985-86 seasons with the Yankees were Rickey's only seasons as a full-time center fielder.
RIGHT FIELD -- 1961 Roger Maris
Oh, hey, it's the American League's all-time single-season home run king. Maris swatted his record 61 homers in '61 and also drove in 141 runs while posting a .268/.372/.620 (167 OPS+) batting line. With all due respect to Paul O'Neill and Dave Winfield, this was an obvious call once we used Ruth in left field.
DESIGNATED HITTER -- 2006 Jason Giambi
Giambi played more games at first base than DH with the Yankees, but almost every one of the team's best DH seasons came from players who spent most of their careers actually playing the field. Giambi did play more games at DH (70) than first base (68) in 2006, which is good enough for me. He hit .253/.413/.558 (148 OPS+) with 37 homers, 113 RBI and more walks (110) than strikeouts (106) this season. Works for me.
STARTING PITCHERS -- 1904 Jack Chesbro, 1937 Lefty Gomez, 1975 Catfish Hunter, 1978 Ron Guidry, 1997 Andy Pettitte
Whitey Ford, the best pitcher in Yankees history, doesn't make the rotation even though he wound up in the Hall of Fame. Here are the five best seasons in team history:
Chesbro: 41-12, 1.82 ERA, 150 ERA+, 454 2/3 IP, 0.94 WHIP, 239 K, 88 BB
Gomez: 21-11, 2.33 ERA, 193 ERA+, 278 1/3 IP, 1.17 WHIP, 194 K, 93 BB
Hunter: 23-14, 2.58 ERA, 144 ERA+, 328 IP, 1.01 WHIP, 177 K, 83 BB
Guidry: 25-3, 1.74 ERA, 208 ERA+, 273 2/3 IP, 0.95 WHIP, 248 K, 72 BB
Pettitte: 18-7, 2.88 ERA, 156 ERA+, 240 1/3 IP, 1.24 WHIP, 166 K, 65 BB
Starting pitchers are always the hardest part of this exercise, in my opinion. Ford, Bob Shawkey, Herb Pennock, Mel Stottlemyre, CC Sabathia, David Cone and Mike Mussina all had seasons worthy of consideration but I ultimately decided to go with the five above.
RELIEF PITCHERS -- 1982 Goose Gossage, 1996 Mariano Rivera, 2011 David Robertson
Know what's crazy about Rivera's career? His best season came the year before he a) became the closer, and b) learned his trademark cutter. That 1996 season as John Wetteland's setup man is one of the best modern bullpen seasons in history: 2.09 ERA (240 ERA+) with a 0.99 WHIP, 130 strikeouts and 34 walks in 107 2/3 innings. Pretty awesome.
Gossage saved 30 games with a 2.23 ERA (179 ERA+) in 93 innings in 1982. He also had a career-best 3.64 K/BB ratio. Robertson was ridiculous two years ago, posting a 1.08 ERA (399 ERA+) with 100 strikeouts in 66 2/3 innings as Rivera's setup man. Sparky Lyle's 1977 Cy Young season doesn't make the cut because, frankly, it's kinda silly he won the award in the first place. Lindy McDaniel, Dave Righetti and Tom Gordon were all considered as well.
---
THE LINEUP
1999 Derek Jeter
2007 Alex Rodriguez
1921 Babe Ruth
1927 Lou Gehrig
1956 Mickey Mantle
1961 Roger Maris
1956 Yogi Berra
2006 Jason Giambi
2012 Robinson Cano
That has to be the best lineup of the entire series, right? When I run it through the Lineup Analyzer at Dave Pinto's Baseball Musings, it tells me that team would average 8.63 runs per game, or 1,398 runs per 162 games. That is kinda nuts.
Monday: Baltimore Orioles
Get 15 percent off any order of more than $75 at CBS Sports Shop

The Twins need help in the rotation, and they may look to the trade market to find arms

Here are the bullet-points of what went down Tuesday regarding MLB and the Braves' punishm...
The owners need to ratify on the new system in place, but the takeaway here is Ohtani is coming...

A preliminary report National Transportation Safety Board has shined some light on details...

John Coppolella was placed on the permanently ineligible list by MLB on Tuesday