All-Time Single-Season Team: Philadelphia Phillies
Our offseason series concludes with a look at the best single-season performances in Phillies history.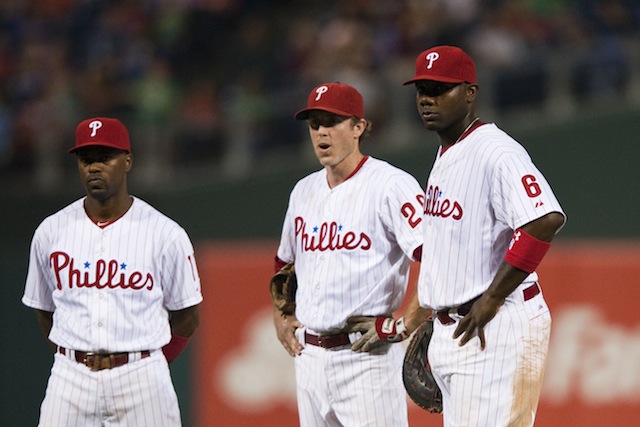 ALL-TIME SINGLE-SEASON TEAMS: CHC | STL | MIL | CIN | PIT | CHW | DET | KCR | CLE | MIN | ARI | COL | SD | LAD | SF | SEA | HOU | LAA | TEX | OAK | BOS | NYY | BAL | TOR | TBR | MIA | NYM | ATL | WAS | PHI
Today occasions the final installment in our All-Time Single-Season Team series. As a reminder, here's what we're trying to do:
Obviously, the term "single-season" implies that we're focused on brilliance within the confines of one campaign and not, say, career value or even value across a handful of seasons in the same uniform. While this is no doubt a largely subjective undertaking, please bear that in mind before airing objections. Or not. Whatever.

Also, we're largely limiting the selections to those of modern era (i.e., from 1900 onward) in large part because the "primordial soup" days of the sport bear only the most basic resemblances to the game played today. That's more a general principle than hard-and-fast rule, though. As well, a player can appear only once on the team in question. So even those who excelled at multiple positions over the years will be assigned one spot and one spot only.
And now we'll wrap things up with a look at the best single-season performances at each position/role in Philadelphia Phillies history. The Phillies are an old-line National League franchise that has been around in sanctioned fashion since 1883. Along the way, they've made 14 playoff appearances, won seven pennants and hoisted a pair of World Series trophies.
Now let's get to it ...
CATCHER - Darren Daulton, 1992
Dutch in '92 batted a robust .270/.385/.524 (156 OPS+) with 27 homers, 32 doubles, 88 walks and an NL-leading 109 RBI. Needless to say, that's outstanding production for a catcher. As well, Daulton hit into just three double plays all season, stole 11 bases in 13 attempts and spent more than 1,200 innings behind the plate. What a season. 
Also considered: Other Daulton seasons, 1933 Spud Davis, 1956 Stan Lopata, 1999 Mike Lieberthal, 1996 Benito Santiago
FIRST BASE - Ryan Howard, 2006
Howard's MVP season earns the nod. In '06 he thumped .313/.425/.659 (167 OPS+) and led MLB with 58 homers, 383 total bases and 149 RBI. Taking a cue from Daulton, Howard also hit into just seven double plays in 704 plate appearances. 
Also considered: 1937 Dolph Camilli, 1932 Don Hurst, 1969 Dick Allen, 2003 Jim Thome, 1992 John Kruk
SECOND BASE - Chase Utley, 2008
In addition to providing typically stellar defense at second, Utley in 2008 batted .292/.380/.535 (136 OPS+) with 33 homers, 41 doubles and 325 total bases in 159 games played. He also stole 14 bases in 16 attempts, and while running the bases he took the extra bag an impressive 62 percent of the time. He did it all, in other words. 
Also considered: Other Utley seasons
SHORTSTOP - Jimmy Rollins, 2007
Rollins in his MVP season of 2007 batted .296/.344/.531 (119 OPS+) with 30 homers, 38 doubles and a league-leading 20 triples. As well, Rollins played in all 162 games, stole 41 bases in 47 attempts and won the Gold Glove. Rollins' 380 total bases that season rank as the fourth-most ever by a primary shortstop, and his 88 extra-base hits rank second only to A-Rod's 91 in 1996, among shortstops. 
Also considered: Larry Bowa in 1978, more Rollins
THIRD BASE - Mike Schmidt, 1981
Schmidt is the greatest player in franchise history and the greatest third baseman of all-time, so he was obviously going to be on here. I'm going with his strike-shortened '81 campaign, in which he batted .316/.435/.644 (198 OPS+) with 31 homers in 102 games and won his second straight NL MVP. Schmidt that year also paced MLB in total bases and RBI (oh, and his OBP, SLG, OPS+ and home runs also led all of baseball). Eliminate the labor strife and adjust the season to a neutral era ('81 was very much a pitchers year), and Schmidt would've tallied 49 homers, 148 RBI, 127 runs scored, 360 total bases and 115 walks. All of that is in addition to his Gold Glove defense. 
Also considered: Other Schmidt seasons, Dick Allen from 1964-67, Scott Rolen in 1998
LEFT FIELD - Sherry Magee, 1910
Tough choice here, but I'll go with Magee's 1910 campaign. Even though it was deep in the Deadball Era, Magee authored a batting line of .331/.445/.507 (174 OPS+) with 17 triples, 39 doubles, a majors-leading 123 RBI and a majors-leading 110 runs scored. His AVG, OBP, SLG and OPS+ each paced the NL. Additionally, Magee stole 49 bases and led the NL in total bases. 
Also considered: Many Greg Luzinski seasons, Dick Allen in '68, Pat Burrell in 2002, more Magee seasons, Lefty O'Doul in 1929 and '30, Ed Delahanty in 1901, Chuck Klein in 1931
CENTER FIELD - Richie Ashburn, 1958
Lots to choose from here, but I'll take the Hall of Famer Ashburn in '58. That season he played in 152 games, led the majors with a .350 batting average, led the NL with an OBP of .400 (136 OPS+) and also chipped in an MLB-leading 13 triples in addition to 39 stolen bases. That's to say nothing of his legendary defensive skills in center.  
Also considered: More Ashburn seasons, Lenny Dykstra in 1990 and '93, Shane Victorino in 2011, Roy Thomas from 1903-05, Harry Walker in 1947, Garry Maddox in 1976, Tony Gonzalez in 1963, 1925 George Harper
RIGHT FIELD - Chuck Klein, 1932
The left-handed-hitting Klein famously benefited from the bizarre right field dimensions at the Baker Bowl (300 feet to the right-center power alley, roughly 280 feet down the line), but that doesn't explain away all of his MVP season in '32. That year, Klein batted .348/.404/.646 (164 OPS+) with 38 homers, 50 doubles, 137 RBI, 152 runs scored, 226 hits, 420 total bases and 60 walks vs. 49 strikeouts. He led the NL in homers and stolen bases (20), and he remains the only post-1920 player to pace his league in home runs and steals in the same season. 
Also considered: Many Gavvy Cravath seasons, some Bobby Abreu, some Johnny Callison, Klein in '33, Von Hayes in 1989, Del Ennis in 1950, Sherry Magee in 1914, Jayson Werth in 2010
STARTING PITCHERS - 1915 Grover Cleveland Alexander, 1972 Steve Carlton, 2010 Roy Halladay, 1953 Robin Roberts, 2011 Cliff Lee
To the numbers ... 
Alexander: 31-10, 1.22 ERA, 228 ERA+, 0.84 WHIP, 241 K, 376 1/3 IP, 36 CG, 12 SHO
Carlton: 27-10, 1.97 ERA, 182 ERA+, 0.99 WHIP, 310 K, 346 1/3 IP, 30 CG, 8 SHO
Halladay: 21-10, 2.44 ERA, 167 ERA+, 1.04 WHIP, 219 K, 250 2/3 IP, 9 CG, 4 SHO
Roberts: 23-16, 2.75 ERA, 153 ERA+, 1.11 WHIP, 198 K, 346 2/3 IP, 33 CG, 5 SHO
Lee: 17-8, 2.40 ERA, 160 ERA+, 1.03 WHIP, 238 K, 232 2/3 IP, 6 CG, 6 SHO
Overall, that's some pretty impressive stamina/workloads. 
Alexander, who was part of the third Hall of Fame class, may have enjoyed his finest season in 1915. That year, he led the majors in wins, winning percentage, ERA, ERA+, strikeouts, K/BB ratio, WHIP, complete games and shutouts, and he paced the NL in innings. His 228 ERA+ from that season ranks as the 13th-best mark of all-time.
As for Carlton, Lefty's legendary '72 season gets the nod. That year, Carlton famously went 27-10 for a team that finished the year with a record of 59-97. In all, 29 of those 59 wins came in games started by Carlton. It's entirely possible that Carlton will forever be the last NL pitcher to notch 30 complete games in a season, as he did in '72.
Halladay's Cy Young season of 2010 makes the cut, as he, in addition to the numbers you see above, led the NL with a K/BB ratio of 7.30 and also notched a quality-start percentage of 76.0. As well, in 28 of Halladay's 33 starts that season, he went at least seven innings. Roberts, this rotation's third Hall of Famer, in '53 led the majors in strikeouts, innings, starts, complete games, walk rate and K/BB ratio. The ERA+ of 153 was the best such mark of his career. As for Lee, his six shutouts in 2011 are the most in either league since Tim Belcher notched eight in 1989. Lee that season also logged a quality start 78 percent of the time.
Also considered: Various seasons from Jim Bunning, Dutch Leonard, Curt Schilling, Eppa Rixey and Cole Hamels; John Denny in 1983; Curt Davis in 1934; George McQuillan in 1908; 1901 Al Orth; more Alexander, Carlton, Halladay and Roberts.
RELIEF PITCHERS - 1950 Jim Konstanty, 1980 Tug McGraw, 2008 Brad Lidge
I'm not much on pitcher win-loss records, but Konstanty in his MVP season of 1950 managed to notch 16 wins across his 152 relief innings (!). Additionally, Konstanty authored an ERA of 2.66. Believe it or not, he had relief appearances that spanned nine (!) and 10 (!!) innings that year. Please reflect on that for a moment. 
As for McGraw, the affable lefty in 1980 posted a sparkling 1.46 ERA (260 ERA+) in 92 1/3 innings of work. He was also no "mere" lefty specialist, as almost 75 percent of his batters faced were right-handers, and McGraw that year held the opposite side to a line of .183/.241/.254. Then there's Lidge who in 2008 went 41 for 41 in save opportunities, logged a 1.95 ERA (224 ERA+), struck out 92 batters and gave up only two home runs in 69 1/3 innings. 
Also considered: To name just a few (no, I'm not name-checking every worthy reliever season for a franchise that has been around since the 19th century), Billy Wagner in 2005, Rheal Cormier in 2003, Steve Bedrosian in 1987, Ryan Madson in 2004, Gene Garber in 1977, Johnny Klippstein in 1963, Roger McDowell in 1989. 
---
THE LINEUP
1. Richie Ashburn, 1958
2. Sherry Magee, 1910
3. Chuck Klein, 1932
4. Mike Schmidt, 1981
5. Ryan Howard, 2006
6. Darren Daulton, 1992
7. Chase Utley, 2008
8. Jimmy Rollins, 2007
And that's a wrap!