All-Time Single-Season Team: Philly/KC/Oakland Athletics
As you'll soon see, there's lots to choose from when it comes to the Athletics' All-Time Single-Season Team.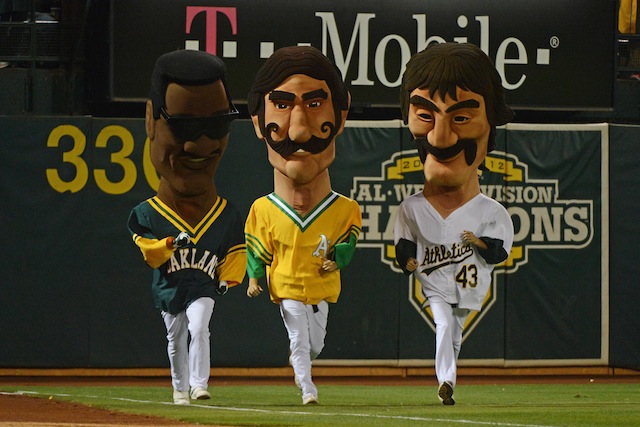 ALL-TIME SINGLE-SEASON TEAMS: CHC | STL | MIL | CIN | PIT | CHW | DET | KCR | CLE | MIN | ARI | COL | SD | LAD | SF | SEA | HOU | LAA | TEX
Let the people rejoice: For it is time for another entry into out All-Time Single-Season Teams series! What's this, you ask? Regard:
Obviously, the term "single-season" implies that we're focused on brilliance within the confines of one campaign and not, say, career value or even value across a handful of seasons in the same uniform. While this is no doubt a largely subjective undertaking, please bear that in mind before airing objections. Or not. Whatever.

Also, we're largely limiting the selections to those of modern era (i.e., from 1900 onward) in large part because the "primordial soup" days of the sport bear only the most basic resemblances to the game played today. That's more a general principle than hard-and-fast rule, though. As well, a player can appear only once on the team in question. So even those who excelled at multiple positions over the years will be assigned one spot and one spot only.
Today's team is ... the Athletics. The Athletics have been around since way back yonder in 1901, and their sprawl is one that includes the great Connie Mack teams from the Philadelphia days, the "Mustache Gang" dynasty of the early 1970s, the "Bash Brother" outfits of Tony La Russa and, of course, the "Moneyball and everything after" squads of a more recent vintage. In other words, there's lots to choose from, and you're about to lay eyes upon one of the strongest teams yet.
Let's do this ...
CATCHER - Mickey Cochrane, 1933
Gene Tenace's outstanding and characteristically underrated 1975 season makes this a closer call than you might think, but Cochrane takes it. In '33, "Black Mike" batted .322/.459/.515 (that .459 OBP led MLB), which comes to an OPS+ of 158. As well, Cochrane chipped in 15 homers, 106 walks and 104 runs scored. In addition to Tenace in '75, other Cochrane seasons were also considered.  
FIRST BASE - Jimmie Foxx, 1932
The Hall of Fame slugger gets the job. Foxx in 1932 won the MVP because the numbers were simply astounding: 1.218 OPS, 207 OPS+, 58 homers, 169 RBI, 151 runs, 116 walks, 438 total bases. That's the quintessence of "middle of the order" production, and it's why Foxx edges out, among others, Jason Giambi's genuinely great seasons in 2000 and 2001 and a handful of Mark McGwire campaigns. 
SECOND BASE - Nap Lajoie, 1901
This was a perilously close call between Lajoie's 1901 and any number of great Eddie Collins years. Ultimately, though, Lajoie's bat in '01 was too robust to ignore: .426/.463/.643 (198 OPS+) with 14 homers, 14 triples, 48 doubles and 350 total bases (and 27 steals!). I'd provide the laundry-list of categories in which Lajoie led the league that year, but it's hardly fair to hog so much bandwidth. Simply put, it's one of the great offensive seasons of all-time, and that's especially the case when you consider that Lajoie capably manned an up-the-middle position. 
SHORTSTOP - Bert Campaneris, 1970
Miguel Tejada's MVP season of 2002 is duly acknowledged, but i'm going with Campy. A stellar defensive shortstop, Campaneris in 1970 had an impressive year on offense, as well: 650 plate appearances, slash line of .279/.321/.448 (113 OPS+), 22 homers, 42 stolen bases in 52 attempts. All of that plus the glove-work earns Campy the nod over Tejada and some fine seasons from Eddie Joost. 
THIRD BASE - Home Run Baker, 1912
A core member of Connie Mack's "$100,000 infield," Frank Baker was -- as the nickname suggests -- the early Deadball Era's Babe Ruth. He paced the AL in homers for four straight seasons (albeit with totals that look strikingly modest by modern standards"), and 1912 was one of those seasons. That year, Baker batted .347/.404/.541 with 10 spanks, 130 RBI, 21 triples, 40 doubles and an OPS+ of 174. Relative to the league standards, Baker was indeed a legendary power hitter. 
Also considered: 2013 Josh Donaldson, 2001 Eric Chavez and any number of Sal Bando seasons. 
LEFT FIELD - Rickey Henderson, 1990
What an absolute work of art Rickey's 1990 MVP season was: .325/.439/.577 (189 OPS+), 28 homers, 119 runs scored, 65 steals in 75 attempts, 97 walks versus 60 strikeouts. The Man of Steal truly did it all that year, and he's an easy choice for this spot. 
Also considered: Some Al Simmons seasons (more on him in a sec), more Rickey, 1939 Bob Johnson, 1958 Bob Cerv.
CENTER FIELD - Al Simmons, 1925
And here's the Hall of Famer Simmons. I'm going with his 1925, age-23 season, in which he spent all of his defensive time in center field. That year, Simmons batted .387/.419/.599 (149 OPS+) in 697 plate appearances with 24 homers, 43 doubles, 253 hits (fifth-most all-time) and 392 total bases. For his troubles, he finished a close second to Roger Peckinpaugh of the Senators in the MVP voting. 
Also considered: More Simmons, some Dave Henderson, some Dwayne Murphy and 1941 Sam Chapman. 
RIGHT FIELD - Reggie Jackson, 1969
This was the year in which Reggie had 37 homers by the break. He tailed off in the second half and ended the season with "just" 47, but consider his stellar body of work: .275/.410/.608 (189 OPS+), 118 RBI, 123 runs, 114 walks, 36 doubles, 334 total bases, just eight GIDPs in 678 plate appearances. It would stand as Jackson's finest season (yes, better than his MVP year of 1973). 
Also considered: A handful of Jose Canseco seasons. 
DESIGNATED HITTER - John Jaha, 1999
While I'd love to, say, stick Jason Giambi in here, I'm limiting myself to those who spent at least a plurality of their season at DH, and Giambi never did that in Oakland. That brings me to Jaha, who in '99 raked to the dance-able tune of .276/.414/.556 (152 OPS+) with 35 homers, 101 walks and 111 RBI in 142 games. 
Also considered: 1998 Matt Stairs, 2006 Frank Thomas, 2004 Erubiel Durazo, 1991 Harold Baines
STARTING PITCHERS - 1931 Lefty Grove, 1971 Vida Blue, 1905 Rube Waddell, 1910 Jack Coombs, 2003 Tim Hudson
To the numbers …
Grove: 31-4, 2.06 ERA, 217 ERA+, 1.08 WHIP, 175 K, 288 2/3 IP, 27 CG, 4 SHO
Blue: 24-8, 1.82 ERA, 183 ERA+, 0.95 WHIP, 301 K, 312 IP, 24 CG, 8 SHO
Waddell: 27-10, 1.48 ERA, 179 ERA+, 0.98 WHIP, 287 K, 328 2/3 IP, 27 CG, 7 SHO
Coombs: 31-9, 1.30 ERA, 182 ERA+, 1.03 WHIP, 224 K, 353 IP, 35 CG, 13 SHO
Hudson: 16-7, 2.70 ERA, 165 ERA+, 1.08 WHIP, 162 K, 240 IP, 3 CG, 2 SHO
Simply put, Grove's '31 season is one of the greatest of all-time. He put those numbers up despite toiling in what was very much a hitter's era. Along those same lines, Grove that year led all of MLB in ERA, ERA+, complete games and pitcher WAR, and for good measure he paced the AL in K/BB ratio. Oh, and he also finished in the top 10 in saves (Grove quite often served as Connie Mack's "fireman" before there was such a term in baseball). 
Blue's logging 312 innings as a 21-year-old may have had something with his premature decline, but it certainly contributed mightily to his value in '71. On the strength of all those numbers, Blue claimed the Cy and the MVP that season. Perhaps most impressive is that he notched 24 complete games in 39 starts. 
Waddell was a dominator in the Deadball Era, and he enjoyed a tremendous peak in Philadelphia. Waddell was also notable for striking out a lot of hitters during a time in which whiffs were hard to come by. In 1905, for instance, he led the league with the 287 strikeouts you see listed above. To put that number into perspective, second place belonged to teammate Eddie Plank with a much more modest tally of 210. 
Coombs enjoyed far and away his best season in 1910, as he pitched to a sparkling 1.30 ERA and won 31 games. It was a different time in terms of pitcher usage, but it's still notable that Coombs pitched a complete game in 92.1 percent of his starts that season. His 13 shutouts trails only Pete Alexander's 16 in 1916 on the post-1900 leaderboard.
As for Hudson, he worked a healthy number of innings that year by modern standards, and he recorded a quality start 27 times in 34 chances. Hudson that season also averaged more than 7.0 innings per start. 
Also considered: Other Grove and Waddell seasons, Bobby Shantz in 1952, Barry Zito in 2002, Eddie Plank in multiple years, Catfish Hunter in '74 and '75, Dave Stewart in 1990, Chief Bender in 1910, Cy Morgan in 1910.
RELIEF PITCHERS - 1973 Rollie Fingers, 1990 Dennis Eckersley, 1970 Mudcat Grant
Fingers is the go-to workhorse, as in '73 he posted a 1.92 ERA in 126 2/3 innings of work (on July 15 of that year, Fingers notched 6 2/3 innings of relief against the Brewers). As well, he gave up just five home runs all year. As for Eckersley, his 1990 season was much better than his MVP campaign of 1992 (aside: a closer should under no circumstances win the MVP). In '90, Eck logged a miniscule ERA of 0.61 (good for an unthinkable ERA+ of 603) and issued just three unintentional walks in 73 1/3 innings. Absurd.  
Yes, we're going with an all-right-handed relief corps, as Grant's 1970 -- 1.86 ERA, 135 1/3 relief innings (!), 80 games pitched, one unearned run allowed -- is too good to pass up at the behest of platoon considerations. 
Also considered: 2008 Brad Ziegler, 2005 Huston Street, 2009 Andrew Bailey, 2003 Keith Foulke, 1990 Gene Nelson, 1972 Darold Knowles. 
---
THE LINEUP
1. Rickey Henderson, 1990
2. Nap Lajoie, 1901
3. Frank Baker, 1912
4. Jimmie Foxx, 1932
5. Reggie Jackson, 1969
6. Mickey Cochrane, 1933
7. Al Simmons, 1925
8. John Jaha, 1999
9. Bert Campaneris, 1970
That's ... a lot of Hall of Famers in one lineup.
Coming Saturday: The Boston Red Sox  
The Twins have already fortified the bullpen with Addison Reed, and now they want to address...

The Orioles likely want pitching, and the Indians have plenty of it

Halladay died in a November plane crash off the coast of Florida
The power-hitting outfielder is headed to Toronto

Martinez could add some power to a Boston lineup void of it

It's almost that time of the year again, time for the Tebow madness to return